5 June 2023 / Laura Garvin Gomez
How Long Do Wax Melts Last?
Discover the secrets behind the longevity of wax melts and elevate your scented experience with expert insights in our captivating exploration.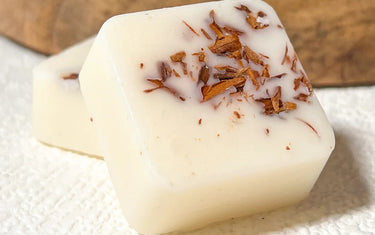 So, you've bought a batch of wax melts for the first time, or you've gone one step further and made some with your own fair hands.
With everything ready, the most important question that needs to be answered now is, how long do wax melts last?
There is a straightforward answer to that question, although there are some contributing factors that also need to be considered. To help you get more out of your wax melts, we tell you more about how long wax melts last, how the wax type and oil ingredients affect the burn time and give you some key tips on maximising the scent throw.
What is the best wax warmer to use?
The length of time your wax melt will last will depend heavily on the type of wax warmer you use to melt the wax.
The hotter the wax warmer becomes, the faster the wax will melt. Whilst this means the burn time is significantly reduced, it will produce a stronger scent, which some people might prefer. When the warmer is not too hot, the melts last for longer, and the fragrance released is less intense.
To get more out of your wax melts, you may want to consider using a timer, so they are only being burnt for a set period. This allows you to enjoy the fragrance without being too worried that the melts will be used up too quickly.
How long should a wax warmer be left on for?
If you have an electric wax melt burner, you can usually leave it on for up to 10 hours at a time, although this will likely mean your melts are used up quite quickly. The manufacturer should provide guidance on the maximum amount of time you can leave the warmer, so always check the packaging.
Candle-lit warmers offer a shorter burn time, ranging anywhere between 4-8 hours. If you use a 4-hour tealight candle, then this will help the melts to last for longer.
Does the wax type affect the burn time of a wax melt?
Each type of wax produces a different burn time, so this is also an important contributing factor to bear in mind. In general terms, beeswax or soy wax-based melts tend to last the longest, although the other ingredients used by the selling company will also be influential.
Avoid buying any wax melts that are made with paraffin wax, as there are some concerns about its effect on human health. They are also not an eco-friendly option, and if the environmental impact is important to you, then soy-based melts offer a good alternative.
How do essential oils change the burn time of a wax melt?
Whether the wax melt has essential oils or fragrance oils in its ingredients, this will influence how long the melt burns for. Learn about the difference between essential oils and fragrance oils.
Most wax melts have around 5-6% of oil concentration, depending on how many grams were added in relation to the amount of wax used in the recipe. You would expect a higher percentage to last for longer, however, that is not always true, as the wax and oil type used can make a real difference, which can affect the way these two elements bond together.
In some cases, you will find that fragrance oils will last longer than essential oils in a wax melt. Whilst both do a fantastic job at releasing an unforgettable scent, the synthetic nature of fragrance oils allows them to retain their scent for a little longer. You may even come across a wax melt that combines both types of oil, so you can enjoy a unique scent in any room of your home.
What are some tips for making your wax melts last longer?
Once lit, a wax melt should usually last on average for between 8-12 hours, depending on a few different factors. Things to look out for include:
Location: Try to keep the wax melt away from areas with fast air flow, such as near open windows or doors, as the fragrance can be easily lost. Position the wax warmer as close to the centre of the room as possible to enjoy the maximum scent throw.
Keep away from heat: As is the case with storage, you should also keep a lit wax melt away from heat sources, as it will cause the wax to melt fast, affecting how long the scent will last.
Number of tealights: You can add more tea lights underneath the melt in the warmer to increase the scent throw, although this will mean the wax melts faster.
Temperature control: For anyone using an electric warner, aim to keep the heat down to control the temperature of the wax. The higher the temperature, the faster the wax will melt, and scent will disappear just as quickly.
How long do wax melts last when kept in storage?
An important part of getting the most out of your wax melts is how you store and take care of them when they are not being used. It's a good idea to package them away in a sealed bag or container and avoid stacking them on top of each other, as this could lead to some of the fragrance being reduced.
Store your wax melts in a cool, dry and dark part of your home, away from direct sunlight and heat sources, such as cookers and radiators. When stored correctly, a wax melt can last for up to a year without losing any of its fragrance.
Now that you have all the information you need about how long wax melts last when they are lit, all you need to do now is enjoy the fragrance as it transforms your home. Both electric and tea light warmers are great at creating a strong fragrance, so if you keep it away from draft-filled areas and keep a close eye on the temperature, your wax melt should last for as long as you need it to.