15 August 2023 / Laura Garvin Gomez
Ylang Ylang Essential Oil Benefits For Skin
Unveil the transformative effects of Ylang Ylang essential oil on your skin's vitality and radiance.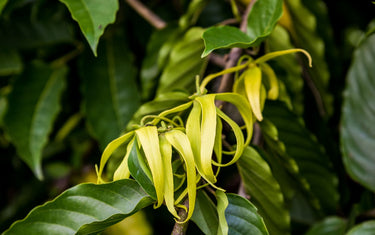 Anyone looking to refresh their daily routine should be intrigued to learn more about ylang ylang essential oil benefits for skin.
It has much more to offer beyond its rich floral scent, with its anti-inflammatory and antibacterial properties working their magic to make you look and feel young and refreshed.
We explain how to use ylang ylang essential oil for skin, revealing its many benefits along with some easy application methods that could make all the difference to your epidermis.
What is ylang ylang essential oil?
Ylang ylang essential oil is extracted from the flower of the same name, which is grown in South Asia. Once the flower heads have been picked, they go through a steam distillation process which allows the aromatic oil to be separated from the water. Due to its wonderful floral fragrance, ylang ylang is used in a variety of popular perfumes, lotions and soaps, with Chanel No.5 being the most iconic of them all. And with regular application, there are also plenty of ylang ylang essential oil skin benefits you can experience, such as managing sebum production, reducing oxidative stress and working as an anti-ageing agent.
What are ylang ylang essential oil benefits for skin?
Some of the key benefits of ylang ylang oil for skin include:
1. Anti-inflammatory properties that can reduce oxidative stress
Ylang ylang contains a compound called isoeugenol that is rich in anti-inflammatory properties, allowing it to tackle oxidative stress. Once applied it can help to soothe the skin and some research has found it may be able to lower blood pressure (although it should only be used to complement prescribed medication, not as a replacement).
2. Ylang ylang works as an anti-ageing oil
Another benefit of its anti-inflammatory properties is its ability to fight off free radicals that can be responsible for ageing your skin prematurely. It helps cells to regenerate faster, creating a toning effect that can smooth out wrinkles and fine lines.
3. Balances out the production of sebum to balance your skin oils
When too much sebum is produced it can make your skin look and feel greasy and oily. With regular application of ylang ylang, it can work to regulate sebum production, so whether your skin is oily or dry, it works in tandem with your sebaceous glands to ensure you have the right amount of moisture on the surface of your skin.
4. Anti-bacterial properties cleanse and purify
Ylang ylang also contains strong anti-bacterial properties that enable it to cleanse and purify the skin. When applied topically, it can heal the skin and help it to recover, helping the regenerative process so it returns to its best condition.
5. Promotes the healing of minor cuts and burns
Ylang ylang essential oil contains linalool, which research has linked to aiding the treatment of skin fungal infection. It may also prove effective at easing irritation and promoting the heating of minor burns, scraps and cuts, although it should be heavily diluted to avoid aggravating the skin further.
How to use ylang ylang oil for skin
If you want to use ylang ylang essential oil for skin care benefits, here are some easy ways you can include it in your daily regime:
As an anti-ageing massage oil: To enjoy the anti-ageing benefits provided by ylang ylang, mix a few drops of the oil with a tablespoon of jojoba oil or coconut oil. Massage into your face using slow circular movements, leaving it feeling soft and supple. With regular application, it can slowly work to add more elasticity and youthfulness to your skin.
As a bath salt: If you love nothing more than soaking in a warm, relaxing bath in the evening, you can dilute ylang ylang and add it to the water for a true aromatic experience. Blend 10-15 drops of ylang ylang with 10 drops of geranium and 10 drops of lavender essential oil, along with 1-2 cups of Epsom salt. After a nice long soak, it can help to lift your mood and allow you to relax so you get a better night's rest.
As a hair conditioner: There are two ways you can use ylang ylang oil to benefit your scalp and hair. Firstly, mix 3 drops of ylang ylang with 2 tablespoons of your preferred carrier oil. Apply it to your hair as usual and wash out after 30 minutes. Alternatively, add the oil directly to your favourite conditioner before application. Both methods can add shine to your hair and combat dandruff.
As a mood booster: The distinctly floral fragrance produced by ylang ylang is a true delight and it can also work its way through your senses to boost your mood. All you need to do is add a few diluted drops to your wrists and neck, which can help you overcome fatigue or low moods, lifting your spirits so you feel mentally refreshed to go again.
As an insect repellent: You can use ylang ylang as a natural insect repellent, helping you to avoid using products that contain a lot of chemicals. Combine it with coconut oil and apply to your skin using a homemade spray bottle, which can ward away unwanted pests and bugs on holiday or in areas where large amounts of insects may be present.
Can you ingest ylang ylang oil?
Like most essential oils, there is no conclusive evidence currently available that states it is beneficial to ingest ylang ylang oil. At present, the oil is considered safe to ingest as a food additive only. However, if you are allergic to its ingredients or are uncertain about ingesting the oil, try one of the alternative methods we suggested above. Nikura do not sell food grade essential oils, which includes ylang ylang, so our products should only be applied using the methods described in the section above.
If you want to use an essential oil that not only smells great but is also able to offer a wealth of aromatherapeutic benefits, then ylang ylang could be for you. The oil's antibacterial and anti-inflammatory properties can work wonders on your skin, improving its overall condition, and there are several ways it can be applied, whether it's topically, in the bath or as a conditioner. You can also use ylang ylang oil in a diffuser or as part of a soap or candle recipe, giving you even more ways to enjoy the many aromatherapeutic delights it has to offer.
{ let idx = null; product.variants.forEach((v, i) => { if (v.featured_image && v.featured_image.id == $event.detail) { idx = i; } }); if (idx !== null) swiper.slideTo(idx, 0); }" x-init="() => { if (variants.length > 1) { const images = product.variants.map(v => { if (v.featured_image) { return `
`; } }) appendSlides(images); } else { if (product.featured_image) { appendSlides(`
`); } } }" >