11 March 2023 / Laura Garvin Gomez
The Best Essential Oils for Depression
Discover the top essential oils that can help alleviate symptoms of depression and improve your mood.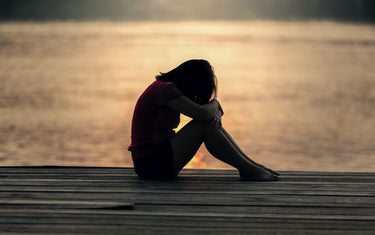 Depression is a common condition experienced by millions of people around the world every day.
For many, it can be a struggle to find the right medication or tools that can help ease the symptoms, and the side effects of some drugs can sometimes make things worse.
For anyone who prefers a more natural remedy, essential oils provide another option. Whilst not a cure-all for depression, they can be used to ease some depressive symptoms, giving you a pick-me-up when you need it most. We look at the best essential oils for anxiety and depression and offer some suggestions for you to try.
What is depression?
Describing what depression is in technical terms is not always easy, but those who are affected by it certainly know how it makes them feel. Depression can impact your emotional state, the way you think and how you act. And it's not a condition that is restricted solely to your mood, as it can affect you physically too, with a variety of symptoms revealing themselves depending on the individual and their personal experiences.
Can you use essential oils for depression?
When you think about essential oils being used for depression, they should be viewed as a complementary treatment. By themselves they are not a cure for depression and should not be relied upon as a long-term treatment. What essential oils do offer is a drug-free option that can be used to relieve some symptoms, so managing the condition becomes a little easier.
Some medical reviews have shown that aromatherapy treatments, such as essential oils, can have a positive effect on relieving some symptoms associated with depression. There are also some essential oils that can also help to increase the production of serotonin, which is responsible for several key bodily functions, including sleep and mood.
What are the best essential oils for depression?
Everyone is different and will respond in their own way to using essential oils to relieve depressive symptoms. However, some of the most commonly used essential oils include:
Are there any risks to be aware of?
Essential oils are very potent and should be used with care. In nearly all instances they should be mixed with a carrier oil and the product instructions followed closely to avoid any issues.
Before applying any essential oils you should carry out a patch test. You can do this by adding a few drops to the inside of your forearm at the elbow and covering this with a plaster. If there is no reaction, the oil should be completely fine to use, but if you experience any redness, itchiness or irritation you should wash it off straight away and not use the oil.
If you are already taking medication to treat your anxiety or depression, first seek advice from a doctor about using essential oils. Only buy essential oils from a reputable seller, and young children and pregnant women should avoid using them.
No-one is immune to experiencing a bout of depression, so it's good to know there are natural remedies available that can help. Although, as we mentioned above, essential oils are not the solution for anxiety and depression, rather, they are a complementary tool that can ease your mind and give you a much needed lift. If you are struggling to deal with depression and are experiencing ongoing mental health issues, visit a doctor as soon as possible to discuss your situation so you can receive the help you need.
{ let idx = null; product.variants.forEach((v, i) => { if (v.featured_image && v.featured_image.id == $event.detail) { idx = i; } }); if (idx !== null) swiper.slideTo(idx, 0); }" x-init="() => { if (variants.length > 1) { const images = product.variants.map(v => { if (v.featured_image) { return `
`; } }) appendSlides(images); } else { if (product.featured_image) { appendSlides(`
`); } } }" >
{ if (visible && product == e.detail.data) return; ready = false; const articleTop = document.querySelector('[data-article]').getBoundingClientRect().top + window.scrollY; $nextTick(() => { product = e.detail.data; selected = product.variants[0].id; ready = true; setTimeout(() => { top = e.detail.target.getBoundingClientRect().top + window.scrollY - articleTop; show(); }, 10) }) }" @scroll.window="close()" >