21 December 2022 / Laura Garvin Gomez
Best Carrier Oils for Dry Skin
Carrier oils are an essential part of any skin care routine, especially for those with dry skin.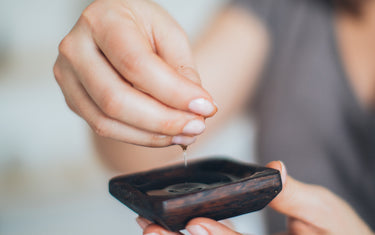 Finding the best way to deal with dry skin can be difficult, especially after you have tried several products that haven't lived up to their promises.
Looking at a more natural method could provide the answer, especially as carrier oils contain most of the vitamins and nutrients that appear in commercial beauty products. We have selected a handful of carrier oils and go into more depth about their benefits to help you find the right one for your skincare routine.
What are the best carrier oils for dry skin?
Coconut Carrier Oil: If you are struggling with dry skin, fractionated coconut oil

could offer a workable solution. Many people use this carrier oil to moisturise and encourage smoother skin. It contains medium-chain triglycerides (MCT) that provide fatty acids for your body and can help to ease the appearance of stretch marks. MCTs are good news for your liver as they are directly transported there from the digestive tract and can boost energy levels. The oil is colourless and almost odourless and works wonderfully well with essential oils, which is ideal for skin massages.
Vitamin E Carrier Oil:
You will find Vitamin E in an array of beauty products and given its many benefits it makes sense to go direct to source. Vitamin E is renowned for helping to moisturise the skin, which is why it has become a staple in the health industry, appearing in most well-known products. You can use Vitamin E Carrier Oil
to help with easing itching associated with dry skin (although it cannot be used as a long-term method of treatment) and one studyone study
found it could be used to help ease the effects of psoriasis. Vitamin E is also a highly effective antioxidant, while strengthening your immune system to fight free radicals.
Sweet Almond Carrier Oil:
Sweet Almond Carrier Oil
is another great source of Vitamin E, which works as an antioxidant to protect your cells at a molecular level. And the more Vitamin C your body has, the more your skin is able to absorb and retain water, which leaves it looking younger and more revitalised. If you have dry skin on your face, hair or any other part of your skin, sweet almond oil offers natural moisturising benefits, coming into its own when tackling signs of ageing, sun damage, scarring and stretch marks.
Avocado Carrier Oil:
Avocado Carrier Oil
is a great fit for moisturising dry skin thanks to it being high in natural fatty acids (including omega-3 and omega-6) and Vitamin E, lecithin, potassium and a host of other nutrients that will benefit your skin. It also provides a healthy amount of antioxidants which works to protect our skin from environmental damage by warding off free radicals. The texture is rich and thick and may feel a little greasy upon application, which can be eased by combining it with another carrier oil. If you choose not to, it will fully absorb into the skin leaving it feeling refreshed and hydrated.
Castor Carrier Oil:
Castor is a vegetable oil that offers a host of benefits for the skin and face, thanks to its moisturising, antimicrobial and anti-inflammatory properties. People use Caster Carrier Oil
to ease the effects of acne and due to its low comedogenic score is far less likely to clog pores, reducing the chances of developing blackheads, which is ideal for those with sensitive skin. Castor oil is also naturally rich in ricinoleic acid that can reduce the signs of scarring, dryness and infection. Studies suggest
it may be able to protect the skin from bacterial infections, ensuring microbes that cause diseases are not able to penetrate.
Argan Carrier Oil:
Argan hails from Morocco and has grown to evolve beyond its original culinary use, with both cosmetic and medical applications benefiting from its health properties. It contains healthy fats such as oleic acid and omega-6 and is also rich in Vitamin E, which makes Argan Carrier Oil
a powerful antioxidant. There are suggestions that it could boost heart health and help those with diabetes, while one study
found it helped to slow the growth of cancer cells. Other people use it to treat skin conditions that lead to inflammation, although medical research about this is limited for now.
Grapeseed Carrier Oil:
Grapeseed Carrier Oil
is another oil that is known for its antimicrobial, antioxidant and anti-inflammatory properties. This is why it remains a popular topical treatment for skin, helping it to feel softer and more elastic after application. If you have acne, grapeseed carrier oil could help to ease breakouts on the skin, while its main antioxidant ingredient, proanthocyanidin, may be able to even out the skin tone if it is used for a consistent period. And if you are worried about sun damage to your skin, grapeseed's antioxidant properties could increase protection against UV rays.
What is the best way to use carrier oils for skincare?
Carrier oils are a crucial part of using essential oils, reducing their potency to make it more palatable for skin application. You can also apply carrier oils directly to the skin without dilution using the tips below:
Face: After you have cleansed your face, use a few drops of carrier oil, and gently massage into the neck and face. The time it takes to absorb will depend on your skin type, although it usually does not take too long.
Body: Apply a few drops to any part of the body and gently massage it in to moisturise. Another method could be to add a small amount of the carrier oil to a warm bath, so it slowly soaks into your skin. Or you could use the oil for a massage, which helps it to penetrate deep into the skin pores.
Hair: When your hair is still dry, add a few drops of carrier oil by slowly massaging it into the roots. If you experience a dry, itchy scalp this can ease the discomfort it causes. Leave it for around 60 minutes and then wash it out – the nutrients in the carrier oil can also add more shine and damp frizzing to improve the overall quality. Or alternatively use our rosemary oil for hair which features three carrier oils that are great for hair growth and hair health.
Whether it's dry skin on the scalp, face or body, there should be a carrier oil that can help you improve the condition of your skin. These oils are completely safe to use and do not require dilution, so your skin will only benefit if you add them to your daily care routine. And if you want to enjoy a pleasing scent as part of the experience, you may want to take a close look at the health benefits of essential oils too.