9 min read / 20 September 2023 / yasmin sharp
10 Benefits and Uses of Oregano Oil
Discover the incredible versatility and health benefits of oregano oil.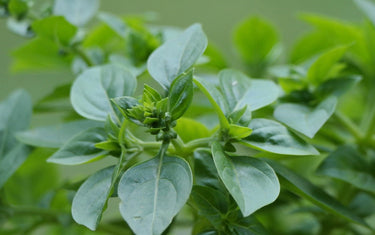 Whilst oregano is best known today as a culinary herb, the plant has a long and rich history dating back thousands of years, where it was first used for medicinal purposes.
And those health benefits of oregano oil remain just as relevant in the modern age, especially for people in search of natural remedies that can be used to treat and support a variety of conditions.
Oregano essential oil contains antibacterial, antifungal and anti-inflammatory properties that can play a crucial role in maintaining and improving our mental and physical wellbeing.
To give you a better idea of how, we delve into some of the oregano oil benefits, its history, uses and more.
What is oregano oil?
Sometimes referred to as "wild marjoram", oregano oil is extracted via steam distillation from the leaves of the Origanum Vulgare (oregano) plant, which is native to the Mediterranean, Western Asia and Europe.
Whilst it can sometimes be grouped with other types of commercial wild marjoram oils , the main difference can be found in the fragrance.
Whereas oregano has a drier, woody and herbaceous scent, marjoram is sweeter, with a more delicate, citrusy aroma.
How does oregano oil work?
Oregano essential oil contains terpinene, sesquiterpene, flavonoids and phenolic compounds, which are believed to aid the delivery of a wide range of aromatherapeutic benefits.
More than 70% of the oil extracted from oregano leaves is comprised of three main elements: Thymol, which acts as an antifungal agent; rosmarinic acid, which is a powerful antioxidant that can combat the threat of free radicals; and carvacrol, an antibacterial agent that is the most abundant in the plant.
The oil is usually applied topically by users to target fungi, bacteria and inflammation, although it can be diffused and food grade varieties can also be ingested.
Benefits of oregano oil
Here are 10 key benefits of oregano essential oil that you may find useful:
1. Combating variants of bacteria
Some early research into oregano essential oil's ability to offer protection against bacteria such as Pseudomonas aeruginosa and E. coli has offered some positive results.
These types of bacteria are common causes of respiratory and urinary tract infections, so further studies may be able to identify stronger correlations that could prove useful.
Studies have also shown that topical application of oregano oil benefits the treatment of healing wounds and may even be able to eradicate methicillin-resistant staphylococcus aureus (MRSA).
2. Lowering cholesterol levels
The numerous polyphenols contained in oregano oil, such as thymol and carvacrol, may be able to help lower cholesterol levels, according to research conducted back in 2007.
More research is needed to understand how these polyphenols may affect humans, although existing animal studies suggest that the compounds found in oregano oil could prove useful in reducing cholesterol.
A study from 2008 focussed on a small group of 48 patients, who were asked to ingest a small amount of oregano oil after each meal. When the data was collected, researchers saw there was a significant reduction in LDL (pr "bad") cholesterol across the group.
3. Treating fungal yeast infections
Whilst yeast can be harmless, in cases where it overgrows it can result in a fungal infection.
Some forms of Candida yeasts occasionally appear on the skin, but there are instances where it can infect parts of the body, such as the genitals, mouth, internal organs and even blood.
A 2021 study looked into the effectiveness of oregano as an anti-fungal agent and found that it could be useful in combating the development of Candida infections.
This is in addition to earlier findings from 2015 that also arrived at the same conclusion.
4. Reducing skin inflammation
If allowed to progress, inflammation in the body can eventually trigger the immune system, causing it to attack healthy organs and tissue in the body.
Untreated inflammation can increase the risk of experiencing heart disease, cancer, diabetes and rheumatoid arthritis.
Some research has been conducted to test oregano's anti-inflammatory properties, although additional studies are needed to fully assess its therapeutic potential.
This is because a 2017 study found several compounds in the oil have anti-inflammatory properties but could produce a toxic effect on some cells.
5. Anti-cancer properties
Very early research into the use of carvacrol, one of the key compounds of oregano oil, in combating breast, lung and liver cancer cells has shown some promising results.
Carvacrol was used in various test tube studies on cancer cells, with researchers learning that it was able to inhibit the growth of cancerous cells and also kill them off.
However, it must be noted that there have been no studies conducted on people, so whilst these test tube results are positive, much more detailed research is required before any link can be made to any form of cancer that exists in the human body.
6. Protecting the body against free radicals
A test tube study conducted back in 2001 examined the antioxidant content of 39 popular herbs and discovered that oregano contained the highest level of antioxidants.
Antioxidants play an important role in protecting the body against free radicals, which if left unchecked, can cause a lot of damage to the body.
For example, free radicals play a significant role in developing and ageing certain diseases, such as heart disease and cancer.
And when the body is exposed to some types of air pollutants, irritants and cigarette smoke, they can start to build up.
Like all essential oils, oregano oil is highly concentrated, so only a small amount is needed in comparison to fresh oregano, to benefit from its antioxidant properties.
7. Beneficial for gut health
Oregano oil has been found to contain antifungal, antibacterial, antiparasitic and anti-inflammatory properties, all of which could help to improve gut health.
These benefits are derived from the oil's carvacrol and thymol content, which could prove useful in treating digestive problems like diarrhoea, indigestion and an upset stomach.
One observational study found that oregano, when used as part of a herbal preparation, was as effective as antibiotics when it came to treating small intestine bacterial overgrowth (SIBO).
8. Easing and relieving pain
Some evidence has been gathered that suggests oregano could offer some level of pain relief.
This is largely based on an animal study conducted in 2013, which found an extract of oregano provided pain relief.
Researchers learned that the higher the dosage, the more pain relief the animals experienced.
However, a water-based extract was used in the study, rather than the oil, so more research, especially on human subjects, is needed to establish how effective it could be.
9. Weight loss support
For anyone looking to lose weight, they may be able to find additional support by using oregano oil.
Research carried out in 2018 found the oil's main compound, carvacrol, was able to disrupt part of the process that leads to the formation of fat tissue.
The research is not yet conclusive, which means more studies are required to determine how effective oregano oil can be in assisting weight loss and obesity treatments.
However, using food grade varieties of the oil could prove beneficial as part of a healthy diet.
10. Relieving depression and stress
A 2018 study looked at the effects of using oregano on rats with depression, which produced some surprising results.
The treatment lasted for 14 days, after which researchers saw an improvement in rats that received oregano oil, with stress-related behaviour on the decline.
A conclusion was reached that oregano oil could be helpful in relieving stress-related behaviour.
Whilst studies into how it can affect humans are still to be conducted, many people who diffuse oregano essential oil find that it can help to calm their mind and senses, creating a balanced atmosphere that can help to resolve stress and anxiety.
How to use oregano oil
Some simple oregano oil uses you can try include:
1. As a skin cleanser
To enjoy the skin cleansing abilities of oregano essential oil, combine a few drops with carrier oils such as jojoba oil or coconut oil and apply to the skin.
This can help to safeguard against bacteria and possible infections, whilst the antioxidant properties can keep your skin looking young and fresh.
2. In soaps and candles
Oregano essential oil works perfectly as a soap or candle making ingredient, especially if you combine with other oils like lavender, peppermint or rosemary.
Take a look at our range of soap supplies to ensure you have everything you need once you have found a trusted recipe you can follow.
History of oregano oil
One of the earliest recorded uses of oregano as a medicinal herb is by the ancient Greeks, who believed that it could be used as an antidote for poisons.
Physicians and philosophers like Hippocrates and Aristotle used the plant to treat a wide variety of ailments, ranging from gastrointestinal distress to more serious life-threatening snake bites.
During the Middle Ages, oregano was commonly used across Europe, with people chewing on the leaves to remedy toothaches, coughs, indigestion, rheumatism and more.
It was during this period that oregano arrived in China, where it quickly became a popular natural remedy for a host of minor ailments.
Oregano Oil FAQs
Is oregano essential oil safe to use with all medications?
Whilst oregano oil is generally considered safe to use, there are some medications it should not be mixed with.
For example, if you have been prescribed blood thinners, nonsteroidal anti-inflammatory drugs or diabetes medications, you should speak with your doctor before using oregano essential oil.
Are there any restrictions on who can use oregano oil?
People that are pregnant or breastfeeding should speak with their doctor before diffusing or topically applying oregano oil, as there may be some risks involved.
If you have an allergy to lavender, basil, marjoram, mint, sage, thyme or hyssop, you should avoid using oregano.
Can oregano essential oil help me to sleep better?
Whilst the evidence is largely anecdotal, some people believe that oregano essential oil can help to resolve certain sleep issues.
This is due to the oil's calming aroma, which also blends well with lavender when diffused before bed.
| | |
| --- | --- |
| Product Name | 100% Pure Oregano Essential Oil |
| Botanical Name | Origanum Vulgare |
| Scent Type | Herbs |
| Oregano Oil Benefits & Uses | Antibacterial, Antifungal, Skin |
| Suitable for Diffusers? | Yes, this oregano essential oil is perfect for diffusers. |
| Suitable for Candles and Soaps? | Yes, this oregano essential oil is perfect for candle and soap making. |
| Extraction Method | Steam Distillation |
| Bottle Type | Tamper proof and UV resistant |
{ let idx = null; product.variants.forEach((v, i) => { if (v.featured_image && v.featured_image.id == $event.detail) { idx = i; } }); if (idx !== null) swiper.slideTo(idx, 0); }" x-init="() => { if (variants.length > 1) { const images = product.variants.map(v => { if (v.featured_image) { return `
`; } }) appendSlides(images); } else { if (product.featured_image) { appendSlides(`
`); } } }" >