14 June 2023 / Laura Garvin Gomez
Turmeric Oil for Skin: Benefits and How to Use
Unveil the skin-transforming potential of turmeric oil as we delve into its myriad benefits and guide you on how to incorporate it into your skincare regimen.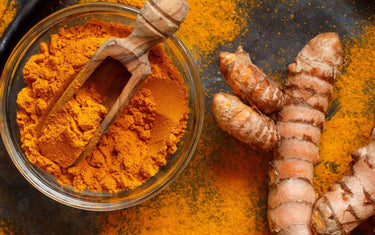 For centuries, people from around the world have used turmeric oil for skin benefits in the belief that its natural properties offer a positive impact.
Turmeric contains a bioactive component called curcumin, which is an antioxidant and anti-inflammatory and is frequently used in some of the most popular beauty creams and applications.
By using Turmeric Essential Oil you can go directly to the source, and when mixed with a carrier oil, it could improve the condition of your skin. Here we look at the benefits of using turmeric oil for skin, along with how to use it and much more. 
What is turmeric oil?
Turmeric oil is extracted from the roots of the ginger tree using a steam distillation process. The oil is highly concentrated and differs from the powder, as when it has been cold pressed, it is not suitable for digestion. The oil retains the bright orange/yellow colour and is regularly used by millions of people around the world as part of their skincare routine.
What are the turmeric oil benefits for skin?
If you want to use turmeric oil for skin treatments, you may be able to enjoy some of these benefits:
Skin cleansing: When mixed with a carrier oil and carefully applied to non-sensitive areas of your face (eyes and mouth), turmeric oil may be able to combat acne. Its antiseptic and antifungal properties can dry out pimples and reduce the likelihood of another breakout occurring in the same spot.
Rejuvenates the skin: Turmeric is packed with antioxidants that can nourish your skin and add a natural glow. It's the reason why the oil is often the key ingredient used in many popular night creams and facial masks
Faces blemishes and marks: Unexpected marks and blemishes appear on our skin for all kinds of reasons, but the simple application of turmeric oil could make all the difference. You'll often find it featured in the ingredients of anti-spot creams, and with regular use it can help to fade those annoying marks and blemishes.
Lowers inflammation: The high levels of curcumin found in turmeric enables it to produce a cooling and soothing feeling due to its anti-inflammatory properties. Apply it to red or inflamed skin and it could ease and bring a sense of calm back to your skin.
Reduces the signs of ageing: If you are looking for a natural way to reduce the appearance of wrinkles and lines on your face, turmeric oil could provide the answer. When regularly used as part of your skincare routine its revitalising and cleansing abilities can return vigour and vibrancy to your skin.
Lightens dark eye circles: The combination of turmeric's anti-inflammatory, microcirculation and skin-lightening powers can produce the perfect recipe for tackling dark undereye circles. It's an all-in-one solution that can remove that tired look and make you look and feel refreshed.
Can you use turmeric for eczema?
It is perfectly safe to use turmeric on areas of skin with eczema and it could offer another method of managing the condition. Currently, there have only been two studies of how turmeric affects people with eczema, with one involving the use of a topical cream revealing positive results.
One of the biggest issues with using turmeric in general is its low bioavailability, which restricts how much of the active ingredient the body can absorb.
If you want to try turmeric to treat your eczema, it should only be in addition to, rather than as a replacement for, any prescribed medication you are using.
There is some clinical evidence to suggest that turmeric is able to reduce itching in other skin conditions, although the data relating to eczema is too small to come to any firm conclusions at present.
How to use turmeric oil on the face
The best way to use turmeric oil for face treatments is to make your own face mask, which can be just as effective as any products sold in stores.
To make a turmeric oil face mask you will need the following ingredients:
Follow the steps below to make your own turmeric face mask:
Mix the essential oils together in the bowl.
Add the lemon juice to the mixture.
Add the honey to the bowl and stir thoroughly.
Slowly add water as needed, but ensure the mixture remains sticky.
Once you are happy with the consistency, apply the mixture evenly to your face with your fingers.
You should leave the face mask on for around 30 minutes before rinsing it off with warm water. Once dried, apply your usual moisturiser to your face.
Are there any risks of using turmeric for your skin?
As with any type of oil or cream you apply to your skin, there are always some risks involved, and that is also true of turmeric oil.
The low bioavailability of turmeric means it can be burnt off very quickly by your metabolism, which means your body may not be able to absorb much of it.
Another thing to be aware of is the colour residue it can leave behind. In most cases this is not a problem, but if you are allergic, there is a chance it could cause irritation, redness or swelling.
To safeguard against an allergic reaction, you can carry out a skin patch test before using it on larger areas of skin. Dab a small amount of the oil onto your forearm and cover with a plaster for 24 hours. If there is no redness, inflammation or itchiness, the oil should be fine to use as your body has not rejected it. 
Whether it's clearing up marks and blemishes or unclogging pores and rejuvenating the skin, turmeric essential oil has a lot to offer. Making your own turmeric face mask is easy and with regular application it could only be a matter of time before you really start to notice the difference. As always, take care when handling any essential oil and carry out a skin patch test if you are unsure about its suitability for your skin.
{ let idx = null; product.variants.forEach((v, i) => { if (v.featured_image && v.featured_image.id == $event.detail) { idx = i; } }); if (idx !== null) swiper.slideTo(idx, 0); }" x-init="() => { if (variants.length > 1) { const images = product.variants.map(v => { if (v.featured_image) { return `
`; } }) appendSlides(images); } else { if (product.featured_image) { appendSlides(`
`); } } }" >
{ if (visible && product == e.detail.data) return; ready = false; const articleTop = document.querySelector('[data-article]').getBoundingClientRect().top + window.scrollY; $nextTick(() => { product = e.detail.data; selected = product.variants[0].id; ready = true; setTimeout(() => { top = e.detail.target.getBoundingClientRect().top + window.scrollY - articleTop; show(); }, 10) }) }" @scroll.window="close()" >