9 November 2022 / Laura Garvin Gomez
The Best Christmas Fragrance Oils
Capture every moment of festive cheer with these ten unique fragrances.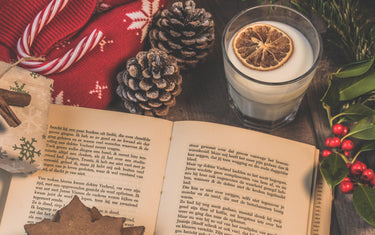 Chestnuts roasting, winter walks, warm treats...the scents of Christmas are truly unbeatable.
And as lovers of the festive period, we love nothing more than the opportunity to cover our homes with as many indulgent aromas as we possibly can.
Using fragrance oils in your home can make any and all of your Christmas scent dreams a reality - with their variety and versatility providing an endless number of opportunities for making your spaces as merry and bright and possible.
To help you along the way, we're counting down some of our all-time favourite Christmas fragrances for scenting your home this season.
What are fragrance oils?
Fragrance oils are synthetic products that are created by perfumers to mimic a particular scent profile.
Like perfumes, they can contain both natural and artificial compounds that create a strong, long-lasting scent designed to be utilised in a variety of ways.
Fragrance oils can mimic both naturally occurring aromas, such as Forest Fresh Pine or Eucalyptus & Mint, and more unique scents that cannot be naturally formulated - like Highland Waterfall or Lemon Meringue.
If you prefer purely natural scents in your home, you can check out our 10 best Christmas essential oils instead.
How do you use fragrance oils?
The best thing about fragrance oils is that they are incredibly versatile, and can be used for many scent applications including, but not limited to:
Diffusion
Soap making
Candle making
Wax melts
Bath bombs/salts
Slime
Cosmetic applications
Essentially, if you have a project you're currently thinking of adding some scent to, fragrance oils are pretty fitting for almost anything in that criteria.
Can I use fragrance oils in candles?
Fragrance oils are probably most popular amongst candle makers, largely because they are really easy to use and tend to carry a good scent throw.
If you are looking to add any of these Christmas fragrances to candles, we recommend following a tested recipe and a clear candle making guide. You can also check out our guide for making Christmas candles here.
What are the best Christmas fragrance oils?
Since there are so many fragrances to choose from, it can sometimes feel overwhelming to narrow down your favourites - especially during the festive season where everything seems to smell wonderful.
Thankfully, this list of our ten favourite Christmas fragrances can help kickstart your creativity and get you thinking about the best festive aromas for you.
Apple & Cinnamon Fragrance Oil
A warm winter classic, our Apple & Cinnamon Fine Fragrance Oil is the ideal staple for any scent project, and can help leave you home smelling noticeably festive without going over the top.
This fragrance oil unites sweet notes of baked apple with a traditional spiced cinnamon scent - providing a well-rounded aroma not too dissimilar to a fresh apple pie.
If you're looking to make candles with your fragrances, you can find our recipe on how to make them using our Apple & Cinnamon oil here.
Frosted Wonderland Fragrance Oil
Are you someone who thinks the best part of Christmas is the light dusting of fallen snow, and the fresh Winter air that surrounds the trees? Our Frosted Wonderland Fine Fragrance Oil may be just the thing for you.
Blending together refreshing notes of eucalyptus, cedarwood and pine, this scent perfectly encapsulates those chilly walks with your loved ones after a hearty Christmas dinner.
Winter Spices Fragrance Oil
Nothing says Christmas quite like the spicy aromas of winter cooking, and our Winter Spices Fine Fragrance Oil can help keep those feelings of comfort and warmth going all year round.
Combining sweet notes of cinnamon with a fragrant centre of mixed spices, this fragrance oil can be an extremely useful base for wax melts and diffusers near the kitchen area.
Happy Holidays Fragrance Oil
This is, quite literally, the ultimate Christmas scent - especially if you're a lover of the sweeter side of the holidays.
Our Happy Holidays Fine Fragrance Oil can help activate your youthful merriment with layers of fruity sweet and gentle rustic notes that all come together into one perfectly placed wreath.
Clementine & Cinnamon Fragrance Oil
If you like Christmas pudding, this sweet combination of fruits and spices is sure to satisfy your festive heart.
Bringing together two of the most traditional Christmas flavours, our Clementine & Cinnamon Fine Fragrance Oil is deeply warming and equally rich, creating the perfect air of indulgence for your next seasonal party.
Mulled Wine Fragrance Oil
Love it or hate it, there's no true Christmas feeling without the sweet smell of mulled wine on every market corner.
Joining notes of cinnamon, apple and orange, our Mulled Wine Fine Fragrance Oil will keep you warm through even the coldest of winter nights, and can function as an ideal base for a classic but well-balanced candle.
Mistletoe & Snowflake Fragrance Oil
Thinking of making some romantic Christmas soaps? Our Mistletoe & Snowflake Fine Fragrance Oil may be just the ticket for a love-struck wintery atmosphere.
Woody and aromatic with a subtle element of sweetness, a sprinkle of this fragrance oil can create a gentle but effective vibe of freshness and security.
Frosty Christmas Rose Fragrance Oil
Another romantic entry to this list, our Frosty Christmas Rose Fine Fragrance Oil is a great alternative for those who prefer a more floral backdrop to their festive evenings in.
The fresh and delicate scents of this oil give off an air of Christmas vibrancy without too many sweet notes - preventing your spaces from feeling too sugar-coated all season long.
Alsatian Gingerbread Fragrance Oil
Traditionally German, the scents of this sweet and spicy loaf are a good out-of-the-box pick to have in your home or as a base for your projects.
Our Alsatian Gingerbread Fine Fragrance Oil combines notes of cinnamon and vanilla with a subtle freshness - creating the prefect backdrop for those who love baking as well as the warming aromas of European Christmas markets.
Cosy Fireplace Fragrance Oil
No matter how you celebrate the festive period, we can all agree that nothing quite makes it special like the feeling of snuggling up by a warm, inviting fire.
Diffusing the woody and comforting notes of our Cosy Fireplace Fine Fragrance Oil through your home can help create the perfect atmosphere for a toasty Christmas evening, while also keeping you feeling grounded and secure.
Using fragrance oils to scent your home can be a fun and unique way to maintain variety in your spaces this Christmas, as well as inspire creativity for making candles, soaps, wax melts and more to gift out to friends and family.
They can also help to capture a number of different moods, so don't be afraid to try out a few picks on this list based on the kind of Christmas vibe you want to create.
Shop our fragrance oils here.
{ if (visible && product == e.detail.data) return; ready = false; const articleTop = document.querySelector('[data-article]').getBoundingClientRect().top + window.scrollY; $nextTick(() => { product = e.detail.data; selected = product.variants[0].id; ready = true; setTimeout(() => { top = e.detail.target.getBoundingClientRect().top + window.scrollY - articleTop; show(); }, 10) }) }" @scroll.window="close()" >