2 min read / 18 March 2022 / Laura Garvin Gomez
How to safely use essential oils in your haircare routine
Learn how to take your haircare routine to the next level.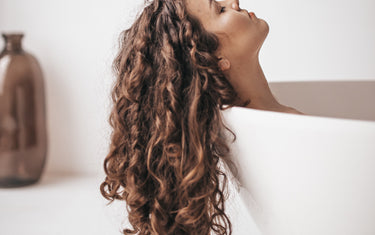 There's a dizzying amount of haircare options these days.
Whilst it's great that there's something out there for every hair type, many of these products contain a whole host of chemicals, listed on hard-to-decipher labels that make it difficult to know exactly what it is that we're putting on our heads.
Natural products can be a great alternative, helping you to personalise your haircare routine to exactly what works for you.
However, if you're looking to benefit your hair with essential oils, then it's important to know how to do so safely.
Step one: Choose your oil
There's plenty of great essential oils for haircare so choosing which one to use mostly depends on preference of smell and intended outcome.
Some specific benefits include:
Not sure where to start? Check out our list of the best essential oils for hair.
Step two: Create your product
There are lots of great recipes out there to help you get the most out of
your essential oils, but if you can't find one that's right for you then you can
easily incorporate essential oils into your everyday routine.
The two easiest ways to use essential oils on your hair are adding the oil to your shampoo or conditioner.Simply open up the bottle, add a few drops, and shake well to combine.
Another great way to customise your hair products with essential oils is to create your own hair serum.
You can do this by combining a few drops of your chosen essential oil with a large amount of carrier oil – preferably one with known benefits for hair, such as argan oil or jojoba oil.
Always perform a patch test before using essential oils on the scalp.
Step three: Apply to your hair
If you've chosen to customise your shampoo and conditioner then you can use it as part of your regular haircare routine – simple!
If you've chosen to make your own hair serum, wash your hair as usual, then apply the serum to your hair whilst it's still wet.
Leave it to soak in for 30 minutes before fully rinsing out.
Precautions:
Be wary of applying phototoxic or potentially irritating oils to the scalp –
always read the safety information on your product label carefully.
You should

also always use small amounts of essential oil, as these natural products can be

potent.
It may take some experimentation to find the concentration that works best for you and your hair, but it's always better to start with less oil rather than more.
Essential oils are a great way to ensure that you have control over what you are putting on your hair whilst still giving it the attention it needs.
If you're not sure which oils to start with, try our Hair Health Pure Essential Oil Blend, which has been expertly blended to benefit your hair.
{ let idx = null; product.variants.forEach((v, i) => { if (v.featured_image && v.featured_image.id == $event.detail) { idx = i; } }); if (idx !== null) swiper.slideTo(idx, 0); }" x-init="() => { if (variants.length > 1) { const images = product.variants.map(v => { if (v.featured_image) { return `
`; } }) appendSlides(images); } else { if (product.featured_image) { appendSlides(`
`); } } }" >