27 May 2023 / Laura Garvin Gomez
Candle Making & Wax Melt Insurance
Craft insurance is vital for the security of your candle or wax melt business. Learn what it is and when you'll need it in this comprehensive guide.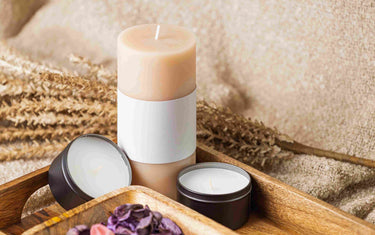 There are many crucial elements you'll need to consider when starting a business, but none are so crucial as insurance.
The word may encourage a bit of a snore-fest in some, as insurance is by no means the most exciting part about running a business. Unfortunately, though, it is a very necessary step if you want to keep your brand secure.
For those that are just starting off, knowing what you should and shouldn't have from a legal perspective can be challenging. Thankfully, this guide is here to help with all your questions surrounding wax melt and candle business insurance.
What is candle making insurance?
Candle making business insurance is pretty similar to most other insurance types you'll find. Officially, there's no such thing as insurance for candles specifically, but it is covered under something known as "craft insurance".
Many people (including you!) are becoming increasingly involved in craft making, which means the right insurance types will be fairly easy to come by so long as you know what you're looking for.
If you're planning on selling your finished products to the public, insurance is essential for protecting you and the crafts you make.
Craft insurance is necessary whether you're a full-fledged business owner or a simple part-time hobbyist, even if it's not (strictly) a legal requirement.
Why do I need insurance for candle making?
Unfortunately, where candles and other crafts are concerned, there's always room for accidents.
If, for whatever reason, someone becomes ill or injured as a result of your product, you could face some very expensive fines if you don't have the right insurance to protect you.
Mistakes like these will not only come at a personal cost to you, but they could also lead to the end of your business altogether. This is especially true if you're a small business, as every penny counts toward something that can help your brand to grow.
Craft insurance will also cover incidents like lost stock or equipment, as well as things like cyber cover depending on the provider.
Do I need wax melt insurance?
Wax melts, like candles, come under the umbrella of "crafts" as far as insurance is concerned.
This means that any incidents involving your wax melt, such as a claim or a fire or illness, will be protected by this kind of insurance.
Just as with candles, insurance for your wax melts is not legally required but it is highly recommended.
Do I need insurance if I'm selling at craft fairs or market stalls?
A popular choice for many small crafting businesses is to take their products to local craft fairs or markets.
While this is good practice for your sales, many fairs won't allow you through the door without something known as Public Liability insurance.
Public liability insurance will cover any claims that customers or contractors could make against you and your products, and is considered a good idea no matter where you're selling your goods.
As a candle or wax melt maker, it's best to have both public liability insurance and crafting insurance under your belt before you start selling anything.
How do I get wax melt and candle making insurance?
Before you start shopping around for the right insurance provider, it's imperative you had a few legal requirements ready to go. This includes having things like business information, correct CLP labels, and visible warnings allocated where they should be.
If you're unsure about what's legally required of you as a crafting business, you can check out our complete legal guide for selling candles and wax melts. You can also refer to our CLP labelling guide for more information about what's needed on these.
Without the right CLP information or legal documentation, your insurance could become void. This will leave you without cover if something was to go wrong.
Once you've sorted the information you need though, finding insurance is as easy as just shopping around for the best provider. Ideally, you'll choose an insurer that really understands the ins and outs of candle and wax melt crafting.
How much is candle making insurance?
The cost of insurance will vary depending on numerous factors, including the size of your business and what kind of coverage you require.
Some craft insurance can be as little as £5 a month, but every price will be different for different businesses. The easiest way to ensure you're getting the best deal is to ask for a quote.
Find a handful of insurance companies that you like the sound of and use their tools to get a quote that's specific to your business. This will help you compare prices and figure out who is willing to offer you the greatest amount of coverage at the best rate.
Once you've done that, you'll be all set up to start selling, so make sure you're finding somewhere that meets your budget!
What other types of insurance do I need?
Alongside craft insurance and public liability insurance, there are a few other insurance types that are recommended for small candle and wax melt businesses.
While you may not need all of them, it's a good idea to be aware of what's out there in case of emergencies. Here are just some of the types that you're likely to come across:
Employers' Liability Insurance. If you employ staff to help you sell your candles or wax melts, you'll need this kind of insurance to protect them in case of injury. This includes hiring employees for the odd craft fair or market stall.
Product Liability Insurance. This type of insurance will cover you in the event of an incident involving your product that has led to legal action. It will cover legal fees as well as any compensation payments you may need to make.
Stock insurance. It's a good idea to protect your products, including any stock you use to make them, against common issues like loss, theft, or damage. This type of insurance can help keep your business afloat in the event of these issues occurring.
Business Equipment Insurance. Do you use expensive equipment to help you make your candles and wax melts? If so, it might be a good idea to protect them with insurance. This includes computers and machinery that may not be covered under a home insurance policy.
Overall, finding insurance for your small business is fairly simple. Once you know what kind of cover you'll be needing, all you need to worry about is the best price. After that, the world is ready to receive your amazing products without concern about the legal implications.