25 July 2023 / Laura Garvin Gomez
How to Choose the Right Wick for Your Candles
Learn the art of selecting the ideal wick for your candles and achieve a perfect, even burn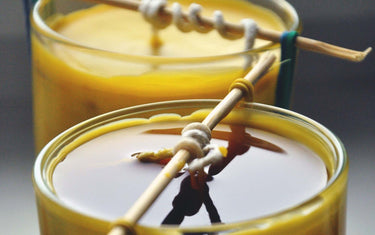 Learning how to choose a wick for your candle is an important part of the process that will help to determine how well it will perform.
Even if you have the perfect wax, fragrance and colour, using an unsuitable wick could lead to a poor burn rate or even an unsafe candle.
To make things a little easier, we've put together a guide on how to choose a candle wick, so you can get the best results from your latest creation.
What are the different types of wick?
Choosing the right candle wick will go a long way to ensuring it is safe to use and will also have a good burn rate. Some of the most popular types of wick include:
CDN wicks: CDN wicks are zinc-free and offer enhanced rigidity, which makes them suitable for a wider range of waxes, with soy, palm and paraffin typically offering a good match.
HTP wicks: Ideal for soy wax candles, HTP wicks are strong and rigid, whilst also being self-trimming and producing a softer burn.
CL wicks: Cotton and linen wicks are produced by interweaving a linen thread with unbleached cotton. Afterglow and smoking are minimised and they work particularly well with vegetable and heavily fragranced mineral waxes.
TCR wicks: Long strands of ring-spun cotton and paper are used to make this flat-braided wick. They offer a strong burn profile and work well with vegetable-based waxes like soy.
Wedo Eco wicks: Thin paper filaments are interlaced with pure cotton to make Wedo Eco wicks, which produce a stable, consistent burn. These are a good choice if you are using higher concentrations of dyes and fragrances.
Wooden wicks: This is a more modern wick type that are growing in popularity. Once ignited it produces a crackling flame similar to that of a fireplace, with a slow, even burn and a low, wide flame.
How to choose a candle wick
Use the steps below to help you choose the ideal wick for your candle:
Choose a wax type: Most wax manufacturers make their wax for a particular application, so you should bear this in mind when choosing the wax for your candle. Some of the most popular types include soy, paraffin, palm, coconut and gel wax, which each have their pros and cons depending on the type of candle you are making and the style of wick you want to use.
Select a wick: Some types of wick work better with certain waxes compared to others. Burn behaviour can be affected by the container, dye and fragrance oil, so even if the wick is suitable for a particular type of wax, it may not perform in the expected fashion due to these factors.
Measure the diameter: This relates to candles that are made using a container or mould. Measure the diameter (which is from one edge straight across to the other) as this will help you determine whether to use one or more wicks. Container candles that are larger than 3 inches tend to work better with multiple wicks, although it is entirely your choice.
Find the right wick size: Experienced candlemakers often build three candles at the same time, each with different wick sizes, to see how it burns. This isn't something you also have to do, although it's all part of understanding how to choose the candle wick size, so if it is your first time or you are trying something new, adopting this approach can make wick selection a lot easier.
Design your candle: Depending on the type of candle you are making, you may also be adding fragrance, colour and using a container or mould. Continue making the candle incorporating these elements and allow it to cure as needed.
Burn test: A burn test is the best way to determine if you have chosen the right wick for the candle. If you want to carry out a thorough test that ensures the candle is safe to use, we describe what to do in more detail in the section below.
Make adjustments: If you have tested the candle from start to finish, and it had an acceptable scent throw, with most of the wax consumed by the candle, and no soot, tunnelling or excessive heat, then the wick is the right size. If not, you should try a new wick and try a new candle to see if it produces a better result.
How to carry out a candle burn test
A key part of learning how to choose the right wick for your candle is to carry out a thorough burn test. ASTM F2417 – 17 is the Standard Specification for Fire Safety for Candles and it outlines a procedure widely used across the industry.
So, if you are making candles to sell, then you should follow these guidelines to ensure your candle is safe to use.
The test involves burning a candle for four hours at a time until it reaches the end or if it fails by exceeding one of the following:
Flame height exceeds 3 inches
There is more than one flame per wick
The candle has damaged the surface it is sitting on
Candle tips on its own
Vessel cracks of shatters (typically because it is too hot)
If you have burned the candle for four hours and not encountered any of the above, extinguish the flame, let it cool and then conduct another 4-hour test.
Finding the right wick for your candles can be stressful at times, as there is a lot of trial and error involved along the way. Hopefully the information we've put together for you will make it easier to narrow down your options so you can handpick wicks that help your candles perform as expected. It is entirely up to you how you wish to test your candles, but we would highly recommend following the guidelines mentioned in this article if you are selling them as products.