7 July 2023 / Laura Garvin Gomez
What is the Best Wax for Candles?
Uncover the ideal wax for your candle creations with our expert advice and top recommendations.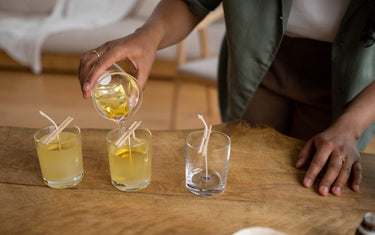 How you choose the best wax for candles depends on what type of candle you want to make.
Each type has its own unique qualities, with some being the best wax for scented candles, whilst others are more suited to containers or tealights.
If you love nothing more than putting together your own wax creations to enjoy at home or sell online, we evaluate the best wax for candle making so you can enjoy the best possible results.
What wax is best for candles?
To help you find the best candle wax for the type of candle you want to make, read through the descriptions below to discover the pros and cons of each variety.
1. Soy Wax
One of the major advantages offered by soy wax is that it has a higher melting point and slower burn time, so candles do tend to last for longer (candle size, wick height etc. also affect the burn time). Soy wax is best used for making container candles and tealights, although it also works very well in wax melts.  
Most importantly, it is a 100% eco-friendly option, as soy wax is made from soybean oil, so no toxins are released, and it is fully biodegradable. The wax also produces a strong scent profile, so if you are usually a good quality oil, you should only need to add a small amount to enjoy a long-lasting scent.
2. Beeswax
Like soy wax, beeswax is also a natural material and much kinder to the environment. As the name suggests, it is derived from bees and their hives, so once lit, you should also be able to smell some of the honeycomb sweetness.
This perhaps does not make it the best wax for scented candles, as when mixed with essential oils or fragrance oils, the natural scent can prove to be disruptive. That said, beeswax does burn very well, and it also releases negative ions, which are thought to neutralise pollutants to purify the air. Rolled candles are best for beeswax, as the process does not require you to use much equipment.
3. Coconut wax
Coconut wax is harvested from coconuts and does not contain any extra chemicals, so like soy wax and beeswax it is completely natural and renewable. In most cases, it is mixed with soy or beeswax to create a solid form that is suitable for candles. Container candles, tealights and wax melts are the best types to make using coconut wax.
It's a wax that holds fragrances and colours well, so if you are interested in creating more decorative candles, then coconut wax is a good place to start. One downside is that it can be a little more expensive than other types of wax, so that should be factored into your decision making, especially if you intend to sell your candles.
4. Rapeseed Wax
Rapeseed wax is a relative newcomer that is derived from the oil extracted from the flower. It's another natural option that is fully vegan, biodegradable and sustainable, and because it is sourced from the parts of Europe where there is strict regulation, it is not linked with the overuse of pesticides or deforestation.
It's a slow burning wax that will usually last longer than paraffin candles and it produces virtually no soot at all. You'll enjoy a good scent throw with rapeseed wax and it works particularly well in container blends.
5. Gel Wax
Whilst you can use gel wax in a candle recipe, it is not actually a wax, but a man-made combination of mineral oil and polymer resin. It's ideal for making brightly coloured, eye-catching transparent candles and wax melts, as it holds colour very well, as well as producing a good scent throw.
Gel wax is typically used for wax melts, container or votive candles, although there is a firmer gel wax available that is suitable for making pillar candles. One thing to bear in mind is that it is not a natural material, as the oils are a by-product of petroleum, so it will release toxins whilst being burnt.
6. Paraffin wax
You'll find that paraffin wax is used in a lot of commercial candle products, largely because it is low cost and tends to produce a steady burn. The wax holds fragrances very well to produce a strong scent throw, and you can also buy paraffin wax in several different grades, which all have their own melting, fragrance and pouring points.
This gives you more options in terms of the shape and size of the candle, allowing you to make large pillar candles, narrow tapered candles and many more. One thing to be aware of with paraffin is that it does release toxins, so it is not an eco-friendly option if that is a priority for you.
Each type of candle wax has its benefits and disadvantages, so it's all about finding the right one that suits the style of candle you want to make and that will perform as you need. Whether you are a novice or experienced candle maker, it all begins with choosing a wax that meets your requirements and expectations, so you can then focus on the other elements needed for the recipe. In the end, it means that choosing the best wax for candles is a subjective decision, so hopefully all the information we've provided will help you to narrow down your options to make the right choice for you.