3 June 2023 / Laura Garvin Gomez
How to Make Tea Light Candles at Home
These tiny candles are perfect for adorning every crevice of your home. Here's how to make them.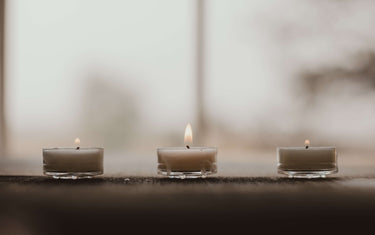 Tea light candles have been a popular staple in household decor for centuries.
With their simple design and (generally) unscented base, they provide the ideal lighting scheme for a romantic evening in, a cosy bath, or a fancy dinner party.
Tea light candles are also super easy to make and stock, meaning they're great for businesses with limited storage space. If they're unscented, they also won't require any CLP labels, which is perfect for business owners who are a bit stuck on the technicalities.
Even if you're not a business owner, tea lights are super fun to DIY and make wonderful gifts for your loved ones around Christmas or birthdays. We're sharing our easy recipe on how to make soy tealight candles from the comfort of your own home.
Why soy wax?
Most commercially sold tea lights use paraffin wax. Paraffin wax is a by-product of the petroleum industry and is very cheap as a result, meaning it's used extensively by large candle retailers.
Sadly, its relationship with fossil fuels makes this wax a very poor choice for the environment. Paraffin wax also produces a very smoky burn that is known to release harmful carcinogens into the air.
Instead of paraffin, many independent candle makers are now opting for the use of soy wax - an all-natural alternative with the same accessible price tag.
Soy wax is made entirely from the extracted oils of soybeans and produces a very clean burn that can last up to 50% longer than paraffin. It's also a very effective scent carrier. All these factors make soy wax the ideal choice for homemade tea lights.
Can I use another type of wax in my tealights?
If you're not keen on soy wax, there are other natural wax types that will also work well. Beeswax, for instance, is a popular choice but can be more expensive.
Coconut wax is another up-and-coming option for new candle makers. It's made entirely from the meat of coconuts and has a light scent that compliments candle fragrances well. You can check out our recipe on how to make candles with coconut wax to help get you started.
Of course, the option of paraffin wax is always there too. Learn more about the different wax types and their characteristics.
Do I need holders for my homemade tea light candles?
When making your tea lights, you'll need something to give them that desired round shape. Most candle makers opt for the same metal or plastic holders that you'll see on tea lights in stores.
If you're not keen on splurging for a bunch of small candle holders, though, you can also use a silicone mould to help achieve the same sort of effect.
In this case, you'll need something like an empty candle jar or old candle holder to hold your tealights instead, but these are generally much easier to come by (and cheaper too!).
How to make tea light candles
Now for the main event: how to make tea light candles at home. We'll be sharing a basic recipe for 32 candles along with some optional steps if you wish to add scent or colour for a bit of extra flair.
You will need:
454g Soy Wax
TL15/s.33 Tealight Wicks
Clear Polycarbonate Tealight Cups 38x19mm OR your choice of round silicone mould.
28g Fragrance Oils OR Essential Oils (Optional)
Your choice of candle dye (Optional)
Wick Centring Tool (Optional)
Glue Dots
Thermometer
Heatproof Glass Bowl
Method:
Measure out your wax and place it in a heatproof glass bowl. Put some water in a saucepan and heat gently until warm.
Once warmed, place your glass bowl on top of the water. Make sure no water gets into the wax. Using your thermometer, measure the heat of the wax until melted. Do not let it exceed

80°C.

While your wax is melting, prepare your tea light cups. Place your wicks in the centre of your candle holder. Try to get them as centred as possible - this will affect the way your candle burns.

Once your wax cools to 70°C, add your dye followed by your fragrance oils or essential oils if you're using these. Stir gently for 2 minutes.

Let the wax cool further to around 60-65°C. Transfer the wax to a glass pitcher. You technically don't have to do this, but it will make it a lot easier to pour the wax accurately.

Pour your wax into your candle containers. Work carefully and slowly, making sure you don't spill any hot wax in the process.

Once poured, check your wicks are straight and re-centre them if you need to. You can also use a wick centring tool if you have this available.

Leave your candles to cure for 24 hours. Once set, they're ready to be used!
How do I store my tea light candles?
When you're not using your tea lights, it can be very easy for them to become dusty in a cupboard somewhere.
While this isn't a major issue if you're employing them for personal use, it can affect your sales and the reputation of your business if you choose to sell them on to consumers.
To avoid this, try and keep your candles in a waterproof plastic container with a lid. This will prevent dust and debris from developing on the top. It's also a good idea to store your candles in a cool, dry place to avoid any temperature changes to the wax.
Learn more about how to store your candles correctly at home.
Now that your tea lights are made, you're free to dot them everywhere and anywhere you'd like around your home. You can also try personalising your next batch with unique colours, scents, and even shapes if you're using a shallow silicone mould.
Most of all, enjoy the process and don't be afraid to try again if things don't work out the way you'd like them to the first time. Candle making is all about trial and error, but it's great fun too!