22 May 2023 / Laura Garvin Gomez
How to Store Your Candles and Wax Melts
Storing your products correctly may seem like a small issue, but it's essential to the successful running of your business. Here are some of our top tips.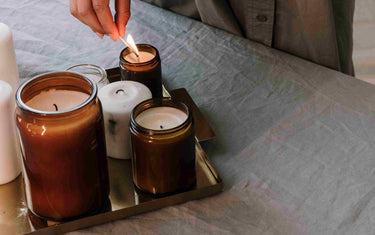 As a business owner, it's always a good idea to keep a healthy amount of stock ready for your customers.
But knowing how to store your items properly is an integral part of the process. If your candles and wax melts aren't stocked as they should be, many unwanted complications could emerge once you're ready to sell them.
Learning how to appropriately stock your products can not only increase their longevity but also preserve their quality and help maintain a trusted relationship with customers.
If your products are constantly changing their tune for reliability and efficiency, then people will be less likely to trust your brand as a whole. So, how can this be prevented?
We're providing a quick guide on the importance of wax melt and candle making storage.
What are some important points to remember when storing wax products?
A major part of the storing process isn't necessarily where you store your products, but rather how you store them. There are key practices to always keep in mind when storing any kind of wax product in your home. These include:
1. Safety
This may seem self-explanatory, but always keep your wax products out of reach of children or pets.
Wax melts in particular can easily be mistaken for edible substances, so it's better to store them far away from any areas where vulnerable groups may be able to access them. Lockable cupboards are a good way to achieve this.
Secondly, if you're storing your wax products at height, remember to always follow the correct lifting procedures. Heavier items (such as boxes filled with candle jars) should be stored between a shoulder and mid-thigh height.
2. Temperature
The temperature you choose to store your wax products at will be the most integral factor for their overall quality.
Leaving your candles or wax melts in a location that's too hot may cause them to melt or leach. Alternatively, a location that's too cold may cause cracking or separation.
Constantly changing the storage temperature of your wax products can also affect their finish and their burn time, so it's important to keep them in one place for as long as you can.
For the best quality finishes on your wax products, we recommend storing them in a cool, dry place with temperatures no higher than 28°C. You should also keep your products away from direct sunlight as this can cause dyes to bleach or become discoloured.
3. Rotation
Any time you're storing anything for retail, make sure you're frequently rotating your stock. This involves sending older candles and wax melts to the front of your collection to ensure they're used first.
Failure to rotate stock can lead to dusty, stale-smelling products that can be easily forgotten over time. Not the best method if you're trying to save money on production!
How to store candles at home
Now that we've covered the basics of where and how to store your products, it's time to focus on the packaging that will further increase their longevity.
The packaging you use will vary depending on the candles you sell, so we've broken down two major types and how they can be best stored.
1. How to store scented candles
Lids: Excess dust on your candle can affect

its

initial burn, so the

best way to keep your candles free from dust and debris is to use lids. Lids can also maintain the optimal fragrance levels in your candle upon its initial opening.
Storage containers: Choosing the right storage container for your candles will make a huge difference in maintaining their quality. We recommend using large, plastic containers with lids. These are waterproof and can also keep foreign contaminants away from your products.
Card/tissue barriers: When storing your candles, it's important to keep them free from scratches or marks. Use tissue or cardboard to help create a barrier between each product.
2. How to store pillar candles
Unlike scented candles, pillar candles don't come in containers that help protect them. This means that you have to be extra cautious when storing them in your home.
To avoid your candles sticking together or developing scuff marks, wrap them securely in tissue paper. This will protect the wax from its surroundings and make the candles easier to remove from storage later on.
3. How to store wax melts
The type of wax melt you make will impact the way it's stored.
Wax melts in clam shells or deli pots will already come with external packaging, so just make sure you're storing these in the same way you would store scented candles.
If you've made individual wax melts with a silicone mould, it's important to include some kind of packaging before storing them. Glassine bags tend to be the most popular choice. These should be placed in small segment boxes and on cardboard trays to maintain the quality of the wax melt.
It's also recommended to store wax melts vertically in your cupboards. This will prevent the fragrance oils in them from shifting unevenly over time.
How long can you store candles?
The length of time you can store your candles or wax melts will depend on the ingredients inside of them.
If you're storing candles made with paraffin wax and fragrance oils, these can last for years without their quality being disturbed.
If your candles contain natural substances like essential oils or soy wax, on the other hand, these are best used within a few months.
In general, try to clear candle stock within one year of making it. The sooner you can sell it, the better. This is where rotating stock becomes incredibly important for the success of your brand.
Storing your candles correctly can ultimately be the difference between a quality product and a failing business, so make sure you're prioritising how each and every unit is stocked.
If you're still in the process of making your candles and want a reliable supplier to help you on the way, sign up for our wholesale to access all our trade prices with quick delivery and no MOQs.