15 October 2021 / Caitlin Devlin
Homemade all-natural curl treatment spray with essential oils
Discover a home treatment for curly or frizzy hair that's full of natural goodness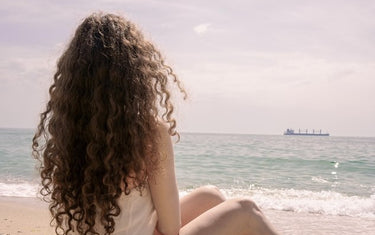 Tired of frizz? Define your curls with this all-natural recipe containing lavender, rosemary, cedarwood and peppermint oil.
For those of us with curly hair, finding a product that properly moisturised curls whilst allowing them to hold their shape can be a near-impossible task. All curls are different, and one-size-fits-all pharmacy products just don't always do the trick.
That's why many people are beginning to turn to natural recipes that allow them to customise the best treatment for their hair type – without breaking the bank.
This recipe contains four essential oils and guidelines for amount of each. If there's an oil that you don't want to use, feel free to either substitute it with another oil, or get rid of it altogether.
If you end up using three oils rather than four, just make sure to use the upper threshold of each recommended amount to ensure the best results.
How to make a natural curl treatment spray
Ingredients:
½ cup water
¼ cup witch-hazel water
¼ cup rosewater
1 tbsp Epsom salt
1 tsp of sea-salt flakes (not table salt)
Oils:
Method:
Combine all of the ingredients in a pan and heat gently until the salt is completely dissolved. Be careful not to bring to boil.
Wash hair as normal. Squeeze excess water out of damp hair and spray throughout, using your fingers to comb or scrunch the product through.
Use no more than twice a week. This product can help to moisturise and define curls, but if used excessively then it can swing back the other way and become drying.
Enjoy defined and delicately scented curly hair.
If you're looking for more a boost to your hair growth, why not try our rosemary oil for hair.