13 April 2023 / Laura Garvin Gomez
DIY Essential Oil Face Mist
Keep cool in the summer months with this handy facial spray - made using essential oils.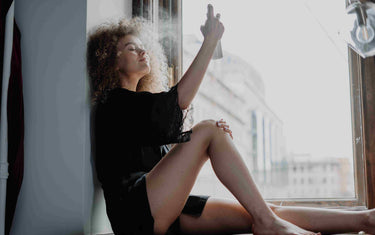 With summer fast approaching (it's on its way, we promise!), finding the perfect way to keep cool will be top of our agenda before long.
Making your own cooling face mist is a simple yet effective way to stop feeling hot and bothered, while still allowing you to go about your daily tasks.
This recipe uses essential oils to charge your homemade facial spray with aromatherapy benefits too, which can be key for feeling your best in the height of summertime and beyond.
So, if you're ready for the warm weather to officially begin, here's a quick guide on how to make your own cool spray for face using essential oils and witch hazel oil extract.
What is a cooling spray for face?
Cooling sprays tend to come in easy-to-use bottles and can be carried on the go for relief from many physical and mental ailments.
Some of the most popular uses for cooling sprays include:
Combatting hot weather and humidity
Cooling down after exercise
At work for a mental refresh
In between layers of makeup for smoother, more even application
As a toner during your daily skincare routine
During menopause
As a way to uplift your mood when you need at little boost
So, no matter where you live or what the temperature is like, aromatherapy sprays can come in handy to help keep your wellness in good nick.
Why are essential oils important for a cooling facial mist?
Technically, you don't need essential oils to make a perfectly good cooling mist - but it certainly doesn't hurt to include them!
Essential oils are natural products that contain numerous benefits for the mind, body, and spirit. Using them in your day-to-day can not only help improve your mood, but also provide you with a better chance of achieving all the goals you're looking for in your face mist.
For instance, the refreshing aromas of peppermint oil allow for a greater cooling boost, while the floral notes of lavender oil are more likely to calm you down if you're feeling flustered.
What are the best essential oils to use for a face mist?
You can customise your face mist with any essential oil you like, but here are some of our personal favourites to help get you started.
Peppermint oil - cooling and energising, peppermint oil is the perfect ingredient for a successful facial spray. It's also anti-inflammatory and can help soothe itchiness or discomfort on the skin.
Rosemary oil - this multi-purpose oil is fantastic for boosting memory and focus levels, which makes it ideal for keeping by your desk!
Lavender oil - famous for its relaxing properties, this floral favourite can help quell moments of stress or anxiety on the go. It also great for use just before bed.
You can also try using an essential oil blend in your face mist to help target several aromatherapy benefits at once.
How to make a DIY essential oil face mist
Making your own face mist is incredibly easy, and only requires a few simple-to-locate ingredients. Here's how to make your own at home.
You will need:
1/4 cup alcohol free witch hazel (unscented)
10 drops of your chosen essential oils
2 oz glass bottle with a spray top
Directions:
Carefully pour your witch hazel into your spray bottle. You can use a funnel to help you do this if you wish.
Add your essential oil drops, being careful not to overdo it with the amount used (essential oils can be incredibly potent!).
Screw on your spray lid and shake the bottle well.
Once you're ready to use it, shake the bottle again and spritz onto desired areas. Allow to air dry.
Why is witch hazel an important ingredient in facial sprays?
Despite common misconception, witch hazel is not an essential oil but a plant extract that's used extensively in skincare applications.
Using witch hazel for skin can help clear up many stubborn issues such as acne, skin sores, dryness, redness, and scarring.
In this recipe, witch hazel is important to help dilute your essential oils as well as provide an extra layer of hydration for your skin.
Are there any risks to keep in mind when using my spray?
Facial sprays are mostly safe but, as with any natural product, there are a few precautions to keep in mind.
Firstly, always shake your spray bottle well before misting your face. This is important to note because witch hazel and essential oils don't naturally mix, so spraying it without shaking it could lead to a full dose of potent oils right in your face.
Secondly, make sure you're using essential oils that aren't phototoxic. Cold-pressed citrus oils in particular should be avoided, as these can cause irritation when exposed to sunlight.
Finally, be sure to perform a patch test of your spray before using it on your face.This will alert to any allergies or intolerances caused by the oils.
Now that you know how to make your own facial spray, feel free to enjoy the many benefits that come with it.
Whether you're using it to cool down, touch up your skincare, or focus your mind, this spray will become a new favourite in your wellness collection.