4 min read / 30 April 2023 / Laura Garvin Gomez
Coconut Oil for Beard: Benefits and More
Explore the benefits of using coconut oil for your beard and learn how to achieve a healthy and lustrous beard with our ultimate guide.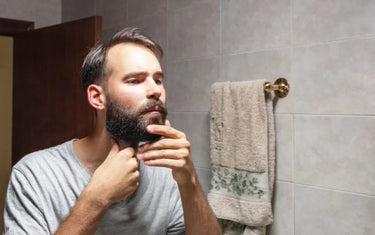 Coconut oil is used by many people to groom their beards, helping to moisturise the hair follicles and skin to improve its overall appearance.
And the oil continues to grow in popularity as it offers a natural alternative to the many commercial beard oils currently available on the market, which is ideal for anyone with sensitive skin. Here we look at the benefits of using coconut oil for beards, along with how to apply it and more.
What is coconut oil?
Coconut oil is oil that has been extracted from the meat of coconuts. There are three types of coconut oil, each holding its own benefits:
Unrefined
Refined
Fractionated
Most notably, fractionated coconut oil has a longer shelf life due to the steam distillation process it undergoes, which also makes it more stable than the other varieties. This is also the reason why it is more commonly used as a main ingredient in cosmetics, ointments, lotions and soaps.
What are the benefits of coconut oil on beard hair?
Applying coconut oil to your beard hair can offer a number of benefits, such as:
Combat dandruff for better quality hair: Using coconut oil on your beard can help to reduce dandruff growth. When your scalp or face is too oily or dry, this can lead to excess shedding of dead skin, otherwise known as dandruff. Coconut oil can't provide a complete cure, but regular use could help to minimise the condition, especially when used in tandem with a more specialised product.
Improve shine and moisture: Everyone wants shiny, vibrant hair and applying coconut oil could be a good way to give it more life. Once applied, it works to moisturise the hair follicles on your beard, helping to keep them moisturised and so they look fuller, shinier and silkier than before.
Enjoy a fuller looking beard: The lauric acid properties found in refined coconut oil can play a big role in helping to stimulate beard growth. And thanks to its low weight and molecule structure, rather than resting on top of the hair as some other types of oils can do, it soaks into the skin and hair follicles. Even after it has been washed out, you should be able to enjoy a fuller looking beard that is thicker and vibrant.
Helps to repair damaged hair: Hair follicles in your beard can be damaged for a number of different reasons, be it due to UV rays, smoking, pollution, bad diet or even wind damage. Many of these occur naturally, but by using coconut oil it can form a natural protective barrier to shield your hair. Coconut oil has a natural SPF of 8, which can reduce the damage caused by environmental factors.
Can help to unclog pores: It's easy to forget the skin beneath your beard but it also needs to be taken care of. The medium-chain fatty acids found in coconut oil offer antibacterial benefits, working to kill harmful bacteria that in some cases can lead to acne. For example, one study found that Propionibacterium acnes can be effectively killed off by lauric acid, which is a main ingredient of refined coconut oil.
What is the best coconut oil for beard hair?
Fractionated coconut oil tends to be a better option for many men with beards, as it retains its liquid form at room temperature whilst offering all the benefits of refined coconut oil. It is stacked with medium-chain triglycerides that deliver a high percentage of fatty acids that support skin wellness.
From unclogged pores and repairing damaged hair to giving you a fuller looking beard and combating dandruff, coconut oil has much to offer your beard hair. And because it is a carrier oil, it works as the base for countless essential oil blends, allowing it to be used on your scalp, body skin and more.
How to use coconut oil for your beard
Once you have found the right coconut oil for your beard you may need a little more guidance on how to apply it to achieve the best results:
Warm the coconut oil by rubbing about a teaspoons worth between your palms if you are using refined coconut oil, as it turns solid at room temperature. For fractionated coconut oil, use about 5-10 drops.
Gently massage the warmed oil onto your beard, taking time to stroke the oil downwards, which will help to tame stray hairs.
As the final step, massage the bottom of your beard with any oil that is left over.
It's a good idea to start with a small amount of oil so you can gauge the right amount, as applying too much will make the beard feel too oily.
Can coconut oil help your beard grow?
There is some belief that applying coconut oil to your beard can help it grow, although there is not any substantial evidence to prove that this is true.
There are no studies available to back up this claim, so at this stage it appears to be purely anecdotal. It could be because coconut helps to moisturise the beard, which gives it the appearance of being fuller and thicker, leading some people to believe that they are experiencing additional hair growth.
Coconut oil not only smells great on your beard, but it also helps to moisturise the hair follicles and your skin to improve its appearance. And if you have dandruff, it may be able to help minimise the effects of these conditions. Coconut oil is not as highly concentrated as essential oils, which means it does not have to be diluted and can be applied directly to your beard, giving you a natural alternative to some of the harsher commercial products currently available to buy. Using this oil in conjunction with our rosemary oil for hair could also improve the rate of hair growth and health.
{ let idx = null; product.variants.forEach((v, i) => { if (v.featured_image && v.featured_image.id == $event.detail) { idx = i; } }); if (idx !== null) swiper.slideTo(idx, 0); }" x-init="() => { if (variants.length > 1) { const images = product.variants.map(v => { if (v.featured_image) { return `
`; } }) appendSlides(images); } else { if (product.featured_image) { appendSlides(`
`); } } }" >
{ if (visible && product == e.detail.data) return; ready = false; const articleTop = document.querySelector('[data-article]').getBoundingClientRect().top + window.scrollY; $nextTick(() => { product = e.detail.data; selected = product.variants[0].id; ready = true; setTimeout(() => { top = e.detail.target.getBoundingClientRect().top + window.scrollY - articleTop; show(); }, 10) }) }" @scroll.window="close()" >