5 April 2023 / Laura Garvin Gomez
What are the Benefits of Coconut Oil?
Coconut oil has been extensively coined as a wellness hero. Here's why it's such a beloved remedy for our health.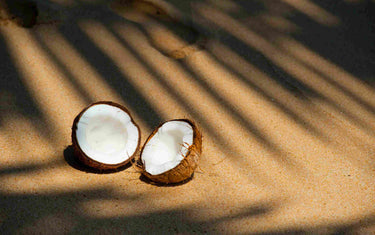 This tropical "super food" has been on the health and wellness radar for a while now - but what does it actually help with?
Coconut oil is one of the most famous plant-based oils out there, and the fruit from which it originates has been used for countless years thanks to its distinctive flavour and - most importantly - its rich number of benefits.
The benefits from coconut oil are just as strong, if not stronger, than those of its native fruit, and can do wonders for our wellbeing when used carefully and appropriately across our routines.
We're here to break down all the facts behind what coconut oil does, how we can use it, and when it's best included in moderation.
What is coconut oil?
Coconut oil is a plant-based carrier oil extracted from the meat of matured coconut fruits, which are taken from the coconut palm tree native to Malaysia.
There are many different types of coconut oil that can be found on the market, including:
Virgin coconut oil
Refined coconut oil
Fractionated coconut oil
While virgin coconut oil is most common in cooking, fractionated coconut oil (caprylic/capric triglyceride) has become increasingly popular in the wellness world.
This is due to the fact that, unlike other forms of coconut oil, fractionated coconut oil doesn't harden in colder temperatures. This makes it easier to apply without the fuss of having to warm it before use.
What are the health benefits of coconut oil?
Thanks to its high levels of fatty acids, vitamins, and MCTs (medium-chain triglycerides), coconut oil is filled to the brim with useful health benefits.
Some of the most impactful ones to note include:
Moisturising and repairing skin
Protecting and supporting hair health
Boosting energy
Aiding weight-loss
Improving our oral health
Protecting our liver
What are the benefits of coconut oil for skin?
Coconut oil is deeply moisturising and absorbs at rapid speed, which makes it one of the best carrier oils for skin out there.
Rich in antioxidants and lauric acid, we've listed a few of its best qualities for skin health below.
1. It's antibacterial and anti-inflammatory
Lauric acid is one of coconut oil's strongest natural ingredients for the skin.
One 2019 study noted the protective qualities of lauric acid against inflammation, while another performed in the same year explored its effects against bacterial infections like staph.
In both case, lauric acid showed positive results that indicated powerful anti-inflammatory and antibacterial effects - two factors that can help clear the skin and reduce signs of infection.
It's for this reason that many sufferers of eczema and psoriasis opt for the use of coconut oil in their routines.
2. It's a highly effective moisturiser
The MCTs found in coconut oil make it a deeply nourishing hydrator for the skin, with linoleic acid in particular contributing to its cleansing effects.
One 2013 study investigated the effects of MCTs on trans epidermal water loss (TEWL) - a common cause of dryness. They found that use of coconut oil could successfully reduce the amount of moisture escaping, leading to maintained water levels in the skin barrier.
3. It has anti-aging effects
Coconut oil, like many carrier oils, is jam-packed with antioxidants that can protect, heal, and soften our complexions.
By shielding our skin from environmental irritants like UV damage, pollution, and oxidative stress, these antioxidants can encourage a more youthful complexion over time.
Coconut oil is also known for promoting elasticity in the skin - keeping connective tissues strong and supple. This effect reduces the appearance of fine lines and wrinkles with frequent use.
Learn more about the benefits of coconut oil for skin.
What are the coconut oil benefits for hair?
Just as with the skin, coconut oil can help hydrate and protect the hair for nourished, enriched locks in no time.
We've noted some of the most powerful coconut oil benefits for hair here.
1. It can mimic proteins in our hair
The lauric acid found in coconut oil can do so much more than cleanse our skin - it can also almost directly mimic the natural proteins found in our hair.
Keratin, an impactful hair protein, is known to make hair look more full and glossy when absorbed into the hair cuticle.
Adopting the use of coconut oil on top of this can not only lead to softer, more manageable hair, but also the possible repair of damaged locks.
A 2015 review discovered that coconut oil was the only plant-based oil capable of replacing protein loss in our hair, meaning its use could completely revive our strands to their intended look and feel.
2. It moisturises and prevents damage
Coconut oil is very unique in that it can successfully penetrate through the hair shaft and moisturise it from within - as opposed to just sitting on top of it.
By nourishing our strands with antioxidants and fatty acids, coconut oil can protect against damage caused by dyes, bleach, harsh shampoos, and other common styling products.
This process also allows coconut oil to act as a sealant against excess water, leading to locks that are free of frizz and less likely to become damaged.
3. It protects our scalp
The key to healthy-looking hair will always be a happy, healthy scalp underneath.
As our scalps are essentially an extension of our skin, it's no surprise that coconut oil is just as effective on the tops of our heads as it is on rest of our bodies.
A 2012 study testing the effects of coconut oil on 140 dandruff and non-dandruff sufferers confirmed that topical application provided anti-fungal and anti-inflammatory benefits that could tackle the root cause of the problem.
It also proved that coconut oil could reduce flaking and itching in the affected participants.
Learn more about the benefits of coconut oil for skin.
Can you use coconut oil for cooking?
Coconut oil is mainly saturated fat, which means it's ideal for cooking in its virgin form. Refined versions of coconut oil can also be used for cooking, but they shouldn't be heated beyond 204°C.
The MCTs in coconut oil make it an ideal source of energy - going directly to to your liver and working in a similar way to carbohydrates. For this reason, they've long been used by athletes to help provide them with a quick boost.
There has also been evidence to suggest that these MCTs may increase the amount of calories your body burns.
Some people, therefore, like to consume small amounts of coconut oil to help with weight loss, though there is no concrete evidence to suggest its success.
Does coconut oil improve your oral health?
Oil pulling is a popular all-natural alternative to mouthwash which is thought to combat bacteria and improve cleanliness between brushes.
In fact, many people like to combine carrier oils like coconut with essential oils to further increase the effects of this practice.
The lauric acid found within coconut oil gives it strong antibacterial properties, particularly against strains like S. mutans that are commonly found in the mouth.
Sources have also suggested that oil pulling with coconut oil could prevent cavities, ease lower gum inflammation, and reduce plaque build-up thanks to the way lauric acid reacts with saliva.
That being said, oil pulling should not totally replace other dental therapy practices.
Is coconut oil good for your liver?
Since the MCTs in coconut oil travel directly to the liver upon consumption, it's normal to wonder exactly what effects this oil is having on one of our most important internal organs.
Coconut oil has been proven to directly protect the liver from damage, since its MCTs act as a natural antibiotic against the lipid coating on bacteria.
Coconut oil liver benefits are still in need of more general research, however.
Why is coconut oil bad for you in excess?
When it comes to topical application, there isn't really such a thing as too much coconut oil, unless you suffer from particularly oily skin.
This isn't necessarily the case for internal consumption, though. The AHA advises against the use of coconut oil for benefits like heart health, due to conflicting research on whether or not it increases the right forms of cholesterol.
Since coconut oil seems to increase both LDL (bad) cholesterol levels and HDL (good) cholesterol levels, excess use in your diet may lead to adverse effects that weigh out any potential positives.
How to use coconut oil
Skincare
Coconut oil is a great moisturiser for the face and body, and implementing it into your everyday routine is a fairly straightforward practice.
It is also one of the most versatile carrier oils in terms of where and how it can be applied. Some of the more popular choices include:
Applying straight from the bottle onto your face and body.This is an effective choice if you're wanting to replace your current moisturisers or serums with an all-natural alternative. Try aim for small amounts of oil at a time.
Using it as a hydrating lip salve. Applying a bit of coconut oil to your lips and leaving it to soak overnight could be a great choice for relieving dryness, especially in the winter.
Using it as a replacement for commercial make-up removers. Coconut oil can be applied directly on top of makeup to help remove it in the same way as a commercial cleanser. Once the surface is make-up free, rinse off any excess and pat dry.
Haircare
The applications of coconut oil for hair are truly endless, and can range from deep treatments to light touch-ups before going out.
Some of the most popular uses for coconut oil on hair include:
Using it as a pre-wash treatment. Applying a bit of coconut oil to your hair around fifteen to thirty minutes before showering could help prevent dryness and damage caused by washing.
Including it in a hair mask. Coconut oil can be mixed with essential oils like rosemary and lavender to make a nourishing overnight treatment. Massage the oil mixture gently through your scalp and along your strands to the tips.
Applying it as a styling tool. Before heading out, try lightly applying some coconut oil to damp hair as a way to reduce frizz after drying. Be careful not to use too much, though!
Soap making
Coconut oil can be a great tool for high quality, long-lasting soaps.
Adding it to your existing soap recipes could help produce firmer bars with better lather, though it's important to always follow a soap making guide before trying it in excess.
Other applications
If you are looking to internally consume coconut oil, the best choice is always virgin coconut oil. Make sure you're following trusted recipes when using it in cooking, and try to avoid too much direct consumption.
Other forms of coconut oil can also be used for practices like oil pulling as long as you've consulted with a professional first.
Frequently Asked Questions
Can you put coconut oil in your hair?
Yes! Coconut oil is suitable for all hair types and can be used on both wet and dry hair.
Can I put coconut oil on my face?
Coconut oil can be applied to the face, although it's best avoided if you have oily or acne-prone skin due to its high comedogenic rating.
Is coconut oil good for wrinkles?
Coconut oil is great for reducing wrinkles as it can stimulate elasticity and promote higher collagen levels on the skin.
The miracle benefits of coconut oil can range from the basic and useful to the complex and bizarre, but that's what makes it such a well-loved remedy!
When using coconut oil topically, remember to keep your skin's natural structures in mind, and be sure to perform a patch test if you're ever combining it with essential oils.
{ let idx = null; product.variants.forEach((v, i) => { if (v.featured_image && v.featured_image.id == $event.detail) { idx = i; } }); if (idx !== null) swiper.slideTo(idx, 0); }" x-init="() => { if (variants.length > 1) { const images = product.variants.map(v => { if (v.featured_image) { return `
`; } }) appendSlides(images); } else { if (product.featured_image) { appendSlides(`
`); } } }" >