30 January 2023 / Laura Garvin Gomez
Ultimate List of Carrier Oils and Their Benefits
Dive deep into the world of carrier oils with this one-stop guide on everything you need to know.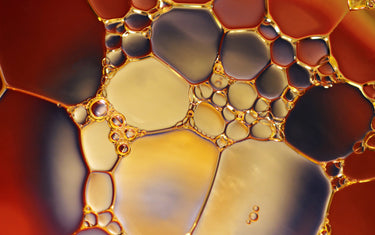 Carrier oils are at the heart of almost every product in the beauty industry - whether we notice them or not.
From your standard hair serums to those deeply nourishing facial cleansers and spa-level massage oils, carrier oils make up the base of numerous must-haves to keep our wellness ticking over.
They are also famously associated with essential oils, as their light consistencies provide the perfect backdrop to safely apply them and their benefits onto the skin.
But, how exactly do carrier oils help us? And, perhaps more importantly, what's the primary difference between one impactful carrier oil and another?
We're sharing our guide on the ultimate list of carrier oils and their benefits to help you get on the right track.
What are carrier oils?
Carrier oils are typically cold pressed oils derived from nuts, seeds, kernels, and vegetables.
They have earned their name due to their ability to "carry" more potent essential oils into the skin without risk of harm, and are usually considered a natural alternative to commercial remedies that may contain artificial irritants.
They are generally odourless, and tend to come in neutral shades that allow them to be integrated into beauty products without much of a fuss.
Carrier oils are also filled with useful fatty acids, nutrients, and vitamins, making them valuable assets to wellness as well as in cooking, depending on the particular oil.
While carrier oils have been used for centuries, with some earning more popularity than others, distinguishing one from the other can be tricky without the knowledge to tell them apart.
What are carrier oils good for?
Carrier oils are primarily used to help dilute essential oils. Because essential oils are so naturally potent, applying them directly to the skin can lead to numerous complications, including severe irritation to the skin.
Carrier oils minimise this risk by weakening the strength of the essential oil and making it safe for topical application. If you're looking to use carrier oils and essential oils together, you can check out our dilution guide for the best way to mix them.
If you're not a fan of essential oils, that's okay too! Carrier oils are also brimming with benefits in their own right, including useful properties for hair and dry skin. They can even be used as a base for homemade reed diffusers.
What are the different types of carrier oils and their benefits?
There are over fifty oils that can be technically considered "carrier oils", but some certainly hold more weight and popularity than others - and for good reason.
Here are our top ten favourite carrier oils we think you'll love.
1. Argan Oil for Hair
Extracted from the kernels of the argan tree, native to Morocco, argan oil has gained immense popularity in recent years for its nourishing benefits to hair, which is why it is featured in our rosemary oil for hair blend.
High in antioxidants and vitamin E, it is said to help protect the hair and scalp from harmful environmental factors as well as reduce frizz levels to keep it feeling smooth and shiny.
Argan oil is also rich in several fatty acids, including oleic and linoleic acids, that are said to help lubricate the hair shaft. This can help lock in moisture as well as prevent dryness.
In addition to these hair-boosting qualities, argan oil bodes great credentials for skincare.
By helping to restore the skin's water lipid layer and increasing its elasticity, it can help to reduce signs of ageing as well as unpleasant scarring and even stretch marks present on the surface of the skin.
Its fatty acids and saponins can also act as an effective moisturiser to soften and brighten the skin over time.
2. Avocado Oil for Skin
Avocados may be known for being a superfood, but their benefits for our bodies certainly don't end there.
Cold pressed from the fruit, avocado oil is filled with healthy fats including omega 3 and 6, which can help reduce inflammation as well as improve our cardiovascular health.
Due to its high levels of vitamin A and E, both of which are linked to skin membrane health, avocado oil is incredibly beneficial for the skin and can be particularly useful if you suffer from dry skin conditions.
Some sources suggest that avocado oil can also be useful for reducing signs of ageing as well as minimising and purifying pores.
3. Castor Oil for Hydrating
Many of us may see castor oil as nothing more than a helpful tool against digestive issues.
While this is certainly true, and many have revered it for its thick, honey-like consistency and its benefits as a natural laxative, there is more to castor oil than you might think.
Castor oil is naturally rich in ricinoleic acid, a compound which can help to moisturise and repair the skin - particularly against issues like dryness, infection, or scarring.
This in turn has also been proven to help hair health and thickness, as the effects of ricinoleic acid lend themselves well against common issues like dandruff and other scalp irritations.
The fatty acids found in castor oil are further said to help enrich our hair follicles by boosting blood circulation in the scalp. This can revive fragile, dull-looking hair.
4. Fractionated Coconut Oil for Soap Making
Everyone has heard of coconut oil, and it's no surprise given the amount of versatility it has to offer.
While there are many types of coconut oil out there, fractionated is generally preferred as it stays liquid at room temperature - meaning there is no need to warm it up before use.
Coconut oil works great as a reed diffuser base since it is mostly odourless and remains a clear colour. It is also very popular in soap making as it can produce a fluffy, stable lather for a relatively inexpensive price.
Aside from these useful crafting tips, coconut oil carries a wealth of benefits for our skin and hair, making it one of the most popular carrier oils for use in cosmetics.
Coconut oil is filled with medium-chain triglycerides (MTCs) and numerous fatty acids which are said to benefit moisture levels and hydration in the skin.
Its high levels of lauric acid are said to significantly improve conditions like eczema and psoriasis, as well as boost proteins like keratin in the hair shaft to help grow and protect our locks.
5. Grapeseed Oil for Skin
A by-product of the winemaking industry, grapeseed oil is naturally hypoallergenic, meaning it is considered a top choice if you're a sufferer of nut-based or seed-based allergies.
It is also seen as the best option for those with oily skin types, as it is highly absorbable and does not leave a greasy residue on the skin like some other common carrier oils might.
Considered most popular for its use as a massage base, grapeseed oil is high in vitamin E, linoleic acid, and omega 6 fatty acids, as well as in antioxidants.
These tools can help fight against common skin woes like acne, discolouration and dryness, and can also be used to protect the scalp from irritation thanks to its natural anti-inflammatory properties.
6. Jojoba Oil for Hair and Skin
Jojoba oil is another extremely popular choice in the wellness world, thanks to its ability to help balance sebum in the skin as well as its naturally high vitamin levels.
A deep golden colour with a slightly nutty scent, jojoba's lightweight, waxy consistency has made it extremely popular for blending with essential oils as well as for use in massages.
It has been known to help soothe sunburn, reduce scarring, and treat acne as well as nourish and protect the hair shaft.
Jojoba is renowned for its antibacterial and anti-inflammatory properties, and is also suitable for all skin types as it won't clog the pores.
7. Rosehip Oil for Skin
Rosehip oil is incredibly lightweight and absorbable, with its primary acclaim coming from its ability to fight skin conditions such as acne, rosacea, and rashes.
It is high in vitamin A and has been known for clearing hyperpigmentation in the skin as well as dark spots, stretch marks, and signs of aging. These impactful benefits are achieved largely through the oil's ability to promote collagen and elastin in the skin.
Best kept in the fridge, rosehip oil is one to take extra caution with if you're prone to allergies, as it has been known to cause reactions in some.
8. Sea Buckthorn Oil for Skin and Hair
Known as "the holy fruit of the Himalayas", sea buckthorn oil is a fascinating deep red colour that is unique to most carrier oils.
It is full of antioxidants that can help protect the skin from external irritants, as well as strengthen it and improve its levels of brightness and elasticity.
Many sources have linked sea buckthorn oil to wound and burn treatment, largely due to the oil's high levels of palmitoleic acid which can help reduce harmful microbes and irritation in the area.
The oil has also earned some renown for helping to improve damage in the hair as well as restore its elasticity.
9. Sweet Almond Oil for Hair and Nails
The versatility and accessibility of sweet almond oil has made it a highly popular carrier oil across almost all forms of application.
Its lightweight and deeply moisturising formula contains numerous fatty acids as well as impactful vitamins like B-7, which have been proven to help keep hair and nails strong, hydrated, and healthy.
Sweet almond oil is also an anti-inflammatory, and boasts high levels of vitamin A that have been said to help it reduce acne, aid sun damage, and moisturise dry and sensitive skin.
10. Vitamin E Oil for Skin
Mentioned as a useful compound in almost every carrier oil on this list, it may come as no shock that using vitamin E oil on its own can provide a wealth of impact on your wellness levels.
Known primarily for its positive effects on the skin, vitamin E can act as effective sun protection against UV rays and phototoxic damage, as well as fighting free radicals in the skin to help keep elasticity levels up.
It is regarded highly for its ability to retain moisture, and has been famously linked with the prevention of cracked, peeled, and yellowing nail beds thanks to its fantastic qualities against dryness.
Carrier oils can be a wonderful asset to your wellness routine no matter how you choose to utilise them.
Whether you're seeking a new hair-growth hero, a reed diffuser base, or a lightweight formula to help soak in your essential oils, there's certainly a carrier oil out there for you.