25 January 2023 / Laura Garvin Gomez
Castor Oil for Hair Growth: The Benefits and How to Use It
This carrier oil may be a diamond in the rough for treating dry and brittle hair.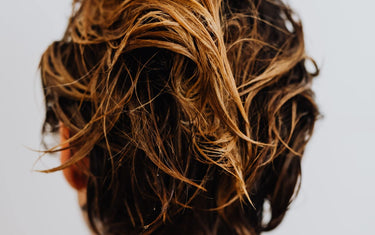 Castor oil may not be the first thing you think of when choosing your go-to haircare products.
Primarily seen as a digestive aid, it's no surprise that the latest wellness trend of using castor oil for hair is raising a few eyebrows (no pun intended - it's also said to be a good 'brow growth hack).
As time progresses, however, beauty gurus and scientists alike are beginning to discover a real basis behind these claims, leaving many with less of a case of the giggles, and more of a genuine curiosity.
Sure, every type of oil from coconut and argan to rosemary and peppermint has been showered with praises for our locks, but what makes castor oil a worthy contender in this wellness race?
We'll be answering all the questions you'll need to know on what castor oil is, why it works, and how to securely include it into your long list of growing natural superstars.
What is Castor Oil?
Botanically and scientifically known as Ricinus communis, castor oil is a vegetable-based carrier oil derived from the beans of the castor plant.
This plant is native to parts of the Mediterranean, Eastern Africa, and India, and its beans are usually cold pressed to produce a mostly colourless oil with an occasional yellow or brown tinge.
Castor oil's natural thickness has earned it its nickname as a "coater", which is part of the reason why it works so well as a digestive aid.
It also bears a number of other pharmaceutical applications, including the ability to protect and clean wounds.
While the presence of castor oil in the beauty industry is still growing, it is certainly not without its well-respected stripes.
Is castor oil good for hair?
Some scientists are still a little sceptical on the effects of using castor oil for hair growth specifically, and there's a good reason for that.
Most of the evidence that has arisen regarding castor oil for hair growth has been largely anecdotal, and even then, the findings haven't been as foolproof as some other all-natural options out there.
What castor oil is great at, however, is nourishing and protecting the scalp in ways other oils can't.
A healthy scalp is the basic starting point for healthier-looking, faster-growing hair, so it's no surprise people are swearing by it as a hair growth tool, even if specific evidence on it is a little shy.
What are the benefits of castor oil for hair?
In spite of the back-and-forth hair growth debate, there are still many other castor oil benefits for hair that will earn it a worthy spot in your bathroom cabinet.
Some of the most influential benefits include:
Nourishing and strengthening hair
Castor oil is jam-packed full of nutritional goodness for our hair, sporting high levels of vitamin E as well as a number of fatty acids, including omega 6.
These factors can help enrich our hair follicles by boosting blood circulation in the scalp, which in turn allows it to revive fragile, dull-looking hair.
Like many hair-boosting oils, castor is an antioxidant, and can help protect our strands from damaging environmental factors like pollution or harsh weather.
Castor oil is also a humectant, meaning it can seal moisture into our locks and help prevent breakage over time.
Healing and protecting the scalp
Perhaps the greatest asset that castor oil has at its disposal is its extremely high levels of ricinoleic acid.
Ricinoleic acid is known for being a powerful tool against inflammation and pain relief, meaning it can help in healing cases of dandruff as well as safeguarding the scalp from any other forms of irritation.
Castor oil is also antibacterial and antifungal - two properties which are highly beneficial for keeping the scalp healthy and free from microbes that may cause inflammation or discomfort.
Prioritising your scalp is the ultimate way to ensure better results for your hair, so making use of these benefits certainly won't go amiss.
Possibly helping with hair growth
While it's best to take this with a grain of salt, there are certainly a number of claims to back up why castor oil may be a strong asset for hair growth.
The first is its very high levels of omega 6, which a 2016 study showed could help promote hair growth by stimulating the dermal papilla cells.
These cells promote reactions that can help regulate the hair-growth cycle, meaning potentially faster results over time.
Castor oil's high levels of vitamin E and ricinoleic acid also help stimulate blood flow in the scalp, encouraging more oxygen and nutrients to the hair follicles.
These factors could be sufficient evidence to suggest at least some benefit to using castor oil for hair growth.
Enhancing the absorption of other products
A 2017 study testing a number of home remedies for the hair and scalp concluded that castor oil could be a good base for improving the results of other oils.
This is likely due to the amazing scalp-cleansing effects of castor compared to other oils of the same ilk.
Try combining some castor oil with moisturising oils like coconut or argan for an enriching boost.
How to use castor oil on hair
The application of castor oil for hair in the same way as most other carrier oils would.
Simply warm up a small amount of oil in your palms and massage into your hair, starting from the roots and working your way down to the ends.
Leave the oil in for at least 15 to 20 minutes to allow any benefits to take heed, and then rinse out as normal.
You can also add in some other hair-boosting carrier oils for an extra hit of wellness, or you could even try your hand at using essential oils like rosemary or peppermint too.
As castor oil is naturally very thick, it may take a few rinses with shampoo to get all the oil out, so don't try and apply it before a big night out!
You could also try applying a bit of castor oil to your eyebrows or eyelashes as a way to help them pop.
Before going to bed, grab a clean cotton bud or spoolie brush and dip it into your caster oil (make sure not to grab too much).
Then, sweep the oil across your eyebrows or very, very carefully along your lash line, and clean any residue off with warm water in the morning.
Are there any precautions to using castor oil for hair?
Like most carrier oils, castor oil is generally very safe to use on the skin without the need to worry about their strength.
Castor oil, may, however, cause allergic reactions in some people, so be sure to perform a small patch test before use if you're more prone to allergies or have highly sensitive skin.
Because castor oil is so naturally heavy and thick, applying too much in one go may also lead to potential acne and scalp build-up, so try and limit your applications to once a week - and remember, less is always more!
If dry hair is your primary issue, too much castor oil may not necessarily help that either, as it naturally seals in moisture as opposed to adding to it.
Try combining castor with a hydrating oil like coconut to really get the best results.
Frequently Asked Questions
Can I leave castor oil in my hair overnight?
Yes! Many people choose to leave castor oil in their hair for several hours or even overnight to get as many benefits as they can from it.
Leaving castor oil in your hair overnight is also a great idea if you're suffering from split ends, as it provides a more moisturising experience for every corner of your locks.
What hair types can use castor oil for hair?
All hair types can use castor oil in their hair, but those with fine, thin, or low-porosity hair should take extra caution with how they apply it.
If you have this hair type, try and avoid applying any oil to your roots, and just stick to the mid-lengths and the ends.
You should also only leave the oil in your hair for up to 30 minutes to save it looking too weighed-down and greasy.
Oily hair types should also use a lighter hand when applying castor - adding too much oil to an already oily base can only lead to too much build-up!
How long does it take for castor oil to work on hair?
With regular application once a week, it can take up to three months to see any major changes in your hair (particularly if you're trying to grow it out).
Achieving smoothness and shine, however, will be more immediate, and will keep improving the longer you use it.
Castor oil may be a newbie to the haircare game, but it is certainly not a tool that should be overlooked.
Regular use of castor oil can not only nourish and protect your hair from external factors, but also leave it looking healthier, stronger, and bouncier to boot. So, what's the harm in trying it?
{ let idx = null; product.variants.forEach((v, i) => { if (v.featured_image && v.featured_image.id == $event.detail) { idx = i; } }); if (idx !== null) swiper.slideTo(idx, 0); }" x-init="() => { if (variants.length > 1) { const images = product.variants.map(v => { if (v.featured_image) { return `
`; } }) appendSlides(images); } else { if (product.featured_image) { appendSlides(`
`); } } }" >
{ if (visible && product == e.detail.data) return; ready = false; const articleTop = document.querySelector('[data-article]').getBoundingClientRect().top + window.scrollY; $nextTick(() => { product = e.detail.data; selected = product.variants[0].id; ready = true; setTimeout(() => { top = e.detail.target.getBoundingClientRect().top + window.scrollY - articleTop; show(); }, 10) }) }" @scroll.window="close()" >