3 min read / 21 April 2023 / Laura Garvin Gomez
How To Use Essential Roller Balls For Aromatherapy
Roll on essential oils are a quick and effective way to experience the wonders of aromatherapy. Here's how to use them.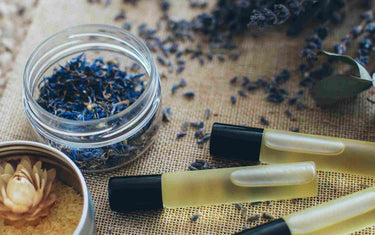 Keen to learn more about aromatherapy roll ons? You've come to right place.
Roll on essential oils are all the rage recently, and for good reason. Compact, flexible, and easy to apply, there's no need to wonder why the aromatherapy roller ball has become such a craze among lovers of wellness.
We're rolling through everything you need to know about how to use aromatherapy roller balls in your routine (no pun intended).
What is an aromatherapy roll on?
Aromatherapy roll ons - also known as roll on perfumes or roll on essential oils - are portable products that combine essential oils with carrier oils for safe on-to-go application.
Usual roller sizes will be around 10ml with an attached roller ball and removable cap. They will also feature a skin-loving base like coconut oil, as well as useful essential oils for sleep, relaxation, or energy.
Rollerballs can target a number of therapeutic benefits and may also feature essential oil blends to help tackle numerous ailments at once.
What kind of aromatherapy roller balls are available?
There are tons of essential oil rollerballs to choose from, and each serve great individual purposes for your routine. Here are some of our favourites:
If you're not keen on any of these, you can also try making your own rollerball oils right at home.
How to use aromatherapy roll on
Aromatherapy rollerballs are specifically designed to be added to your pulse points. The most famous areas where application of a rollerball can take place include:
Wrists
Neck
Jawline
Temples
Learn more about pulse points and why they're important for essential oils.
Wherever you chose to apply them though, here are a few simple steps on how to easily use them in your day-to-day:
Select your favourite rollerball and unscrew the cap.
Hold the product by the bottle and gently glide the ball across your chosen pulse point(s).
Rub in the oils if you feel it necessary or leave to absorb into the skin.
Re-apply as often as needed.
Roll on essential oils are one of the easiest ways to enjoy the wonders of aromatherapy, and they leave you smelling great too!
Wherever you choose to apply them, we're sure their impactful scents will inspire a whole new world of wellness.