3 min read / 1 April 2023 / Laura Garvin Gomez
How to Make Roll On Perfume with Fragrance Oils and Apply it Correctly
Rollerball perfumes are easy to use and super convenient for on-to-go application. Here's how to make your own at home.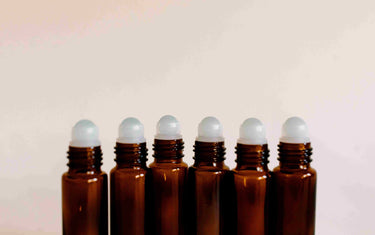 Roll on perfume is all the rage at the moment, thanks to its unbeatable convenience and its slim, portable design.
While achieving your perfect scent may seem too good to be true, making your own aromatherapy roll on oils is actually much simpler than it seems - and it's endlessly customisable, too.
We're sharing our guide on how to make roll on perfume with fragrance oils, and how to apply them for the best aromatic results.
What are fragrance oils?
Fragrance oils are synthetic products, where the aim of the perfumer is to mimic a particular scent or group of scents that could be natural, food-based, or entirely re-imagined.
Fragrance oils are the basis of many commercial perfumes, and can carry strong aromas as well as unique possibilities for creating your signature scent.
If you're not fan of synthetic products, you can also try your hand at making an essential oil roll on using the same recipe as below.
How to make a roll on perfume with fragrance oils
The best thing about making your own roll on perfume is that the possibilities for creativity never stop.
If you're a fan of changing up your signature scent often, feel free to experiment with different types of oils, different notes, or even custom blends if you're feeling adventurous.
Here's a simple recipe on how to make your own rollerball perfume.
You will need:
Method:
Before getting started, make sure you've picked the fragrance oil you want to work with. This can be something simple like jasmine, or something more eccentric like candy floss.
Using a small bowl, combine your fragrance oil(s) with your fractionated coconut oil. Mix well.
Leave the oils to sit for a few minutes. Once you're satisfied with the aromas, use the small funnel to carefully decant your oils into their container.
Screw on the rollerball and cap. Shake the bottle well.
Your roll on perfume is ready to be used!
How to apply roll on perfume oil
There are a few different areas of the body in which you can apply your new roll on perfume.
The most popular region is your pulse points - small zones that emanate extra heat due to the proximity of your arteries to the surface of the skin.
This heat allows for the fragrances in your perfume to come through much stronger than if they were applied to other regions.
Common pulse points for perfume application include:
Wrists
Temples
Collarbones
Neck and jawline
How to apply:
Unscrew your chosen roll on perfume.
Glide the ball across your pulse points (you can apply them to one, or more than one area as you please).
Rub in any excess oil with your fingertips if you feel it necessary.
You can also try applying your roll on perfume onto items of clothing, though be sure not to use it on any sensitive fabrics like silk.
When is the best time to apply roll on perfume?
Rollerballs can be applied at any time during the day, and at any location, thanks to their portable size - that's what makes them so convenient!
If you want to make the most out of the scent, though, try applying it to your pulse points just after taking a warm bath or shower. This will open up your pores and allow the aromas to absorb much better.
Now that you know how to make your own roll on perfume, you can feel confident in the fact that you'll always be smelling your best, wherever you go.
If you don't feel like making your own rollerballs at home, or if you prefer the natural benefits of essential oils, our collection of roll on essential oils is perfect for adding to your wellness collection.