24 February 2023 / Laura Garvin Gomez
Best Roll On Essential Oils for Anxiety
These portable essential oils can do more than just leave you smelling great. Find out how they can keep your stress levels down for good.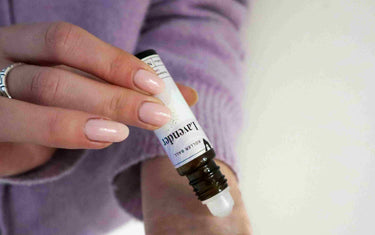 Life can be tough sometimes - especially for those of us with anxiety.
As the days get busier and free time seems to slow down to a trickle, some of us may wonder if there's ever a spare moment to engage in the self-care practices and breathing exercises everyone constantly recommends.
From diffusing essential oils for anxiety around your home to dropping them in your bath or performing an aromatherapy massage, there's little room for wellness activities when life seems so full of stress-inducing prospects.
Thankfully, there's a solution to the woes of an anxious mind - an aromatherapy roll on.
What is an aromatherapy roll on?
An aromatherapy roll on, also known as an essential oil rollerball, is a handy tube of mixed oils designed to be applied to the pulse points of your body.
Your pulse points include your wrists, temples, and lower jaw. As these areas emanate heat, they allow for the aroma of the essential oils to be enjoyed for longer.
Rollerballs will often contain an essential oil or a blend of essential oils with a carrier oil base. This base is included to make the rollerball safe for topical application, as essential oils themselves are too potent for use on the skin.
Aromatherapy roll ons can help with anything from sleep issues and stress relief to focus, energy, and overall emotional balance.
Their appeal generally comes from their easy portability, so they can be used wherever and whenever you need them most.
What are the best roll on essential oils for anxiety?
We've broken down a list of our top three essential oil rollerballs you need to keep your heart rate at bay and your emotional health in check - no matter what you may be busy with.
1. Lavender Roll On
Lavender oil is considered one of the best essential oils for anxiety thanks to its high levels of linalool and linalyl acetate.
These two naturally occurring compounds can directly affect the olfactory system in the brain to help lower our heart rates, reduce blood pressure, and regulate our emotions. This promotes a sense of peace and serenity than works to calm the body down.
Our lavender oil roll on utilises all these calming factors, while still allowing the oil to be taken with you and applied as and when you need it.
2. Anti-Anxiety Roll On
Made with our calming blend of ylang ylang, lavender, and bergamot, our Anti-Anxiety roll on is perfectly engineered to target even the most stressful of moments - wherever you may be.
Like lavender oil, ylang ylang oil has been revered for centuries for its ability to soothe stress and boost confidence - two factors that come from the oil's influence on our serotonin receptors.
Bergamot oil can also positively impact your mental health by reducing your salivary cortisone levels to limit stress and promote a brighter, calmer attitude.
3. Relax & Unwind Roll On
Once more making use of two stellar oils for your anxiety levels - bergamot and lavender - our Relax & Unwind Roll On adds the punchy aromas of lemongrass to the mix for a full combination of stress-busting classics.
A study in 2015 found that the inhalation of lemongrass could successfully decrease symptoms of anxiety while also dispelling negative emotions overall.
This combination of oils can thus encourage your body to fall into a state of complete relaxation while also combating the unpleasantries associated with anxiety.
Aromatherapy roll ons can be a great tool for tackling the daily struggles that anxiety brings about, while also leaving you with a pleasant aroma that could just as easily double-up as a perfume.
Whether the symptoms of anxiety are all too frequent and familiar, or you're simply trying to dispel the occasional bout, these rollerballs are a worthy asset your your on-the-go kit.