2 min read / 2 April 2023 / Laura Garvin Gomez
What are the Pulse Points and Why Put Essential Oil on them?
Everyone talks about the importance of adding perfume to your pulse points, but what exactly is a pulse point?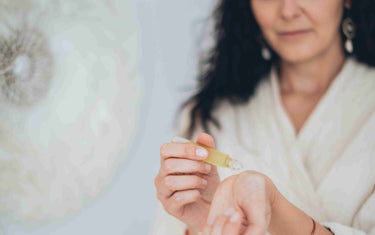 You may have heard of the term "pulse points" when reading into perfumery or aromatherapy.
But what exactly are pulse points, and why do they matter in relation to perfume?
If you're new to the world of all things scented, we'll be running through some key facts on why pulse points are important, where they are on the body, and which ones to choose for your perfumes.
What is pulse point application?
The human body has eight primary pulse points - areas where the arteries are closest to the skin's surface.
If you've ever rested your hand near your neck or on your wrists, there's a high chance you may have felt your heartbeat radiating through these areas.
This is because your heart is designed to pump blood into your arteries, which can impact their elastic walls and create a pressure wave around your body.
When the artery is nearest to the skin barrier, this pressure can be felt simply by placing your hand on top of it, which is why it feels as if your heartbeat is contained within those very areas.
Where are the pulse points?
Here are the eight main areas in which your pulse points reside:
Wrists - this is possibly the most well-known area.
Temples - these are located on the outer edges of each eye.
Lower jaw
Side of the neck - this is one of the more powerful pulse points on the body, thanks to the carotid artery that resides there.
Inner side of the biceps
Groin area
Behind the knee
On the upper side of the foot
Why spray perfume on pulse points?
Perfumes and pulse point oils - like roll on essential oils - don't necessarily need to be added to these areas to work.
The reason why many people opt for these locations is because of the strength they can add to the scent of your perfume.
Pulse points radiate heat, and this heat allows the oils in your perfume to warm up faster and absorb much quicker into the skin.
Once absorbed, the aromas of your perfume can last much longer and smell much more potent than they otherwise would have if applied elsewhere.
The most common pulse points to use are the wrists, neck, and jawline area, though other areas can be just as effective.
Now that you know what pulse points are and where they are, you're free to apply perfume to these locations at will.
If you're on the hunt for the perfect set of aromatherapy perfumes, you can shop our roll on essential oil collection right here.