12 April 2023 / Laura Garvin Gomez
The Benefits of Almond Oil for Skin, Hair, and More
The nutty sweetness of this affordable oil can transform your daily routine in more ways than you'd think.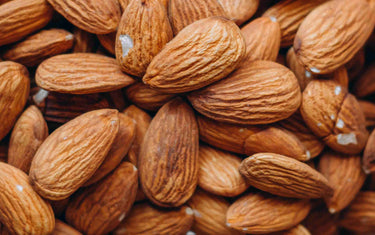 Almonds are a fantastic source of antioxidants, vitamins, and nutrients for our bodies.
Widely accessible and undeniably tasty, almonds are now being held in the same league as avocados for their superfood status and their surprising wellness benefits.
Not only can almonds feed our bodies internally, they can also soften our hair, smoothen our skin, and protect our external complexions from harsh irritants.
Almond oil has been used for centuries as a remedy against topical ailments, with uses dating back to ancient Ayurvedic and Chinese societies. While use of almond oil is certainly not new, many people are only just beginning to discover just what this sweet superfood has to offer.
With that in mind, we're running through what almond oil is, some key almond oil benefits, and everyday almond oil uses for your wellness routine.
What is almond oil?
There are two types of almond oil available on the market: sweet almond oil and bitter almond oil.
Sweet almond oil (Prunus Amygdalus Dulcis) is the more popular of the two oils, commonly used in aromatherapy to help make essential oils safe for topical use. It is also great for use on the skin and hair and can even be used in cooking if you have a food grade version.
Bitter almond oil (Prunus Amygdalus var. Amara) has a much stronger aroma than sweet almond oil and is considered entirely unsafe for human consumption. It is, however, very good for use on the skin and hair, as well as in soaps and in massage therapy.
Both oils are derived from the pressing of ripe almonds, which are native to the Middle East but can be found widely in California, USA.
What are the health benefits of almond oil?
Sweet almond oil benefits and bitter almond oil benefits are essentially the same, but differ slightly in terms of how you can use them.
For instance, bitter almond oil should never be taken internally, and is also the weaker choice for combining with essential oils. This is because its pungent scent may outweigh their gentle aromas and negate their aromatherapeutic benefits.
That being said, both oils share many powerful properties that can be used across your health and wellness routines. Some of the most prominent include:
Protecting the body against UV damage
Helping to treat skin conditions
Reducing scarring
Eliminating stretch marks
Facilitating hair growth and hair health
Healing brittle nails
Can almond oil protect against UV damage?
Overexposure to the sun's UV (ultraviolet) rays can lead to many damaging ailments on our skin, including signs of pre-mature aging like fine lines, wrinkles, and dark spots.
Almond oil works as an effective barrier against UV rays and research has shown that its use may be able to slow down signs of aging caused by excess sun exposure.
This is thanks to almond oil's high antioxidant levels, particularly vitamin E, which can protect the skin cells and prevent further damage.
A small 2014 study confirmed these effects while also noting that almond oil had a natural SPF of 15, making it comparable to many commercial sun protectors.
That being said, almond oil should never be used as a complete substitute to medically confirmed sunscreens.
What are the benefits of sweet almond oil for skin conditions?
Almond oil is naturally lightweight and non-irritating, which makes it an ideal choice for sensitive skin types.
It's also non-comedogenic, so those with oily or acne-prone skin can still make use of its soothing, hydrating properties as well as its antibacterial and antifungal benefits.
Many sufferers of skin conditions like eczema, psoriasis, and dermatitis opt for the use of almond oil for these reasons, as well as the oil's emollient properties which allow it to lock moisture into the skin barrier.
One 2018 study tested a hand cream with almond oil on sufferers of dermatitis and concluded that the oil could relieve symptoms of burning, stinging, redness, and itching with frequent application. Learn more about the benefits of almond oil for skin.
Does almond oil reduce scarring?
Using almond oil for scarring is one of its oldest applications, dating all the way back to ancient Chinese and Ayurvedic societies.
While most of the research is anecdotal, scientists have noted that its anti-inflammatory effects could reduce the appearance of post-surgical scarring as well as soothe the surrounding skin.
Can almond oil get rid of stretch marks?
Natural occurrences like puberty and pregnancy can cause stretch marks in some areas of the body. This is due to breakage in the skin's collagen and elastin caused by stretching (hence the name).
One 2012 study discovered that topical application of almond oil onto stretch marks could help eliminate them overtime, while other sources have noted that applying the oil during pregnancy could prevent them from showing up at all.
A 2017 study also confirmed almond oil's effects against itching in these areas.
What are the benefits of almond oil for hair?
Almond oil contains numerous benefits for hair, helping to maintain its strength as well as facilitating hair growth.
The emollient properties of almond oil allow it to fill cellular gaps in your hair and increase hydration, leading to smoother and shinier locks that are easier to manage.
Almond oil also contains linoleic and oleic acid - two fatty acids that are known for uniquely lubricating the hair shaft and preventing breakage caused by styling. These acids can make hair more resilient over time, leading to longer and fuller strands.
The same benefits that impact your skin can also impact your scalp, so sufferers of psoriasis or dermatitis can use almond oil in their hair to help tackle flaking, itching, and irritation.
Learn more about the benefits of almond oil for hair.
Does almond oil help heal brittle nails?
Almond oil, like many carrier oils, can help improve the look and feel of dry, brittle, or cracking nails with just a few applications.
This is thanks to the oil's rich levels of essential antioxidants, omega 6 and 9 fatty acids, and vitamins. Vitamins E and A are particularly prominent in almond oil.
The nutrients can lock moisture into the nail beds as well as smoothen the cuticles for easier care.
How to use almond oil
The uses for almond oil are endless - from combining with your favourite essential oils to drizzling into your soap recipes. Here are some of the most popular almond oil uses.
1. Skincare
Almond oil is suitable for all skin types and is incredibly lightweight, making it an ideal choice for any section of your body. Here's how to use it:
Wash your skin with warm water and pat dry with a clean towel. You can also apply the oil straight after a warm bath or shower.
Add a small amount of oil to your palm.
Warm the oil with your hands and apply gently across your body, adding more to your palm as needed to cover your desired surface area.
Allow the oil to absorb and wash off any excess with warm water. Pat dry.
You can also use almond oil to remove makeup or as an all-natural lip balm.
2. Haircare
Almond oil can be used in a few ways on your locks, depending on what kinds of issues you're looking to target. We've listed a couple of popular options below.
As a hair mask
This one is the most straightforward of the lot, and requires only a few simple steps to complete:
Add a few drops of oil to your palm. Warm the oil in your hands.
Section your hair and apply the oil from root to tip to your strands.
Massage the oil into your roots for extra indulgence.
Leave the oil in overnight and wash out with warm water in the morning.
As a styling product
If you're looking for a quick styling remedy before you head out the door, almond oil could be just the trick for taming frizz and easing flyaways.
Simply add a small amount of oil to your fingertips and lightly smooth it over troublesome areas.
3. Nails
Almond oil can help you achieve stronger, healthier nails in no time. Here's how to apply it:
Add a few drops of almond oil to a small dish or bowl.
Dip a cotton ball in the oil and rub across your nail beds and cuticles as needed.
Repeat this process twice weekly for the best results.
Are there any risks to using almond oil?
This pretty much goes without saying, but don't use almond oil if you're allergic to nuts. This also goes for tree nuts, as the oil can potentially react to these sorts of allergies.
Despite its non-comedogenic status, you should use almond oil sparingly if you have acne-prone skin. Once you're confident that your skin has taken to it nicely, you can build on the use as needed.
Frequently Asked Questions
Does almond oil soften lips?
Applying almond oil to your lips before bed can leave them feeling soft and free of cracks by the morning.
Can you use almond oil on your face?
Yes, almond oil is safe for application on the face. Use with caution if you have acne-prone or oily skin.
Can I leave almond oil in my hair overnight?
Yes, almond oil can be left in the hair overnight. Application in this way can help soften and strengthen hair over time.
Almonds are a superfood that won't be going away any time soon, and the use of almond oil in your daily routine will only further leave you obsessed with their benefits and wellness perks.
Remember to steer clear of the oil if you're allergic to nuts, and take caution if its your first time using it on acne-prone or oily skin.
{ let idx = null; product.variants.forEach((v, i) => { if (v.featured_image && v.featured_image.id == $event.detail) { idx = i; } }); if (idx !== null) swiper.slideTo(idx, 0); }" x-init="() => { if (variants.length > 1) { const images = product.variants.map(v => { if (v.featured_image) { return `
`; } }) appendSlides(images); } else { if (product.featured_image) { appendSlides(`
`); } } }" >