8 March 2023 / Laura Garvin Gomez
Sweet Almond Oil for Hair: Benefits and How to Use It
Affordable and fuss-free, this nutty carrier oil will become a new staple for your haircare routine.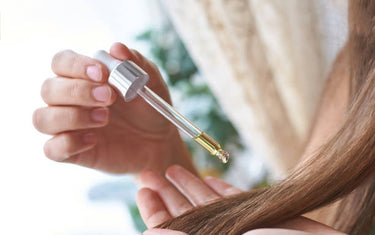 The moisturising properties of sweet almond oil are well known for skin, helping to fight the signs of ageing, smooth stretch marks, and generally giving it a new lease of life with every new application.
But the same is also true of sweet almond oil and hair, so if it is not already part of your hair care routine, it's time to take a closer look at what it has to offer.
We explain everything you need to know about sweet almond oil for hair, including its many health properties, how to apply it and the best type of almond oil to use.
What is almond oil?
Sweet almond oil is extracted from sweet almonds produced by the tree. Unlike bitter almonds, they are consumable and, when made into oil, can offer a host of health benefits for the skin and hair. It's an incredibly versatile carrier oil that works well with other types of essential oils or used topically on its own.
Is sweet almond oil good for hair?
Sweet almond oil is high in Vitamin A, which is important for encouraging cell growth and could aid hair growth. The oil also contains Vitamin E whilst also being an antioxidant, which helps to moisturise and enrich your skin, hair and face. Vitamin B-7 is another important property offered by sweet almond oil, which can add strength and resilience to nails and hair. Sweet almond is used in combination with rosemary for its excellent benefits to hair growth and health in our rosemary oil for hair blend.
What are the sweet oil benefits for hair?
Some of the benefits for hair you may be able to enjoy by using sweet almond oil include:
Softening your hair:

When sweet almond oil is applied to your hair, it can feel much smoother and create a softer texture after prolonged use. This is because sweet almond oil is an emollient which helps to fill cellular gaps in your hair. You may even find it easier to comb and style your hair once you have used the oil for a whole.

Hair can become stronger and easier to repair:

Broken and damaged hair is frustrating to deal with, but research has suggested that oils like almond oil could reduce hair friction during styling due to its lubricating properties. This is because it contains linoleic acid and oleic acid, which helps to make hair more resilient over time.

Your hair could start to grow:

Because almond oil can make your hair stronger and less prone to damage, this can allow your hair to grow at its normal rate without being slowed by split or broken ends. There are high levels of vitamin E in sweet almond oil, which serves as an antioxidant and works to protect your hair against environmental stress to keep it looking and feeling healthier.

Use it to treat scalp conditions:

If you suffer from a flaky scalp condition such as psoriasis or dermatitis, sweet almond oil could work as an effective treatment. There is no scientific study that confirms this, but the oil continues to be used to treat scalp conditions in both Chinese and Ayurvedic medicine.
How to use sweet almond oil for hair
There are a few different ways you can use sweet almond oil for your hair:
Almond oil hair mask
.
Add a few drops to the palm of your hand.

Apply to your hair from root to top.

Massage into your scalp and ends.
Let the oil rest in your hair for as long as possible (try overnight, if possible) and wash the oil out of your hair in the morning.
Can I use almond oil as a finishing oil?
You could also try using almond oil as a finishing oil to tidy up baby hairs and flyaways once you have finished styling. Or if humidity levels start to rise, use the oil to tame hair frizz and all that all-important shine.
Simply add a small amount of sweet almond oil to your fingertips and smooth it into the lengths of your hair, pushing down any flyaways as you go.
Can I use almond oil as a conditioner?
Alternatively, you can try almond oil as a leave-in conditioner to add more nutrients to your hair. You can do this by:
Adding a few drops of almond oil to the palms of your hands.

Applying it to the mids and ends of damp hair.

Keep a close eye on the ends if they look too crispy.
Leave the oil in to nourish your hair, although do not use too much as it can make hair look greasy if done excessively.
What is the best sweet almond oil to use?
This sweet almond carrier oil can help nourish your hair and body in multiple ways. Thanks to its high percentage of omega-3 fatty acids and vitamin B-7, use it to strengthen your hair and nails, hydrate your skin and fight free radicals to keep cholesterol levels low. Many people also use the oil as a massage base and it can also work wonders when dealing with scarring, stretch marks and sun damage. Regular application of sweet almond oil can also help to fight the signs of ageing. It's a real all-rounder that should be a staple in every hair and skincare routine.
Sweet almond oil is a low-risk option that can add strength and shine to your hair over time. Its active ingredients are gentle and kind to hair to leave it feeling softer and stronger. Thanks to its versatility you can add the oil directly to your hair to calm frizz and boost shine, whilst taking advantage of its many vitamins and nutrients to give more to your skin. As it is a natural product it cannot be guaranteed that it is totally free from nuts or other allergens, so seek professional advice about using the oil if you are uncertain about any possible reactions it may cause.
{ let idx = null; product.variants.forEach((v, i) => { if (v.featured_image && v.featured_image.id == $event.detail) { idx = i; } }); if (idx !== null) swiper.slideTo(idx, 0); }" x-init="() => { if (variants.length > 1) { const images = product.variants.map(v => { if (v.featured_image) { return `
`; } }) appendSlides(images); } else { if (product.featured_image) { appendSlides(`
`); } } }" >