17 March 2023 / Laura Garvin Gomez
Almond Oil Benefits for Skin: Face, Body, and Should You Use it on Acne Prone Skin?
This sweet and nutty oil can nourish your skin in some seriously impactful ways. Discover how to add it to your wellness collection.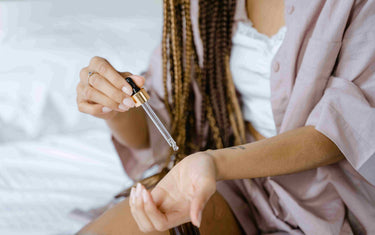 We've seen almonds everywhere lately.
As new desires for plant-based options arise, almonds have been at the forefront of providing dietary alternatives to our standard milk products for some years now.
Interestingly, this all-natural, plant-based link to almonds is not only impacting our coffees and cereals, but our beauty regimes too.
Almond oil has been used for centuries as a remarkable skin balm, adopted by the ancient Chinese, Ayurvedic, and Greco-Persian societies to name but a few.
In the modern age, these traditional practices are receiving a full-blown renaissance, with more and more products utilising its wonderful effects as time goes on. We'll be breaking down some of the best benefits almond oil has to offer for the skin.
What is almond oil?
Made by pressing ripe almonds, almond oil is native to the Middle East, and is primarily recognised by its distinctly nutty aroma.
There are two different types of almond oil that you can come across: sweet almond (Prunus Amygdalus Dulcis) and bitter almond (Prunus Amygdalus var. Amara).
Bitter almond oil contains a much more pungent aroma than its sweet counterpart, and is considered generally unsafe for human consumption. It is great for skin though, as is its lighter companion sweet almond oil.
Sweet almond oil tends to be the more popular among the two choices, largely because it has a much more pleasant aroma and can be used in conjunction with essential oils without interfering too much.
Is almond oil good for skin?
Using almond oil on the face and body can provide you with the ultimate skincare experience. That's because almond oil is naturally filled with fatty acids and antioxidants that can hydrate, moisturise, and rejuvenate your complexion.
Almond oil is also very light in comparison to other carrier oils of its kind, and can absorb very quickly into the skin without leaving an unpleasant oily residue.
These factors make almond oil suitable for all skin types, including sensitive and acne-prone skin.
What are the almond oil benefits for skin?
If you still need a good excuse to include this gentle oil into your skincare routine, we've detailed some of its most impactful benefits below.
1. It's an effective moisturiser
Almond oil, like many other carrier oils, is fantastic for hydrating your skin. It's also an emollient, which means it can lock water into the skin barrier to prevent dryness throughout the day.
Sufferers of common skin conditions like psoriasis, dermatitis, and eczema are said to find relief from the oil thanks to these moisturising abilities, as well as its ability to reduce itching and irritation.
2. It can rejuvenate your skin
If you find your skin looks dull and tired most of the time, adding a bit of almond oil into your skincare routine may be just the trick to brighten it up.
The emollient properties of the oil mean it can smoothen skin as well as even out skin tone - leading to an airbrushed, more youthful complexion overtime.
3. It's full of antioxidants
Almond oil is packed to the brim with vitamin E, magnesium phosphorus, and copper. This makes it a high effective antioxidant that can protect your skin from irritants like sunlight and pollution.
The antioxidants in almond oil may also help reduce signs of aging - particularly vitamin A, which is known for smoothing out fine lines and wrinkles.
4. It can reduce stretch marks
Seeking a natural remedy for stretch marks? Almond oil can help with that. A 2012 study indicated that massaging almond oil onto your stretch marks could help reduce their appearance with frequent application.
Another 2017 study also confirmed that use of almond oil could calm itching in these areas, as well as prevent the spread of stretch marks across the rest of the body.
How to use almond oil for skin
Because almond oil is so gentle, it can be applied virtually anywhere on the skin without the need for dilution. Here's one of the most popular ways to use it:
Wash your skin with warm water and pat dry with a clean towel.
Add a small amount of oil - around the size of a 20p piece - to your palm.
Warm the oil in your hands and apply gently onto your face.
Allow the oil to absorb and wash off any excess with warm water.
Almond oil is also great for helping to remove makeup in this way, and can even be applied to the lips before bed as an all-natural lip balm.
If you choose to combine your almond oil with an essential oil, be sure you're following our dilution guide for the best way to do this.
Are there any risks to using almond oil for skin?
Almond oil is generally safe for almost anyone to use, but as with any natural product, there are a few precautions to keep in mind before diving straight in.
Firstly, if you're allergic to nuts, applying almond oil to your skin is certainly not a good idea. Sufferers of eczema may also want to take extra caution as there is a higher chance of a reaction in this case.
To test for reactions before use, we recommend performing a patch test over a small area of unbroken skin. If you see any redness, rashes, or irritation, cease use immediately.
Frequently Asked Questions
Is sweet almond oil good for skin?
Both sweet almond oil and bitter almond oil carry great properties for skin health. They can moisturise, soften, and add vital antioxidants to the skin.
Is almond oil good for acne-prone skin?
Almond oil is non-comedogenic, which means it's very unlikely to clog your pores upon application. This makes it a great choice for acne-prone skin.
Does almond oil have side effects?
Almond oil is generally safe for use on skin, but those with nut allergies should avoid it.
So, we've learned that almonds are not only a rich and healthy superfood, but also a great base for smooth, glowing skin.
When incorporating it into your skincare, feel free to apply the oil as a substitute for commercial moisturisers, or combine it with essential oils for a restorative massage after a long day.
No matter how you choose to use it, the impactful benefits of almond oil are sure to shine through in your daily routines.
{ let idx = null; product.variants.forEach((v, i) => { if (v.featured_image && v.featured_image.id == $event.detail) { idx = i; } }); if (idx !== null) swiper.slideTo(idx, 0); }" x-init="() => { if (variants.length > 1) { const images = product.variants.map(v => { if (v.featured_image) { return `
`; } }) appendSlides(images); } else { if (product.featured_image) { appendSlides(`
`); } } }" >