6 March 2023 / Laura Garvin Gomez
How to Make Homemade Vanilla Scented Candles
Fill your home with the classic aromas of sweet, comforting vanilla with this easy-to-follow candle recipe.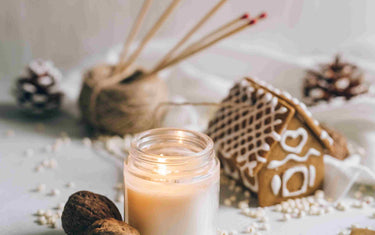 The scent of vanilla is a timeless classic for a reason.
With a familiar sweetness that can be enjoyed at virtually any time of year, there's no limit to the number of homemade candles you can create with a bit of vanilla fragrance oil by your side.
If you're new to the candle making game, or just aren't sure where to get started on your DIY vanilla candles, you can check out our candle making guide for beginners to help get you clued in.
For now, let's touch on the basics of what makes this sweet-smelling candle such a staple for your collection.
How to make vanilla scented candles
Thankfully, there isn't much you'll need to grab for this vanilla candle recipe - just a few key items that will come in handy across any future projects.
You will need:
A candle container
160g soy wax flakes (or twice the capacity of your container, depending on its size)
30 drops of Vanilla Fragrance Oil
A heatproof glass bowl
Candle wicks
Glue dots
Chopsticks or pencils
You can also change up your vanilla fragrance oil for another vanilla scent of your liking - such as vanilla cream or honey and vanilla if you're searching for that extra layer of indulgence.
Method:
Lay out your candle wick, glue dots, and chosen container. Take a candle wick and place a glue dot on the metal circle attached to the end. Then, carefully place the circle at the centre bottom of your candle container. Hold for a few seconds.
Place a pan of water over the stove. Once simmered, pour your soy wax flakes into a glass bowl and place them above the pan. Let the wax melt fully before removing it.
Set the wax aside to cool, ensuring it still maintains its liquid state.
Add your Vanilla Fragrance Oil (or chosen substitutes) to the bowl of wax and mix well.
Using chopsticks or pencils to keep the wick straight, carefully pour your wax into your chosen container.
Let the candles sit for 24 hours. Make sure the wick remains upright throughout this duration.
Snip the wick to your desired length, and light to enjoy!
Do I need to use fragrance oils in my vanilla candle?
While any candle recipe can also be replicated with essential oils, we recommend sticking to fragrance oils for this one.
This is because the scent of vanilla can be very difficult to replicate naturally, so the final product may not come out quite as you intended without heaps of costly experimentation.
Making vanilla candles for your friends, family, and loved ones is a great way to channel your creativity, while still creating an item that they're sure to enjoy.
Feel free to add dyes, glitter, or decoration to your candles for an extra kick of uniqueness, or simply leave them as is for a refined and classic addition to your home.
{ let idx = null; product.variants.forEach((v, i) => { if (v.featured_image && v.featured_image.id == $event.detail) { idx = i; } }); if (idx !== null) swiper.slideTo(idx, 0); }" x-init="() => { if (variants.length > 1) { const images = product.variants.map(v => { if (v.featured_image) { return `
`; } }) appendSlides(images); } else { if (product.featured_image) { appendSlides(`
`); } } }" >