2 min read / 20 April 2022 / Caitlin Devlin
How to make a geranium and neroli skin tonic with essential oils
This floral facial spray can nourish and soothe skin with natural ingredients.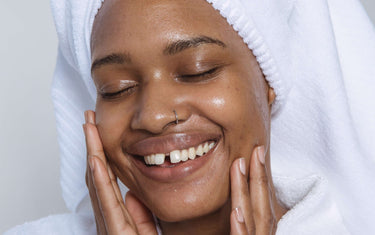 If your skin is craving a little extra love, then a tonic is a great way to give

it a boost.
Skincare products are often full of unfamiliar ingredients, and for those of us with sensitive skin many products can feel like a gamble to apply to the face. If you want to have total control over what goes on your skin, why not consider making your own facial tonic? This tonic is easy to make and use, and it contains natural ingredients used for centuries to improve the appearance of skin.
Ingredients:
Why rose water?
Rose water, otherwise known as rose hydrosol, has been used on skin since ancient times. It has natural nourishing, moisturising properties that soften skin and reduce dryness. It also boosts collagen production, helping to create younger-looking skin, and soothes inflammation and redness.
Why witch hazel?
Witch hazel is a natural astringent that tightens pores and increases the elasticity of the skin, reducing the appearance of wrinkles. The tannins in witch hazel can also help to remove excess oil from the skin which can prevent breakouts.
Why coconut oil?
Coconut oil is rich in saturated fats which are known to nourish skin and offer a moisturising effect. As a carrier oil, it is also instrumental in helping us to experience the benefits of the essential oils, as it reduces their potency and carries them safely to skin.
Why these essential oils?
Geranium oil is a gently cleansing oil with soothing, anti-inflammatory effects, whilst neroli essential oil is a natural astringent that can help us to regenerate skin cells.
You will also need:
A spray bottle

Mixing bowls
Method:
In a bowl, combine your coconut oil and your essential oils, and stir well.

Add your combined oils and witch hazel to the spray bottle and swirl the

bottle to mix

.

Pour in the rose water and gently swirl the bottle again until fully mixed in.
How to use:
Gently shake the bottle before each use to combine all the ingredients.

The oils and other ingredients may naturally separate over time so you'll

need to incorporate them again before you apply to skin.

Wash your face well and pat dry with a towel.

Lightly mist the tonic over the face and allow it to dry on the skin.

Once the tonic has fully dried, apply a lightweight moisturiser and

massage into skin.
Precautions:
Essential oils are potent natural products and their effects are not always entirely consistent from person to person. Be sure to patch test the tonic before use to check its effects on your skin type.

Avoid contact with eyes.
Shop our essential oil range here.