7 min read / 5 October 2023 / yasmin sharp
How to Make a CLP Label
Master the art of crafting CLP labels for your business with our informative guide.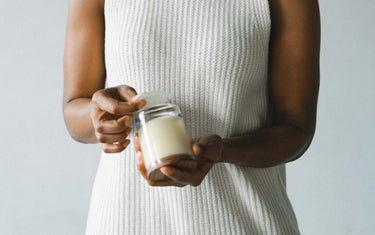 If you sell – or are planning to sell – scented candles, reed diffusers, wax melts, or home sprays, then you need to know how to make a CLP label.
It is a legal requirement for all non-cosmetic products that contain hazardous substances, such as essential oils or fragrance oils.
CLP labels provide important safety information for your customers and help to safeguard your business. To explain how, we'll cover everything you need to know about CLP labels, including what they are, what information to include and how to print them using a template or Microsoft Word.
What is a CLP label?
A CLP (Classification, Labelling and Packaging) label is a legal requirement for all products sold to the public that contain hazardous substances, such as fragrance or essential oils.
The regulation has been in effect since June 1st, 2015, requiring all non-cosmetic products of any size that contain a hazardous substance to use a CLP label. This includes things like wax melts, scented candles, reed diffusers and room sprays.
The reason for this is because fragrance oils and essential oils are highly concentrated substances that can cause eye or skin irritation for some users. The label provides all relevant information about potential hazards and side effects to the user and the environment, so they are fully aware of the contents before application.
A CLP label is not the same as a Safety Data Sheet (SDS) which is a document that should be provided to you by your fragrance or essential oil supplier.
What is an SDS?
An SDS (Safety Data Sheet) is a safety document that details the ingredients and allergens contained within a fragrance or essential oil mixture.
The document should also list the supplier's contact details along with other important safety information, such as a potentially hazardous substance, how to handle the oil, storage guidelines and what action to take if an accident occurs.
It is the supplier's responsibility to provide the SDS and it should be included free of charge with your fragrance or essential oil. If you require 10% fragrance, an SDS can usually be provided, although if not, you may need to pay a small charge to receive one.
Once received, you can transfer the relevant information to a label editor, adding in your company details and any other relevant health and safety information that need to be included.
Whilst you do not have to include an SDS with your sold products, or include it in the product information, to remain legally compliant, you must have an up-to-date version to hand.
Do I need a CLP label for products without essential oils or fragrance oils?
You do not need a CLP label for products that that do not contain essential oils or fragrance oils. However, if your products contain other types of hazardous materials, you may still need to use a CLP label. If you are unsure, the links below can provide more information:
Additionally, if your products are not available for sale, even if they do contain essential oils or fragrance oils, you do not need to include a CLP label.
How make CLP labels for wax melts, candles and other non-cosmetic products
If you want to know how to make your own CLP labels for wax melts, scented candles, home sprays and any other non-cosmetic product containing hazardous substances, you should ensure it includes the following information:
Product identifier
A product identifier states what the item is and its name. You can also include a batch number or SKU for additional clarity. The product identifier should be placed at the very top of the CLP label so users can clearly identify it.
Allergen information
This part of the label explains which ingredients could be responsible for triggering allergies. Regulations require you to mention no more than four chemicals unless more need to be included due to the severity of the hazard.
Signal word
If a hazard is severe or less severe, a hazard word is used as an indicator. You must use the relevant signal word that relates to the classification of the hazardous substance or mixture. Products that contain less severe hazards must use the signal word 'warning' and for severe hazards, the signal word 'danger' must be used.
Hazard and precautionary statements
When learning how to make CLP labels, you will also need to include relevant hazard and precautionary statements that describe the nature and severity of the hazards. Precautionary statements are also needed to provide advice on measures to prevent or reduce the occurrence of adverse effects to human health or the environment.
Hazard pictograms
A hazard pictogram is a simple pictorial representation used to describe a specific type of hazard. The pictogram should be designed to be instantly recognisable to anyone handling the product.
The classification of your mixture or substance will determine that type of hazard pictogram that needs to be used. Hazard statements and pictograms are only required for products that are above 125ml/grams. Any weight below this level only requires the use of one or the other.
Part of learning how to make a CLP label includes using hazard pictograms that are in the shape of a pointed diamond square, with a red border, white background and black symbol.
In terms of size, it should be at least one-fifteenth of the surface area of the label, although it cannot be smaller than 1 square centimetre. To ensure the pictogram is legible to the user, they cannot be smaller than 2cm x 2cm.
Supplier contact details
Your customers must also be supplied with an address and phone number, which will cover insurance and liability requirements. This is because the law states that customers must be aware of who it is they are entering into a contract with, and it allows them to contact you with any queries about the product.
Even if you do not have a specific business address or phone number, you still have to provide this information, including the name of your business, legal ownership name and an address where legal documents can be sent, if required. This is to ensure that you and your business is easily traceable and accountable for the products being sold.
What % CLP label do I need to use?
An important part of how to make your own CLP labels is including the correct percentage on the label.
For example, if you are selling wax melts or scented candles, you should use 6-10% of oil. This will require a 10% CLP label, as this covers anything under 10%. This is okay because you are allowed to overestimate the oil load, but it cannot be underestimated.
Another example could be for room sprays or reed diffusers, for which you can use around 15-25% of oil. Using a 25% CLP label will be sufficient, as this covers anything up to and below this figure.
Where do I place a CLP label?
To ensure your CLP label meets statutory requirements, it should be affixed to one or more surfaces of your product's final packaging. The final packaging is the container that holds the product. If the product is being placed inside a box, this means the label should not be on the box but on the packaging of the product inside of it. The label should be legible and readable horizontally when the package is set down.
You can also follow the same rules and attach the label to the product using a swing tag if the shape prevents you from attaching it directly.
How to make CLP labels on Word
If you want to learn how to do CLP labels without using a template downloaded from a website, you can also make CLP labels using Microsoft Word:
Open a new Word document and click the Mailings tab. You will see the Labels option in the top left-hand side of the Create section.
The Envelope and Labels window will appear. You can select the template you want to use by clicking on Label. The Label Options window will appear, and then click on Label Vendors, which will list the available templates.
After selecting a template, you will return to the Envelopes and Labels window. You can choose "Full page of the same label", which will use the same address on all labels in the sheet. To use a different address, click New Document, which will open a fresh template where you can enter the address.
After clicking New Document, the labels will appear on the Word document. Here you can change the font and add images and information. Once finished, click File, then Print and finally, Print again.
If you are unsure how to print CLP labels using your printer at home, following the instructions above should make it easier to create the content you need.
Once you have made your scented product for sale and secured a Cosmetic Product Safety Report (CPSR), you then need to ensure the product is labelled correctly. Whilst it may appear there is a lot to do, using a template will make things much easier to manage, especially if you have multiple varieties of the product. And remember, if your product is not for sale or does not contain a hazardous substance, you will not need to use a CLP label. We also recommend that you should use the links to the professional bodies provided in the article above to check that you are following the correct guidelines to remain compliant with UK legislation.