25 March 2022 / Caitlin Devlin
A beginner's guide to making potpourri with essential oils
Learn how to make a natural diffuser and seasonal centrepiece in one.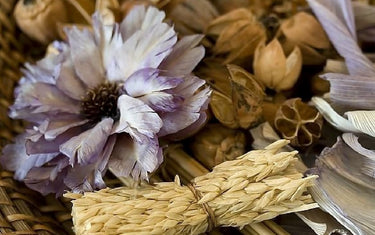 Candle-making and soap-making tend to dominate the conversation when it comes to essential oil crafts, but potpourri can be a wonderfully simple way to get creative with your oils.
There's many ways to diffuse essential oils throughout your home these days. Whilst making potpourri may be more time consuming than plugging in your electric diffuser, it's a fun, easy and cheap craft that leaves you with a beautiful centrepiece for any room.
You can customise your potpourri decorations for a seasonal theme or use leftover flowers and fruits to reduce waste in your home.
Potpourri can also help you to bring your favourite scents to life by representing them visually.
There's lots of fun potpourri recipes to try but today we're just going to lay out the basics, so that you have all the information you need when it's time to get creative.
Step one: Choose your ingredients
You may want to do this some time before you're planning to sit down and assemble your potpourri.
Drying flowers and fruit can be a lengthy process and can sometimes take several days, so it's important to research how best to try your specific ingredients and plan accordingly.
When choosing your ingredients, think of things that can bring out different aspects of the scent, or that are appropriate for the season or holiday you're celebrating.
You're not limited to natural materials – you can put anything in potpourri for decoration, such as candy hearts for Valentine's Day or baubles for Christmas. Avoid perishable materials, but other than that, let your imagination run wild!
Step two: Arrange your ingredients
Once you've got everything ready, it's time to get creative with your ingredients by arranging them in your container.
Select something to display your ingredients in, such as a mason jar or a glass bowl. It should be transparent so that your ingredients can be seen.
Your arrangement might be displayed in one large bowl, or you might divide it into smaller jars to give away as gifts.
As you create your arrangement, think about how best to convey the scent or season your basing your ingredient around.
Don't just mix everything up – the best potpourri has a carefully designed appearance that makes it look as good as it smells.
Step three: Add your essential oils
Now that your decorations are beautifully arranged, it's time to bring them to life with a carefully chosen scent. Add a few drops of your chosen oil over the top of your arrangement. This can be an essential oil, a fragrance oil, or a blend of oils.
How do you decide whether to use an essential oil or fragrance oil in your potpourri? Well, if you want a natural scent with aromatic benefits, then you may want to use an essential oil.
If you want a more consistent scent, or a scent that can't be sourced naturally, then you may want to use a fragrance oil. It's really up to you and the scents that you prefer. You could also try creating your own blend of oils.