8 April 2022 / Caitlin Devlin
The best essential oils to have in your home for spring
These spring scents will help you to stay refreshed, happy, and ready for new beginnings.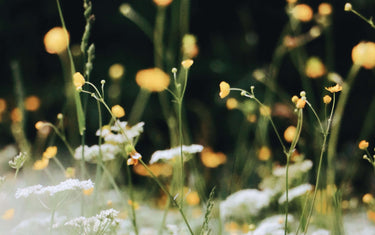 As the weather slowly starts to warm up, it's time to put away winter things and look ahead to brighter days.
Spring is a time of renewal, a chance to set good habits ahead of the busy summer months and prioritise self-care. It can also be a period in which we find ourselves battling seasonal allergies and our own exhaustion.
Don't burn out before summer – keep your cupboard stocked with these refreshing scents and enjoy this season to the fullest. Here are our favourite essential oils for spring.
The changing of the seasons, especially a change as drastic from winter to spring, is a time to prioritise feelings of balance.
Clary sage's floral scent can help to balance hormones thanks to the presence of phytoestrogens, which regulate levels of oestrogen in the body and help to give us more control over our mood.
In the sometimes long wait for summer, clary sage can also help to improve mood with what researchers in 2014 described as an 'antidepressant effect'.
Learn more about the benefits of clary sage essential oil.
The gentle floral scent of geranium essential oil reminds us that the world around us is coming into bloom.
To ensure we smell as fresh as the flowers in our garden during warmer weather, we recommend using geranium oil as a natural deodorant. Its circulatory abilities help it to easily absorb through the skin and slowly release its floral scent throughout the day.
Learn more about the benefits of geranium essential oil.
As the days begin to get longer – and busier – lavender can help us to make the most of our rest.
A study in 2012 found that lavender oil could have a positive effect on symptoms of insomnia, improving the quality of our sleep for a more rested feeling. Lavender is generally very beneficial for our mental health, also able to tackle feelings of stress and low mood.
Learn more about the benefits of lavender essential oil.
The refreshing, energising scent of lemon oil is a top pick for spring. It's also ideal for a spring clean – a study in 2019 found that it was among the most effective oils for fighting various microbes and bacteria.
This is mainly due to the presence of d-limonene in the oil, which gives it its incredibly antimicrobial powers.
Like its cousin lemon, lime is an incredibly refreshing scent that also works to keep our homes clean and sanitary.
Lime essential oil tackles hard-to-kill gram negative bacteria by penetrating their harder cell wall, proving a deep and comprehensive clean when used in homemade sprays.
Welcome in the refreshing and rejuvenating scents of the springtime.
The delicate scent of neroli can help us to manage any stress this spring. A study in 2012 found that neroli oil could decrease both systolic and diastolic blood pressure, reducing the strain that stress can have on the heart.
Neroli oil also decreases levels of salivary cortisol – the 'stress hormone'.
Learn more about the benefits of neroli essential oil.
The herbal, floral scent of palmarosa is perfect for spring. Palmarosa essential oil has been found to have a positive impact on the nervous system, balancing mood and encouraging tranquillity.
It is also said to help us process and rationalise negative thoughts.
With warmer weather and blooming flowers comes the emergence of bugs and insects. Parsley seed is a great way to deter them. The herbal, faintly spicy scent of the oil can help to prevent insects from entering the home.
Learn more about the benefits of parsley seed essential oil.
Garden mint is a sugary, herbal mint oil that has a spring freshness ideal for this time of year.
As hay fever season rolls around, garden mint can help to clear out pollen from sinuses and relax muscles in the nasal tract. Its natural expectorant abilities shift mucus through the sinuses, getting rid of allergy symptoms more quickly.
Learn more about the benefits of mint essential oils.
As exam season approaches, rosemary oil makes a great study companion.
The sweet herbal oil has historic associations with memory, and a study in 2017 found that the oil had a significant positive impact on participants' alertness and overall quality of memory.
Learn more about the benefits of rosemary essential oil.
Refreshing and uplifting, tangerine helps to bring a little sunshine in the wait for summer.
Tangerine is often thought of as one of the happiest essential oils; inspiring joy, promoting positivity and lifting low moods. It's a great way to put a literal 'spring' in your step.
Learn more about the benefits of tangerine essential oil.
Another oil perfect for spring cleaning, tea tree is effective against a wide range of bacterial, viral and fungal infections.
This is often thought to be due to the antimicrobial properties of terpinene-4-ol, one of tea tree's main active components.
This spring, put a little time aside to explore your favourite seasonal scents and blends.
Diffusing these oils around your home, adding them to cleaning products or using them to create candles and soaps are all great ways of experiencing true wellness as the seasons shift.
Shop our complete essential oil range here.