26 January 2022 / Caitlin Devlin
The best essential oils for enhancing productivity
Explore our list of essential oils to help you get the most out of your work hours.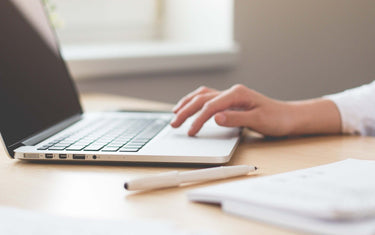 Whether you're at home or in the office, a number of things can make it hard to stay on track with work.
The temperature of our workspace, distractions in our surroundings, and feelings of hunger or fatigue can all impact our productivity and prevent us from getting the most out of our work hours.
Whilst essential oils can't fix all those things, the right oils can provide a boost to our productivity and help our minds to stay on the right track.
Here are some of our favourite productivity-promoting oils.
Research has suggested that cedarwood oil can have a positive effect on focus and attention.
A study at Brigham Young University found that cedarwood oil could even improve focus and behaviour in children with ADHD. Diffusing cedarwood oil can help to promote focus when working.
Learn more about the benefits of cedarwood essential oil.
Vetiver oil has similar focus-boosting properties to cedarwood. It was also studied by researchers at Brigham Young University and found to have a similarly positive effect on attention.
The oil is also thought to reduce distractedness and fidgety behaviour.
Learn more about the benefits of vetiver essential oil.
Grapefruit oil is often credited with the ability to lift 'brain fog'.
A study in 2001 found that grapefruit oil was able to facilitate an increase in the level and duration of neurotransmitter activity, increasing alertness and clarity of thought.
This makes grapefruit oil particularly useful if tiredness or fatigue is impacting your productivity.
Learn more about the benefits of grapefruit essential oil.
A circulation-boosting oil, cassia helps to ensure a good flow of oxygen throughout the body, which can prevent sluggishness.
Cassia oil is also said to ease PMS symptoms, reducing any discomfort or mood swings that may impact productivity.
A diffuser makes a great addition to a home working set up.
Benzoin is thought to stimulate the heartbeat and get blood flowing quicker throughout the body.
This not only increases our alertness, but also warms us. Cold can often impact our productivity by creating a feeling of sluggishness.
Warming benzoin gets around this issue and allows us to remain at our most productive.
Learn more about the benefits of benzoin essential oil.
Gurjun oil was traditionally used to promote healthy circulation and the generation of new cells.
These uses extend to modern day, and it is thought that gurjun oil is also able to aid the production of red blood cells. All this can lead to an increase in energy that can see us through the workday.
Rosemary has an historic association with memory.
A study in 2017 found this association was well deserved when it showed that rosemary oil could increase alertness and improve overall quality of memory in participants.
Inhaling rosemary oil can help our memories to function better and our work to flow more smoothly.
Learn more about the benefits of rosemary essential oil.
A study in 2016 showed that inhaling petitgrain oil could significantly improve performance in the workplace.
It is theorised that the oil has a balancing effect on the sympathetic and parasympathetic nervous systems – this decreases stress levels whilst increasing alertness and helping us to remain at our most productive.
Learn more about the benefits of petitgrain essential oil.
Melissa oil, or lemon balm, is considered an emotionally grounding oil, able to promote a steady mood and a calm state of mind.
A study in 2013 found that melissa oil was able to lift low mood, ease stress, and boost cognition in general.
The grounding abilities of melissa oil can allow our minds to function more effectively and enable us to complete our work unencumbered.
Learn more about the benefits of melissa essential oil.
Peppermint oil is often used by athletes to give them an energising boost. It is thought that peppermint's ability to relax the bronchial smooth muscles is the cause, as this increases ventilation and brain oxygen concentration.
Diffusing peppermint oil can make us more alert and energised.
No matter your working situation, essential oils can stimulate the olfactory system in all kinds of ways to ensure that you're functioning at your best. There's no time like the present to start to start discovering your favourites.
Shop our essential oils here.