5 min read / 27 September 2023 / yasmin sharp
How to Use Jojoba Oil for Eczema
Discover how to effectively use Jojoba Oil to relieve eczema and nurture your skin.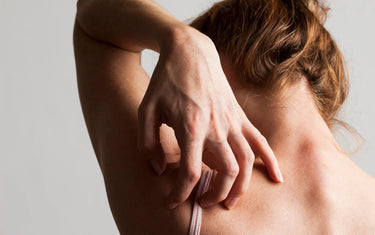 The National Eczema Association estimates that 1 in 10 individuals will develop eczema during their lifetime, which accounts for a lot of people around the world.
Whilst prescribed medication is the best way to treat this type of skin condition, a growing number of people are also using jojoba oil for eczema as it can offer additional relief.
We thought it would be a good idea to look at how effective jojoba oil could be at soothing eczema symptoms, along with some insight on how to apply it, and we also answer some other related questions.
Is jojoba oil good for eczema?
Jojoba oil is a great moisturiser for the skin, which also means you can use it to ease some of the key symptoms associated with eczema:
1. Can reduce itching and irritation
Many people who have eczema often struggle to deal with the itching and skin irritation that comes with the condition. Jojoba oil contains anti-inflammatory compounds that can reduce inflammation and redness, which can appear as a root cause of these symptoms. It may also be able to form a stronger protective barrier over the skin, lowering the chances of further damage being caused.
2. Moisturising properties that hydrate dry skin
Because jojoba oil is so similar to the sebum naturally produced by our skin, our pores are more willing to accept and absorb it, without leaving behind a greasy residue. People with eczema suffer with dry and itchy skin, which jojoba oil can keep hydrated by locking in moisture. It can even be used after an eczema flare-up to help the skin heal and return to its previous state.
3. It could lower the chances of further bacterial infections
Jojoba oil contains a compound called iodine that can be very useful in combating fungi and harmful bacteria that can appear during an eczema flare-up. Through topical application of jojoba oil, individuals can lower the risk of secondary infections occurring, whilst also encouraging the skin to heal faster when dealing with lesions.
4. Antioxidant compounds that can enrich the skin
Jojoba oil is rich in vitamin E, which also makes it a potent chain-breaking antioxidant agent. Once applied to the skin, it is able to inhibit the production of reactive oxygen species molecules when body fat is oxidised and when coming into contact with free radicals. This supports the healing of skin after a flare up and also in helping the skin to minimise possible symptoms that reappear in the future.
How to use jojoba oil for eczema
To enjoy the benefits jojoba has to offer for eczema, follow the instructions below which will teach you how prepare and use it:
Wash and dry the area of skin you want to moisturise.
Slowly add 1-2 tablespoons of jojoba oil to a cotton ball and gently apply to the skin.
You can also add 2-3 drops of lavender oil to the cotton ball for extra relief.
Leave it on your skin for 25-30 minutes or leave it on overnight.
Using a clean towel, gently pat the skin dry. Repeat the process if needed.
It is a good idea to speak with your doctor before using jojoba oil or any other type of natural remedy to ensure it is safe and suitable for your skin condition.
Do I need to dilute jojoba oil for skin?
You do not need to dilute jojoba oil for topical application. This is because it is hypoallergenic and classed as a carrier oil, so it is safe to use on sensitive skin and far less likely to cause an allergic reaction. This applies to topical applications, diffusion and if you add the oil to warm bath water, giving you a variety of different ways to enjoy its health benefits.
Is jojoba oil also good for psoriasis and rosacea?
Jojoba oil can help to reduce eczema symptoms, as well as improving the appearance of psoriasis and rosacea over time. The same benefits that the oil can offer for people with eczema, such as its antibacterial, antioxidant and anti-inflammatory properties, are similar to the way it can treat and soothe rosacea and psoriasis.
Is jojoba oil good for dandruff?
There are some similarities between the appearance of dandruff and eczema, with seborrheic dermatitis (a chronic form of eczema) also responsible for causing inflamed, scaly skin on the scalp. This makes jojoba oil ideal for reducing dandruff symptoms, helping to keep the scalp moisturised and reduce itchiness and inflammation.
Can I use jojoba oil on my children?
Jojoba oil is perfectly safe to use on babies and children. They can also experience dry and flaky skin conditions at various stages of their development, so it's helpful to have a skin-sensitive cream that doesn't produce unwanted side effects. This allows you to use jojoba oil to treat nappy rash or cradle cap, as well as for soothing dry patches and as a baby massage oil.
What are the risks of using jojoba oil for eczema?
There are very few risks associated with using jojoba oil for eczema, although, as is the case with any type of cream or medication, there is always the chance that you may experience a potential side effect.
Jojoba oil is a hypoallergenic substance, so it is considered safe for topical application, even on sensitive skin. There have been very rare occurrences of people experiencing hives or itching after using jojoba oil, but you can minimise this risk by completing a patch test.
To do this, apply a small amount of the oil to the inside of your elbow and cover with a plaster for 24 hours. If you do not see any redness, hives or any other type of irritation, feel free to continue using the oil. Should you see a reaction, wash the oil off your skin and try an alternative.
If you have discussed the possibility of using jojoba oil for eczema with your doctor and have been given the green light, then it can be a very helpful natural remedy for soothing and managing your symptoms. Its antioxidant, anti-inflammatory, antimicrobial and antifungal properties can reduce some of the most common issues associated with eczema, and it can prove useful for the management of psoriasis, rosacea and dandruff. You may also want to complete a patch test before applying jojoba topically to ensure it is compatible with your skin.
{ let idx = null; product.variants.forEach((v, i) => { if (v.featured_image && v.featured_image.id == $event.detail) { idx = i; } }); if (idx !== null) swiper.slideTo(idx, 0); }" x-init="() => { if (variants.length > 1) { const images = product.variants.map(v => { if (v.featured_image) { return `
`; } }) appendSlides(images); } else { if (product.featured_image) { appendSlides(`
`); } } }" >