12 February 2023 / Laura Garvin Gomez
Neem Oil for Hair: The Benefits and How to Use It
Unleash the full potential of your hair with the benefits of Neem Oil - a natural remedy that promotes growth, combats dandruff, and provides a healthy, happy head of hair.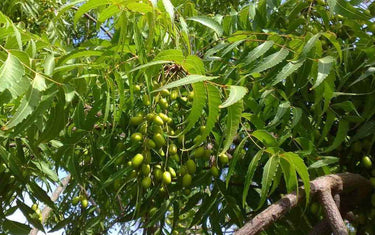 Neem oil has been used by people around the world for thousands of years, with the seed and branch oil helping to soothe an array of ailments.
While the tree is more common in India, it is now grown in over 50 countries around the world, allowing millions of others to enjoy its wonderful benefits.
It is a great option for improving hair and scalp health and can be applied in a variety of ways. Here we take a closer look at neem oil, its benefits for your hair and how to apply it.
What are the neem oil benefits for hair?
Due to its moisturising properties, neem oil could be used to encourage hair growth and improve scalp health. Some of the main benefits include:
Boosting hair growth:
Hair grows from the follicle, so massaging neem oil into your scalp may stimulate them to encourage hair growth. If you have any scalp issues that are affecting the development of healthy hair, neem oil can be used to clean and soothe them.
Reduce dandruff:
Dealing with a dry, flaky scalp can be tricky, as treating the fungal microbe responsible requires the right treatment to reduce it. Neem oil naturally cleanses and soothes the scalp to combat the spread of dandruff, moisturising the scalp to control the growth of the fungal microbe.
Combats hair loss:
When the body has too many free radicals (unstable atoms that damage cells), it can accelerate the loss of hair. Overexposure to UV rays and pollution can be contributing factors. Thanks to it containing a high level of antioxidants, neem oil can be used to fight against free radicals to stabilise your atom composition.
Ward off head lice:
Neem oil is commonly used as a natural pesticide, helping to keep unwanted pests and insects away from plants and greenery. This also applies to your scalp and the presence of any lice, helping to kill them and their eggs.
You may also find that neem oil can help to smooth frizzy hair and help to control an itchy scalp thanks to its antifungal and anti-inflammatory properties.
What type of hair is neem oil suitable for?
Neem oil is suitable for all hair types, and the only thing to consider is that it needs to be mixed with a carrier oil before use. If you have fine hair, you can still use neem oil, although you should avoid adding large amounts as it could become weighed down and limp.
How to apply neem oil to your hair
If you want to use neem oil for your hair, you should always mix it with a carrier oil such as coconut oil or jojoba oil before applying it topically.
Make sure to carry out a patch test to ensure it is compatible with your hair. Follow the steps below to see how the oil reacts to your skin:
Add a small amount of diluted neem oil to the inside of your forearm.

Use a bandage to cover the area and leave for 24 hours.

If you notice signs of redness, hives or irritation you should wash the area and not use the oil any further.

The oil should be safe to use if you do not experience any side effects within 24 hours of the patch test.

Once you have applied the neem oil to your hair, leave it on for 30-60 minutes and then wash it out with shampoo. Leaving the oil in your hair any longer could cause irritation and possible side effects for your skin and scalp.
Alternatively, you could mix in a couple of drops of neem oil with a small amount of shampoo and apply this to your hair.
Another option could be to deep condition with a mask. You can do this by adding neem oil to a hair mask so it can moisturise the hair and the nutrients to fully absorb. You should shampoo this out once finished to avoid irritating the scalp or skin.
Are there any side effects of using neem oil?
Neem oil is generally safe to use topically, providing it is properly diluted. If you have sensitive skin, you may experience some irritation, so always carry out a patch test before widespread use of the oil. If you have eczema, it may not be a good idea to use neem oil, as it does have the potential to irritate sensitive skin. Speak with your doctor about using neem oil to see what they recommend. Experts also suggest that you should avoid combining neem oil with hair growth treatments as this could further irritate the scalp.
What is the best neem oil for hair?
If you want to enjoy the moisturising properties offered by neem oil, then using pure cold pressed Neem Oil with a carrier oil is the way to go. It has antimicrobial properties that can be used to ward off fungal and viral infections, and the oil works as an excellent repellent of head lice and for maintaining plant health. You can use neem oil to reduce dandruff and boost hair growth while reducing the chances of hair loss. If you store neem oil in an area that falls below room temperature, it could turn solid – simply placing the bottle into warm water will allow it to liquefy again.
When diluted correctly with a carrier oil and checked with a patch test, neem oil is safe to use and can offer a host of wonderful benefits for your hair. Whether it's boosting hair growth or combatting dandruff and flaky scalps, the health properties found in the oil can help change the way you look and feel. Many people also use neem oil for skin, so it can work as an all-around remedy that is easy to incorporate into your daily routine. Want to try something different? Try our rosemary oil for hair to boost hair growth and hair health.
{ let idx = null; product.variants.forEach((v, i) => { if (v.featured_image && v.featured_image.id == $event.detail) { idx = i; } }); if (idx !== null) swiper.slideTo(idx, 0); }" x-init="() => { if (variants.length > 1) { const images = product.variants.map(v => { if (v.featured_image) { return `
`; } }) appendSlides(images); } else { if (product.featured_image) { appendSlides(`
`); } } }" >
{ if (visible && product == e.detail.data) return; ready = false; const articleTop = document.querySelector('[data-article]').getBoundingClientRect().top + window.scrollY; $nextTick(() => { product = e.detail.data; selected = product.variants[0].id; ready = true; setTimeout(() => { top = e.detail.target.getBoundingClientRect().top + window.scrollY - articleTop; show(); }, 10) }) }" @scroll.window="close()" >