15 February 2023 / Laura Garvin Gomez
Neem Oil for Skin: The Benefits and How To Use It
Unlock the power of nature for your skin with this comprehensive guide to neem oil and its benefits, and learn how to easily incorporate it into your skincare routine.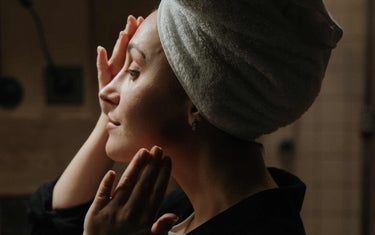 There are always new products being released that make big promises about improving the condition of your skin, with many proving to be very expensive and offer little to no return.
It's why more people are looking towards natural solutions such as neem oil, a remedy that has been used around the world for thousands of years.
If you want to use neem oil for skin conditions or to improve the overall look and feel of your skin, we have put together a list of benefits to help you decide if this is the right oil for you. We also look at how to apply neem oil and the best type of produce to buy.
What is neem oil?
Neem oil is taken from the seeds of the neem tree, which were traditionally grown in India, but can now be found across the world. It's an oil extract that has been used by people throughout the ages, with its antioxidant, anti-inflammatory and antibacterial properties offering a host of health benefits.
You can use neem oil for your skin or hair once it has been diluted with a carrier oil, with many also using it to keep unwanted pests away from their plants and pets.
Are there any neem oil benefits for skin?
Research has begun to show that neem oil could be used for a variety of skin conditions, including acne, eczema, psoriasis, ringworm and warts. To date, most studies have used cell lines or animals, with only a few human participants involved, although they have shown some promising results.
Anti-ageing:

Neem oil was found to be effective in a study conducted on hairless mice.

After exposing them to ultraviolet B radiation, neem oil was applied to their skin and was found to help reduce the signs of wrinkles, skin thickening, skin redness and water loss.

Wound healing:

In another animal study,

this time using rats, researchers found that when compared with Vaseline, neem oil could help enhance wound healing. When neem oil was applied topically to the rats, the wounds healed faster, while the skin tissue at the site of the wound became more resilient and stronger.

Inflammation:

When there is too much oil produced by the sebaceous glands, it clogs up skin pores and leads to the formation of acne. Inflammation can occur when white blood cells are sent to attack this bacteria in an attempt to heal the area. Applying neem oil could help to curb this sort of inflammatory response, and reduce how regularly it might occur.

Free radicals:

The azadirachtin and nimbolide compounds found in neem oil were found by researchers

to combat and reduce the presence of free radicals that can harm the condition of the skin. For anyone trying to reduce the appearance of acne scars or hyperpigmentation, this could prove particularly useful, as skin cells can be repaired by antioxidants.
What is the best neem oil to use for skin?
When it comes to applying neem oil to the skin, experts recommend that you use unrefined cold-pressed neem oil. This is because it preserves most of the beneficial compounds that are found in neem seeds, especially azadirachtin. Because neem oil is high in fatty acids and glycerides, this makes it ideal for skin treatments, stimulating collagen production to minimise scarring and heal skin tissue. Neem oil works as a natural insect repellent too, helping owners to ward off ticks, fleas and mites on their dogs and horses.
What are the risks of using neem oil?
Neem oil can be used safely by most people, as toxicity levels are comparatively low compared to other types of oils, although care must still be taken always. In some instances, it can cause allergic reactions, such as dermatitis, so you should always carry out a patch test before widespread use.
As with all essential oils, you should not consume neem oil due to its highly toxic nature. Be sure to keep it away from children and pets and if you are pregnant consult with your doctor before use.
How to apply neem oil
Before you apply neem oil to larger areas of your skin you should first carry out a patch test to ensure it doesn't cause a reaction. Follow the steps below:
Mix a small amount of neem oil with a carrier oil (jojoba oil or coconut oil, for example) and apply it to the inside of your forearm.
Cover the area with a bandage for 24 hours.
If you start to notice any irritation, redness or hives developing on your skin, wash the mixture off right away and do not use it anymore.
You can start to use the oil elsewhere on your skin if you do not experience any sort of allergic reaction.
Carrier oils reduce the toxicity of the oil on your skin and help it to absorb more easily. And because neem oil has quite a strong odour, carrier oils like jojoba or coconut oil can disguise it.
Neem oil is also used by some people to treat infections or acne. You can do this by applying a small amount of the diluted mixture to the affected area, letting it soak in before rinsing it off with warm water.
Neem oil has only recently begun to find its way into Western thinking, with many other parts of the world far more accustomed to using it as a natural remedy or on plants as a natural repellent. Compared to the many cosmetic products available on the market it is a relatively inexpensive option and one that comes packed with a host of natural properties. It blends well with other oils and absorbs easily into the skin and it could give you a new way to manage long-standing conditions.
{ let idx = null; product.variants.forEach((v, i) => { if (v.featured_image && v.featured_image.id == $event.detail) { idx = i; } }); if (idx !== null) swiper.slideTo(idx, 0); }" x-init="() => { if (variants.length > 1) { const images = product.variants.map(v => { if (v.featured_image) { return `
`; } }) appendSlides(images); } else { if (product.featured_image) { appendSlides(`
`); } } }" >
{ if (visible && product == e.detail.data) return; ready = false; const articleTop = document.querySelector('[data-article]').getBoundingClientRect().top + window.scrollY; $nextTick(() => { product = e.detail.data; selected = product.variants[0].id; ready = true; setTimeout(() => { top = e.detail.target.getBoundingClientRect().top + window.scrollY - articleTop; show(); }, 10) }) }" @scroll.window="close()" >