7 min read / 17 April 2023 / Laura Garvin Gomez
The Top Benefits of Grapeseed Oil
One of the most gentle carrier oils out there, grapeseed oil is filled to the brim with benefits for our hair, skin, and more.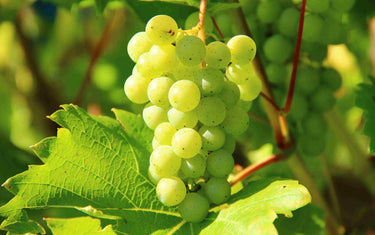 If you like wine, then you'll love grapeseed oil.
Okay, so that might not be entirely true for everyone, but they do both come from the exact same source. In fact, grapeseed oil has been a by-product of the wine-making industry since the time of the ancient Greeks.
Powerful, lightweight, and full of antioxidants, grapeseed oil has been steadily rising in popularity amongst lovers of all things wellness, thanks to its versatility and its ability to be used by all skin and hair types.
If you're curious about the benefits of grapeseed oil and how it works, we'll be running through all the facts right here.
What is grapeseed oil?
Vitis Vinifera, or grapeseed oil, is a plant-based carrier oil extracted by pressing the grapes of seeds (as the name suggests).
Grapeseed oil can be cold pressed or expeller pressed depending on its origin, but all forms should produce a yellow to green coloured oil with a light and sweet aroma.
The primary appeal for grapeseed oil began in the culinary world, with many revering it for its high smoke point. From there, its uses have shifted into the wellness world, and many now view it as equally impactful to oils like coconut and jojoba.
What are the benefits of grapeseed oil for skin?
Grapeseed oil benefits the skin in a number of different ways, largely thanks to its naturally high levels of pycogeneol which can uniquely boost the production of collagen.
As collagen is integral for the youthfulness and firmness of our skin, it's no surprise this oil has soared in popularity when it comes to skincare. We've listed some key benefits below.
1. It hydrates and moisturises
Grapeseed oil can hold moisture in the skin barrier for up to 16 hours at a time, making it ideal for combatting the dryness that occurs throughout the day.
It's also jam-packed full of vitamin E - a powerful antioxidant that is known for reducing inflammation and softening the skin.
One 2018 study also noted that grapeseed oil is full of unsaturated fats known as PUFAs. Researchers concluded that these fats may be the key force behind grapeseed's ability to moisturise and protect.
2. It can treat acne breakouts
Grapeseed oil is high in linoleic acid, also known as omega-6 fatty acid.
On top of protecting the skin barrier and preventing excess water loss, linoleic acid can help cases of acne by successfully banishing clogged pores and preventing their return.
Grapeseed oil is also naturally antimicrobial, which means it can attack bacteria in the pores to facilitate a more even skin tone. Unlike other oils, grapeseed can be used freely by those with acne-prone skin as it's a non-comedogenic oil.
3. It reduces signs of aging
Grapeseed oil's claim to fame is its high levels of pycogeneol, which can boost collagen and reduce signs of aging like fine lines, wrinkles, and dark spots over time.
In fact, a 2004 study noted that grapeseed oil could successfully tackle a type of hyperpigmentation caused by pregnancy, meaning it could potentially reduce other forms of dark spotting on the skin.
Grapeseed oil is also rich in proanthocyanidin - an antioxidant that can effectively even out complexions and produce a more youthful skin tone.
4. It protects against sun damage
Like a lot of plant-based carrier oils, grapeseed oil is rich in powerful antioxidants like vitamins D, C, and E.
All of these vitamins have been proven to safeguard skin against the sun's damaging UV rays, which a 2011 study confirmed after testing these effects against commercial sun creams.
That being said, oils like grapeseed should never entirely replace SPF-heavy products for protection against the sun.
Learn more about the benefits of grapeseed oil for skin.
What are the grapeseed oil benefits for hair?
So, we now know about the many benefits of grapeseed oil for our skin, but is grapeseed oil good for hair too?
Beauty experts certainly seem to think so, with more and more impactful properties for our locks popping up all the time. Here are some of its strongest benefits to keep in mind.
1. It's lightweight and adds moisture
Some oils, like olive oil or coconut oil, are great for hair but can leave it feeling greasy and heavy. This is especially true if your hair is particularly thin or sparse.
Grapeseed oil, on the other hand, is lightweight and easy to manage when applied to the hair.
Its high levels of linoleic acid and monosaturated lipids can also act as a successful sealant for the hair cuticle, helping to keep moisture in and preventing dry, brittle hair between washes.
2. It can help clear dandruff
Dandruff is often caused by an overly dry scalp, as well as the excess build-up of dead skin cells and harmful bacteria that clog the hair follicles.
As an emollient, grapeseed oil can help loosen this dead skin and improve moisture levels, as well as banish any irritation that may be encouraging the expansion of dandruff.
This removal also stimulates new, healthy cell growth that can lead to healthier, fuller locks over time.
3. It may stimulate hair growth
A 1999 study` showed that a flavonoid known as procyanidin oligomer could successfully induce hair growth in cases of baldness.
Grapeseed oil is filled with this flavonoid, meaning frequent application could stimulate longer and fuller strands. Linoleic acid is also known for facilitating hair growth. This carrier oil can be used alongside our rosemary oil for hair for a boost in hair growth.
How to use grapeseed oil for skin
There are tons of ways to use grapeseed oil in your skincare routine.
If you're looking to tackle acne, diluting a bit of tea tree oil with grapeseed oil and spot-treating breakouts could help eliminate them in no time.
Similarly, those looking to combat dryness can apply grapeseed as an all-natural alternative to body lotion. The most popular use for grapeseed oil, however, is on your face. Here's how to use it:
Wash your face thoroughly with warm water.

Pat your face dry with a clean cloth or towel.

Add a small amount of oil - about the size of a penny - to your palm.

Using your fingertips, apply the oil in circular motions across your face.

Leave to absorb and dab off any excess as needed.
How to use grapeseed oil for hair
Just as with the skin, grapeseed oil has numerous applications for hair - depending on what kind of issues you're looking to target. Some of the most popular choices include:
Applying directly to the hair. Apply a dollop of grapeseed oil onto damp hair and comb evenly through your roots. Use daily for best results.
Mixing into your existing conditioner. This method is the easiest way to incorporate grapeseed oil without any of the fuss. Simply pour a bit of oil into your conditioner and shake well. Use as you would regularly.
Apply directly onto the scalp. If dandruff is your issue, this may be the best method for you. Using a dropper, apply a few drops directly to your scalp and massage in. Repeat twice a week for best results.
Are there any risks to using grapeseed oil?
As far as carrier oils go, grapeseed oil is one of the safest choices out there.
It's largely hypoallergenic, highly absorbable, and non-comedogenic, meaning virtually anyone can use this oil as part of their daily wellness routine.
Unless you have a known allergy to grapes or grapeseed, this oil can be used on all skin and hair types as often as is needed.
If you're unsure about the oil though, or if you're prone to allergic reactions, it might be a good idea to perform a patch test before use. This will rule out the possibility of any irritation or intolerance.
Frequently Asked Questions
Can I leave grapeseed oil on my hair overnight?
If your hair is particularly dry or brittle, using grapeseed oil in your hair overnight may be a good alternative to expensive hydration treatments.
Simply warm up your grapeseed oil and apply from root to tip. Cover your hair with a bonnet and rinse out the oil in the morning.
Is grapeseed oil good for acne-prone skin?
Yes! Grapeseed oil is one of the best carrier oils for acne-prone skin as it's completely non-comedogenic. This means it won't clog your pores and can be used as often as needed.
Can I use grapeseed oil to cook?
If your grapeseed oil is food grade, then feel free to use it on top of salads, to stir fry vegetables, or to grill meats. If it's not food grade though, stick to using it for cosmetic purposes only.
Whether you love or hate wine, or even love or hate grapes, grapeseed oil is sure to become a staple in your cabinet of all-natural wellness tricks before long.
Use it all on its own or with your favourite essential oils to target any and all of your skincare and haircare woes, and enjoy the many benefits that this versatile carrier oil has to offer in your day-to-day.
{ let idx = null; product.variants.forEach((v, i) => { if (v.featured_image && v.featured_image.id == $event.detail) { idx = i; } }); if (idx !== null) swiper.slideTo(idx, 0); }" x-init="() => { if (variants.length > 1) { const images = product.variants.map(v => { if (v.featured_image) { return `
`; } }) appendSlides(images); } else { if (product.featured_image) { appendSlides(`
`); } } }" >