2 min read / 10 March 2022 / Laura Garvin Gomez
How to make a natural astringent for skin with essential oils
This natural blend of neroli, myrtle and lemon can give you younger-looking skin.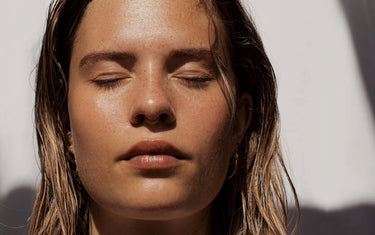 Astringents can do a lot for our skin.
Astringents can do a lot for our skin. They can reduce pores, limit oil production and increase skin's elasticity.
This can help us to achieve clearer, younger skin. The ingredients used in this all-natural astringent are packed full of benefits for a truly luxurious skin treat.
How to make a natural astringent for skin with essential oils
Ingredients:
Why these ingredients? Let's break this recipe down.
Witch hazel is a natural astringent with soothing, anti-inflammatory benefits. It's considered a wonderful all-round treatment for skin but is especially popular in homemade astringents.
Try to avoid buying witch hazel that contains alcohol – look for all-natural products. The base of this treatment also contains cider vinegar, another great treatment for skin with strong antibacterial properties.
The essential oils used are neroli, myrtle and lemon. Neroli essential oil is a natural astringent with an ability to regenerate skin cells that keeps skin looking healthy and fresh.
Myrtle essential oil, another natural astringent, was once a key ingredient in a popular sixteenth-century skin lotion called 'angel's water', and is still used today for its ability to reduce excess sebum.
Lemon essential oil is powerful astringent and very potent, so a little goes a long way. It is important to apply only steam-distilled lemon oil to skin, to avoid any phototoxic effects.
You will also need:
A sealable jar or container
Cotton pads
Method:
Add all the ingredients to your container.
Put the lid on your container and shake a few times to allow the ingredients to mix.
Store in a cool, dark place. Some people even prefer to keep their skin treatments in the fridge so that the cold will reduce puffiness.
This treatment should last a while – be sure to use sparingly.
How to use:
Wash face well and pat dry.
Add a small amount of mixture to a cotton pad and wipe over face once. Don't repeat and don't go back over areas.
Wash off excess product and pat face dry. Apply moisturiser over the entire face.
Precautions:
This tonic can be drying, so always moisturise skin well after use.
Avoid using on really dry or easily irritated skin, and always patch test first to test skin's reaction.
Use sparingly. Essential oils are potent natural products and a little goes a long way.