2 May 2023 / Laura Garvin Gomez
Best Essential Oils for Scars
Discover the most effective essential oils for reducing the appearance of scars and improving skin health with our guide.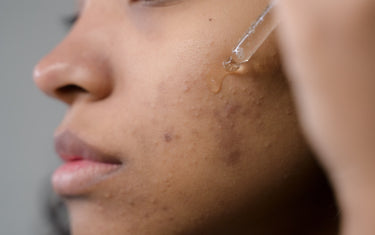 Using essential oil for scars seems like a sensible idea, as certain oils are packed with nutrients that could reduce recovery time and help the skin to repair more effectively.
Whether it's a relatively minor scar or something more serious, you may be tempted to try an essential oil or two in addition to any other treatment methods you are using. Here we look at the best essential oil for scars, how to apply them and more.
Should you use an essential oil for scars?
People have used essential oils to treat scars for centuries in the belief that these plant-based applications can reduce recovery time.
Many essential oils contain anti-microbial or anti-inflammatory properties, which could prove beneficial when it comes to healing the skin. The general consensus is that applying essential oils to a healing wound will produce better results than treating an older wound, as the skin has already regenerated as much as possible.
When applying an essential oil to a scar, you should mix it with a carrier oil, as essential oils are highly concentrated and can cause side effects in some cases.
Essential oil for scars – what are the best options?
As there are lots of different factors to consider, it is difficult to pinpoint the very best oil for scars, but here are some you could consider trying:
How to use essential oils for scars
If you want to use an essential oil for scars, follow the steps below:
Combine one or more of your preferred oils (no more than a total of 2-4 drops).
Mix with your carrier oil of choice (coconut oil, olive oil, jojoba oil etc.).
Gently rub onto the scar (morning and night).
It may take 3-4 weeks using this routine to see the desired results.
Once the mixture has been applied, it can be left to naturally soak into the skin. If you want to treat a scar on your face, make sure you are happy with the scent, as the aroma will be much more intense closer to your airways.
Are there any risks to using essential oils for scars?
Much like using essential oils topically on any part of your body, there are some risks to be aware of. Some people's skin is more sensitive than others, and due to the high concentration levels of essential oils, some can cause an allergic reaction.
Before applying any essential oil, you should carry out a patch test on a small area of skin. Usually, the best place is on the inside of your elbow – then cover with a plaster for 24 hours. If you experience any redness, irritation, or inflammation, wash the oil off your skin and do not use it any further.
Anyone with existing allergic or inflammatory skin conditions such as rosacea or eczema should use the oil with extra caution. The same is also true for pregnant women. In both instances, speak with your doctor before trying out an essential oil.
When treating a scar with an essential oil you should also keep it covered and change the dressing as required. Keeping it clean will also help to aid the healing process. There is no guarantee that using an essential oil on your scar will improve its condition, as recovery speed is influenced by lots of different factors. However, because every oil is unique, you will benefit from the individual benefits each one has to offer.
{ if (visible && product == e.detail.data) return; ready = false; const articleTop = document.querySelector('[data-article]').getBoundingClientRect().top + window.scrollY; $nextTick(() => { product = e.detail.data; selected = product.variants[0].id; ready = true; setTimeout(() => { top = e.detail.target.getBoundingClientRect().top + window.scrollY - articleTop; show(); }, 10) }) }" @scroll.window="close()" >