5 min read / 25 January 2022 / Laura Garvin Gomez
Benefits and Uses of Myrtle Oil
Romantic myrtle nourishes the skin, combats bacteria, and neutralises bad odours.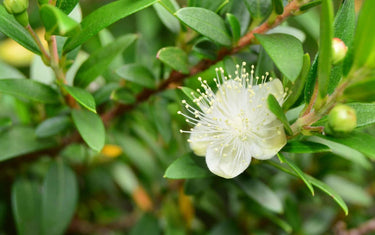 Steeped in mythology, myrtle is a powerful herb with an occasionally overlooked list of benefits.
In the present day, myrtle oil still has many of the same uses that tie it to its mythological roots, including nourishing the skin, remedying bad breath, and healing the body externally.
While it is one of the lesser-known oils in the aromatherapy catalogue, myrtle has often been labelled as a gentler alternative to popular tea tree oil and is even derived from the same family as the eucalyptus plant.
What is Myrtle Essential Oil?
Sometimes referred to as Corsican pepper oil, myrtle essential oil is extracted via steam distillation from the leaves and twigs of the Myrtle tree, native to the Mediterranean.
Occasionally, the fragrant flowers of the tree are also used in the making of the oil; however, this can vary from region to region.
Myrtle essential oil is generally yellow to green in colour with a fresh, sweet, and herbal aroma that can occasionally hold woody notes as well.
In fact, the woody component within myrtle oil, myrtenol, is a common ingredient in perfumery due to its distinctiveness.
What are the benefits of Myrtle Essential Oil?
Despite its comparisons to other, more popular essential oils, myrtle certainly has an impact in its own right on the general wellness of the body.
Some of the most prominent myrtle essential oil benefits include:
Nourishing skin
Cleansing breath
Acting as an antibacterial
Functioning as a natural deodorant alternative
Does myrtle essential oil nourish the skin?
In the sixteenth century, a popular skin lotion called 'angel's water' was used to cleanse and tone the skin.
The main ingredient in this lotion was myrtle, and thus the associations between the oil and its skin-reviving properties came to light.
Myrtle has strong cleaning properties, able to prevent infections and cleanse pores with regular implementation.
A study in 2018 examined the extent of these cleaning properties and found that the oil was effective at reducing signs of acne, as well as getting rid of excess sebum (an oily substance on the surface of the skin) and clearing dead skin cells.
These benefits allow the oil to leave skin looking brighter and healthier over time.
Myrtle essential oil has also been found to have astringent properties, which allow it to increase the skin's elasticity and reduce the appearance of lines and wrinkles.
You can find out more about what astringents are and their benefits here.

Can myrtle oil act as a natural mouthwash?
Pliny the Elder wrote about myrtle's ability to cure 'bad mouth odour', a complaint which he described as "a very embarrassing inconvenience".
Myrtle oil can be an ideal component in oil-pulling, which is the practice of combining a few drops of essential oil with a carrier vegetable oil and swishing a small amount around the mouth, being careful not to swallow any.
Not only does the oil have infection-preventing qualities which allow it to guard the gums against damage, but its astringent properties can also cause gums to contract and strengthen their hold on the teeth, discouraging gaps in which plaque can build up.
Please note that we do not sell food-grade essential oils, and as such, we cannot recommend you use our products in mouthwash.
Does myrtle essential oil have strong antibacterial properties?
The cineole in myrtle oil makes it an effective antibacterial agent, and it has been found to have significant inhibiting effects on various strands of bacteria – with one study finding that it is particularly useful for combatting staph infections.
Myrtle is also reported to be a comparatively gentle oil and may be safer for use around young children.
However, it should still always be diluted before use as a cleaning agent.
How do I use myrtle oil as a natural deodorant?
Myrtle oil can be used to eliminate unpleasant personal odour.
A 2019 study found that the oil has strong antifungal properties, which can allow it to attack the source of odours and inhibit their growth.
The aromatic, deodorising properties of the oil can also help to mask existing odours.
Myrtle essential oil can be diluted and dabbed on odorous parts of the body, such as under the armpits – just be careful to avoid any particularly sensitive areas.
Diffusing the oil can also be a great way to rid a room of unpleasant odours.
How to use Myrtle Essential Oil
Aromatherapy
Herby and refreshing, myrtle essential oil is a welcome aroma in any household setting, particularly if you enjoy complex scents that can help clear your airways while not being too overpowering.
Try adding a few drops to your diffuser or oil burner and allow the scent to clean your spaces as well as prevent any unwelcome odours.
Skincare
Renowned for its cleansing and astringent properties, myrtle oil is a fantastic natural alternative to commercial skincare products.
Its benefits against acne, clogged pores, wrinkles, and dullness in the skin can be easily felt with regular application.
Combine some myrtle oil with a carrier oil of your choice and apply daily to experience these effects over time.
Cleaning
If you're looking for a natural way to clean your home or top up the freshness of your surfaces, the antimicrobial properties of myrtle could be a great choice.
Add a few drops to a spray bottle with water, shake and apply as needed.
History of Myrtle Essential Oil
Associated with everlasting love, myrtle has been a staple in the wedding bouquets of royal brides since Queen Victoria.
This link was initially derived from the Ancient Romans, who claimed myrtle to be a favourite of Venus – the goddess of love.
However, the Romans and other ancient societies also used myrtle for plenty of practical purposes, including grinding the berries up to form plasters, toning and nourishing skin with a solution of the plant, and disguising bad breath with the leaves.
Many of these applications are still used in similar ways today.
This mythical oil has a long list of uses to accompany its romantic background.
Myrtle may not be scientifically proven to help your dating life, but its significant cosmetic properties, as well as its antibacterial abilities, will keep you looking and feeling your best.
| | |
| --- | --- |
| Product Name | 100% Pure Myrtle Essential Oil |
| Botanical Name | Myrtus Communis |
| Scent Type | Fresh |
| Benefits & Uses | Skin, Antifungal, Oral Health |
| Suitable for Diffusers? | Yes, this myrtle essential oil is perfect for diffusers. |
| Suitable for Candles and Soaps? | Yes, this myrtle essential oil is perfect for candle and soap making. |
| Extraction Method | Steam Distillation |
| Bottle Type | Tamper proof and UV resistant |
{ let idx = null; product.variants.forEach((v, i) => { if (v.featured_image && v.featured_image.id == $event.detail) { idx = i; } }); if (idx !== null) swiper.slideTo(idx, 0); }" x-init="() => { if (variants.length > 1) { const images = product.variants.map(v => { if (v.featured_image) { return `
`; } }) appendSlides(images); } else { if (product.featured_image) { appendSlides(`
`); } } }" >
{ if (visible && product == e.detail.data) return; ready = false; const articleTop = document.querySelector('[data-article]').getBoundingClientRect().top + window.scrollY; $nextTick(() => { product = e.detail.data; selected = product.variants[0].id; ready = true; setTimeout(() => { top = e.detail.target.getBoundingClientRect().top + window.scrollY - articleTop; show(); }, 10) }) }" @scroll.window="close()" >