14 April 2023 / Laura Garvin Gomez
The Top Benefits of Neem Oil
Famed as an insecticide, this oil can do a lot more for the wellness of our bodies than we might think.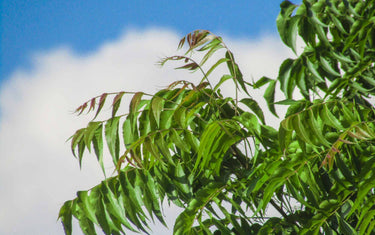 Neem oil may not be the first thing you think of when wellness is involved, but we believe that should change.
While neem has earned its popularity by being a highly effective insecticide, there's much more to this oil than simply protecting your plants in the summertime.
Neem oil is packed full of antioxidants, fatty acids, and essential compounds that make it ideal for adding to skin and haircare routines.
With researchers now backing the long-standing claims of what this oil can do, it's high time we learned a little bit more about the benefits of neem oil and how to use it.
What is neem oil?
Neem oil is an unrefined, cold pressed carrier oil derived from the fruits and seeds of the neem tree (Azadirachta Indica).
Neem trees are native to the Indian subcontinent, and thus were frequently used in Ayurvedic medicine as a multi-purpose remedy for many pharmaceutical ailments. These extensive uses have granted neem the nickname of "nature's drugstore".
The oil itself is yellow to brown in colour and carries a pungent aroma that separates it slightly from other plant-based carrier oils. For this reason, it is not common to see neem oil mixed with essential oils for massage or aromatherapy purposes.
What are the benefits of neem oil for skin?
Neem oil carries some pretty powerful properties for the skin, thanks to its antioxidants and fatty acids. We've listed some of the most notable neem oil benefits for skin below.
1. It's anti-aging
As we age, the collagen levels in our skin gradually break down. This can lead to common signs of aging like wrinkles, redness, skin thickening, and water loss.
One 2017 study concluded that neem oil can help with all of these, thanks to its high levels of vitamin C which can encourage the natural production of collagen.
Researchers in the study also found that neem oil could boost a collagen-producing enzyme known as "procollagen", as well as a vital protein known as elastin.
These factors help give the skin structure as well as retain its shape overtime.
2. It can fight skin infections and acne
Neem oil is a highly effective antibacterial, and a 2019 study confirmed these effects after testing the oil on several different strains.
This makes neem ideal for treating conditions like eczema, psoriasis, and acne among other ailments. Neem is also anti-inflammatory, so can reduce redness and irritation caused by these stubborn conditions.
As an astringent oil, neem can successfully control the production of sebum in the skin too, meaning those that are prone to acne could minimise their chances of frequent breakouts.
3. It promotes wound healing
Just as with acne and skin conditions, there have been suggestions that neem oil could promote wound healing on the body.
A 2010 study showed that neem had superior effects against wounds when compared to the common remedy Vaseline. Researchers stated that subjects using neem oil developed stronger and more resilient tissue around the site of their wounds.
A similar 2013 study comparing saline and neem oil noted that those using neem had faster results for healing and did not develop raised scars.
4. It moisturises and protects skin
The numerous fatty acids found in neem oil make it ideal for moisturising and hydrating the skin on a deeper level.
Palmitic, linoleic, and oleic acids contained in neem have all been linked to skin health, and regular application of these acids can even increase the efficiency of other products in your routine.
As an antioxidant, neem oil can also protect against environmental irritants like UV rays, pollution, and oxidative stress.
What are the neem oil benefits for hair?
Neem oil is not only incredibly impactful for skin health, but for haircare too.
Like many carrier oils, neem oil can uniquely coat and protect the hair to facilitate growth, strength, and resilience. Here are some of its strongest benefits.
1. It encourages hair growth
Massaging neem oil into your scalp can help boost blood circulation, which in turn stimulates the follicles responsible for hair growth.
As an anti-inflammatory, neem oil can tackle any issues that may be blocking or preventing healthy hair development, thus leading to fuller, thicker, and longer locks with frequent use.
The antioxidants in neem oil can also prevent hair loss caused by oxidative stress. For an alternative to neem for hair growth try our rosemary oil for hair.
2. It reduces dandruff
Dandruff is caused by a fungal microbe known as malassezia globosa which feeds off the natural oils and fatty acids produced by the scalp.
While applying another oil to defend against this production may seem contradictory, the naturally cleansing benefits of neem can help clear and control this growth, leading to a flake-free scalp before long.
Neem oil's anti-inflammatory properties also fight against other dandruff symptoms like itching and redness.
3. It can smoothen frizz
Neem oil contains vitamin F - a humectant that can protect the hair's cuticle barrier and seal it to avoid excess humidity coming through.
As frizz is caused by open hair cuticles that feed on the atmosphere, applying neem oil to your locks can help achieve a smoother and sleeker look throughout your day.
4. It may deter head lice
While there's been little to no research conducted on head lice specifically, the strong, well-backed presence of neem oil as an insecticide could transfer to these pesky little creatures.
Try applying a little bit of diluted neem oil to the scalp as an all-natural method for killing lice and their eggs. For extra power, add a few drops of tea tree essential oil to the mix too.
What are the benefits of neem oil for plants?
While it may not be a wellness benefit, it's good to be aware of what neem oil can do in your garden, too.
We'll only be touching on a few details here, but you can refer to our guide on how to use neem oil for plants for more in-depth information.
The biggest benefit of neem oil is that it's non-toxic, so no harm will be done to your plants if you choose to apply it. It's also a good barrier to avoid more pests in the future.
The pesticide effects of the oil are thanks to an active ingredient known as azadirachtin. When used against insects, azadirachtin can disrupt their bodily functions and causes them to become inactive. This means it can kill an insect at every stage of its life - including the egg and larvae stages.
Neem oil can also be used on dogs and horses to eliminate the presence of fleas, ticks, and mites.
How to use neem oil for skin
Neem oil, like most carrier oils, is generally safe for use on the skin. That being said, it's slightly more potent than the average, so it's a good idea to perform a patch test before using it every day.
Unlike other carrier oils, neem should also be diluted with water or another base oil before applying to larger areas. When spot treating, it's generally okay to leave it undiluted. Here's how to use it:
For applying to large areas of the skin:
Take a bowl and mix equal parts neem oil with equal parts water, or another carrier oil like jojoba, grapeseed, or coconut.
Using your fingertips, apply in circular motions as needed to your desired area.
Leave to absorb and dab any excess off with a clean cloth or towel.
For spot treating acne, warts, or moles:
Lightly dab your neem oil onto the affected area using a cotton swab or cotton ball.
Allow the area to soak for 20 minutes.
Wash off with warm water.
Use daily until your desired results are achieved.
How to use neem oil for hair
There are a few different ways you can use neem oil on your hair, depending on the benefits you're wanting to achieve from it. Here are some popular methods:
Massage directly into the scalp
Dilute your neem oil with a carrier oil and warm it slightly.
Massage the oils into your scalp and through the lengths of your hair for around 20 minutes at a time.
Keep on for two hours and rinse out with warm water.
Repeat weekly.
Add to your conditioner or shampoo
Sprinkle around a teaspoon of undiluted neem oil to your everyday shampoo or conditioner.
Shake well and use as part of your routine.
If you suffer with head lice, you can also try ward them off using a mix of neem oil and water in a spray bottle.
Frequently Asked Questions
Are there any risks to using neem oil?
Neem oil is generally safe for use on skin and hair but should be diluted as it can be very potent.
Can I use neem oil on my spots?
Yes! Neem oil is great for spot-treating breakouts and other ailments.
Is neem oil good for dandruff?
Neem oil is great for getting rid of dandruff and promoting better scalp health.
While neem carrier oil still has some ground to cover in the cosmetic world, there's no denying the wonderful effects of neem for skin and hair.
When you're not using it on your plants, this oil is likely to become an instant favourite for fixing all of your wellness woes.
{ let idx = null; product.variants.forEach((v, i) => { if (v.featured_image && v.featured_image.id == $event.detail) { idx = i; } }); if (idx !== null) swiper.slideTo(idx, 0); }" x-init="() => { if (variants.length > 1) { const images = product.variants.map(v => { if (v.featured_image) { return `
`; } }) appendSlides(images); } else { if (product.featured_image) { appendSlides(`
`); } } }" >