4 May 2023 / Laura Garvin Gomez
Essential Oils for Travel: The Ultimate Guide
Discover how to use essential oils to enhance your travel experience and address common travel-related issues with this comprehensive guide.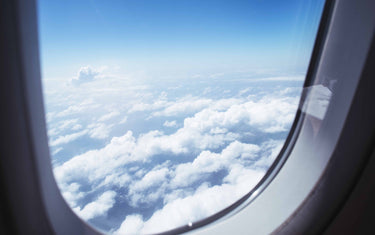 Using essential oils for travel is just as popular as applying them at home, helping people to manage physical and psychological conditions on their journeys.
From calming an upset tummy or managing motion sickness to warding off insects and combating travel fatigue, essential oils can be your best friend no matter where you are.
As we head further into spring and summer, many of us are planning our summer holidays, weekend breaks and day trips, so having an alternative medicine to hand could be a lifesaver. We've put together an ultimate guide to using essential oils for travel, keeping you covered for journeys by land, sea or air.
Why use essential oils for travel?
Using essential oils for travel can make a huge difference for some people. Not everyone enjoys the idea of travel, especially if you are cooped up in a small space for an extended period.
It can induce feelings of stress and anxiety that can be difficult to manage in public spaces, which can affect people's nerves and energy levels, and can also induce allergies, illnesses and a host of adverse physical and mental reactions. With the right essential oil, you can ease some of these symptoms as you travel, making the experience easier to cope with.
Are essential oils allowed on planes?
The short answer to this question is that yes if travelling from the UK, essential oils are allowed on planes, although there are some rules you must follow. Keep the following in mind if you are thinking of using essential oils for plane travel:
It must be kept in a container that holds no more than 100ml.
You will need to place it in a transparent, resealable plastic bag that holds no more than a litre and is around 20cm x 20cm in size.
This must also be kept inside your hand luggage, with no knots or ties.
The bag must be shown at airport security.
Each person travelling is allowed no more than one plastic bag. If the container is larger than 100ml, it is unlikely that it will pass through security, even if it is not full.
Essential oils purchased at duty-free can also be carried onto the plane as long as they are sealed inside a security bag along with a visible purchase receipt.
Outside of the UK and EU, there may be different rules in place, so you should check this on the relevant government website before you fly.
Can I travel by car with essential oils?
You may want to use essential oils for travel sickness if you struggle to cope with the movement of the car on your journey.
Before you start your journey, it's a good idea to invest in an essential oil travel case. There will likely be lots of bumps, jumps and dips along the way, and the case will keep the oil containers protected.
It's a far better option than placing them into the glove compartment and hoping for the best. The last thing you want to have to contend with after a long road journey is a major clean-up operation.
Another good idea is to use a travel essential oil diffuser. These compact portable diffusers can be a great help on your journeys, calmly emitting your favourite scent to help you relax and de-stress. They are powered by USB (which is included in most car builds) and can emit the vapour for anywhere between 30 minutes to a few hours at a time.
What essential oils work well for seasickness?
Sea sickness can happen to anyone on a boat, no matter how seasoned a traveller you are, especially in choppy waters. Travelling with an essential oil or two can help calm the queasiness, so you don't spend half the journey rushing back and forth to the toilet.
To manage motion sickness, you could try ginger essential oil, which research has found to be effective in dealing with nausea. You can inhale it through a diffuser, or rub it into pressure points on your forehead and wrists – some people also rub it onto their stomach if they are starting to feel sick.
If you are travelling by boat, be it for a short journey or a week-long cruise, it's a good idea to store them in an essential oil travel bag. It's a handy little accessory that will keep them safe and secure on the roughest of waters, helping to prevent spillages and wastage, so you always have enough when you need it most.
How to choose the best travel diffuser for essential oils
There are a few things to bear in mind when shopping around for a portable travel diffuser. This includes:
Diffuser size: Check the dimensions of the diffuser before you buy to make sure it can fit into any hand luggage you are bringing with you.
Diffusing time: Whilst you should only use a diffuser for no longer than 30 minutes at a time, especially in small, enclosed spaces (you should also ventilate if possible) make sure that the diffuser can run for as long as you need.
Loudness levels: Whether you are travelling alone or with others, ideally, you need a quiet-running diffuser that won't annoy or disturb others on the journey.
Maintenance requirements: Look for a diffuser that doesn't require a lot of hard work to clean and maintain it – a quick wash or wipe though is all you should need to do.
Alternatively, look for an essential oil travel kit that also comes with a portable diffuser. It will come with a selection of oils that you can use on your travels, so you get everything you need in one package.
What are the best essential oils for travel?
You'll likely already have a selection of essential oils that you can rely on to manage changes to your physical or emotional state. However, if this is your first time looking into essential oils, or you want to try something different, the following may be able to help:
Essential oils can be a valuable addition to your holiday or day trip, giving you a sense of normality no matter how far away from home you may be. They offer the perfect natural alternative to pharmaceutical drugs and over-the-counter medicines that contain harsh ingredients and can quickly get you back to normal so you can enjoy the rest of your break. If applying them topically, be sure to mix them with a carrier oil to reduce the chances of an allergic reaction and carry out a patch test if you are a first-time user.
{ if (visible && product == e.detail.data) return; ready = false; const articleTop = document.querySelector('[data-article]').getBoundingClientRect().top + window.scrollY; $nextTick(() => { product = e.detail.data; selected = product.variants[0].id; ready = true; setTimeout(() => { top = e.detail.target.getBoundingClientRect().top + window.scrollY - articleTop; show(); }, 10) }) }" @scroll.window="close()" >