7 min read / 9 October 2023 / yasmin sharp
Buying Wholesale Essential Oils for Your Small Business: A Complete Guide
Discover the essential steps to sourcing wholesale essential oils for your small business.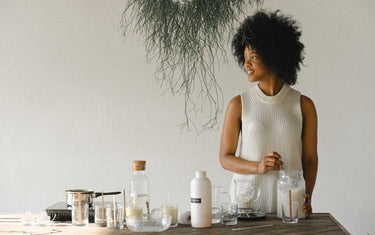 Learning how and where to buy real essential oils in bulk can seem daunting, especially if you are just getting started or a small business looking to expand.
Buying wholesale essential oils for resale requires you to find a reputable and reliable supplier that will provide the stock you need to keep your customers happy.
If you are buying wholesale essential oils in the UK to sell on an e-commerce site, you'll need to first familiarise yourself with the industry. Although there is a lot to cover, you can get up to speed by using some expert advice on what to look out for.
To help you along the way, here we explain how and where to buy wholesale essential oils, so you can make the right supplier choice for your business.
What are wholesale essential oils?
Wholesale essential oils are essential oils that can be purchased in bulk from a supplier or manufacturer.
The pricing is scaled based on the quantity you buy, which helps to make it more cost-effective when purchasing large amounts.
The unit price of each oil is reduced the more you buy, helping you to set a fair price for your customers whilst also being able to account for any overheads so you can still make a profit.
How to buy wholesale essential oils in the UK
There is no shortage of essential oil wholesalers to choose from, but before you decide who to work with, there are a few important things you need to keep an eye out for.
1. Carry out research on the bestselling essential oils
When selling essential oils to the public, you'll want to ensure you are able to supply the most popular products.
Whether you are thinking of buying wholesale essential oils for skin, wholesale essential oils for candles or something more general, customers will want to know they can rely on you to have the bestselling oil when they are ready to buy.
Google is a great place to start, with a few simple searches giving you a clear idea of the types of oils you may need.
2. Know the intended use of the essential oil
Every essential oil has a specific use, depending on their properties, and you'll need to have a good understanding of which type you need to buy for your target audience.
For example, if you want to sell aromatherapeutic essential oils, then you need to check if the oils are suitable for mood enhancing, relaxation and mental support.
You can also buy food grade essential oils, so you need to decide if this is something you want to include as part of your product offering.
3. Ask about the variety of oils the wholesaler can provide
Once you have a better idea of the type of essential oils you need to buy, you'll need to find a supplier that stocks them.
Wholesalers that can offer a wide range of essential oils give you more options to experiment and expand as your business becomes more established.
It will also help to establish and maintain your customers trust that they can buy what they need from your business.
4. Check the quality of the essential oils
You'll need to check the quality of the essential oils supplied by the wholesaler, as this will be the lifeblood of your business.
Poor quality oils will not be effective and could even cause issues relating to skin irritation or worse, which will quickly damage your brand reputation.
Find out where you can buy 100% pure essential oils wholesale that are additive and preservative free. A reputable and reliable supplier will be able to provide certified, documented proof that will verify the quality of their oils.
5. Request essential oil samples
This ties into the previous point relating to the quality of the oils. Most suppliers will provide oil samples so you can check the quality before placing a bulk order.
It's a good idea to request a few samples from different suppliers so you can compare and make an informed decision.
When it comes to essential oils, the supplier should provide the common name, Latin name, country of origin, growth method, extraction method and chemotype (where relevant).
6. Look for suppliers that offer the best prices
When looking at essential oil wholesale suppliers in the UK you'll want to ensure you are also getting a fair price.
The best place to start here is with your price point, as the reason you are undertaking this endeavour is to make a profit.
You also have to take your own budget into account and any overheads that need to be included into the final sale price.
7. Find out more about the supplier's reputation
Of course, price shouldn't be the only thing you consider when choosing a supplier, as tempting as it may be.
The supplier's reputation is another factor that needs to be assessed. Look online for reviews from other customers to see what kind of feedback they offer and if there are any issues you need to be aware of.
8. Consider the location of the supplier
If you want to buy essential oils wholesale in the UK, also find out where your preferred supplier is based.
You need to account for delivery and shipping times when restocking, so ideally, you'll want a supplier that is in the UK to shorten the turnaround time.
9. Choose a supplier that can grow with you
As your business grows you'll want to have a relationship with a supplier that offers good scalability.
You need to understand the minimum and maximum stock levels they can supply to accommodate your changing needs.
Switching suppliers and going through the selection process from scratch takes time, so if you can find a supplier that can adapt to your commercial needs based on current requirements and where you could be in 12-24 months' time, it means you have fewer supply chain issues to worry about.
10. Manage the legal aspects
A reputable essential oil supplier will provide Safety Data Sheets (SDS) that list the ingredients and allergens they contain.
This should also include the full contact details of the supplier, as well important information about how the oils should be handled, stored and what to do in the case of an accident.
The SDS will help you when it comes to the Classification, Labelling and Packaging (CLP) label that must legally be added to any non-cosmetic product being sold to the public.
Wholesale essential oil buying tips
Once you are confident you have the found the right supplier for your business, use the below as some helpful tips on how to buy essential oils in bulk:
Buy in bulk: This is budget dependent, of course, but the more you buy, the more you will save. Try to invest in a good amount of stock that allows you to maintain stock levels without having to put up 'Out of Stock' signs on your site as you wait for new deliveries.
Don't overstock: Whilst you need a decent amount of stock to get started, there is a fine line between having 'enough' and 'too much'. If you are new to buying wholesale essential oils for soap making, candle making, diffusers or any other market, start with a small test order to gauge the quality of the oils and the reliability of the supplier.
Store essential oils correctly: Storage is very important when it comes to maintaining the lifespan of any essential oil. Set aside a cool, dry and dark space away from direct heat and light sources where you can keep your stock without them getting damaged.
Label your products: Whether you are selling products that contain essential oils or fragrance oils (wax melts, scented candles, home sprays etc.) or simply bottles of essential oils, they need to be clearly labelled to include details about their ingredients, usage and relevant safety precautions. There are also a few key compliance guidelines that need to be adhered to regarding labelling.
Know your customer: To make a success of your business, you'll need to understand the needs of your customers so you can supply essential oils that meet their requirements. A good way to do this is by tracking and analysing your sales, returns and website statistics, which will reveal more about their shopping habits and the kind of products they are interested in.
Whether you are buying wholesale fragrance oils for candles in the UK or essential oils for soaps, diffusers or topical application, there is a lot to consider.
If you've been wondering "Where can I buy bulk essential oils?" hopefully this guide will give you some clear direction on the various steps involved in the process.
The most important points are that they should be a relatively local, reputable supplier that can offer a wide variety of 100% organic products that are competitively priced.
And when you find the right supplier, buying in bulk can be transformative for your business, allowing you to provide high quality oils at a profit, whilst also meeting the needs of your customers.