7 March 2022 / Laura Garvin Gomez
A guide to the best carrier oils for skincare and massage
Carrier oils play an essential part in natural skincare and help us to get the best results.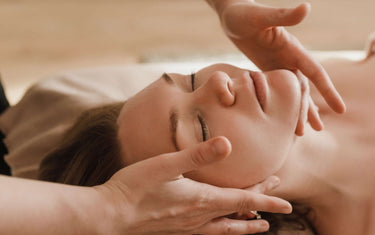 Carrier oils are a staple of aromatherapy, but knowing how best to use them can be confusing.
It's likely that anyone who has dealt with essential oils in the past has heard that you should be diluting them with a carrier oil before use. But what exactly are carrier oils? And why do we need them?
Carrier oils can be a confusing concept for those who have never come across them before, but once you get to grips with their simple - and widely effective - nature, it is likely they will take over every inch of your day-to-day wellness routine.
We're taking a deep dive into the best carrier oils, how each of them works, and how you can utilise them across your aromatherapy journey.
What are carrier oils?
Carrier oils, like essential oils, are natural products derived from plants.
They are typically much less potent than essential oils and are usually sourced from the nuts, seeds, or kernels of a plant - although some are also pressed from the fruit.
Carrier oils tend to be almost completely odourless, or only contain a very faint scent, which can help keep the aroma of your chosen essential oil shining through during use.
What are carrier oils used for?
Some carrier oils have incredibly high absorbability levels and can be used on their own to benefit skin or hair or as massage oils.
However, most of the time when you hear carrier oils mentioned, it will relate to the dilution and topical application of essential oils.
Essential oils are potent natural products that can sometimes be harmful to the skin when applied directly and without dilution.
Diluting essential oils with a carrier oil decreases their potency and makes them far safer to use on the skin, allowing us to experience their incredible benefits while also enriching and moisturising our bodies.
In fact, the name "carrier oil" refers to the oil's ability to "carry" potent essential oils into the skin in a safe and efficient way.
Carrier oils are also sometimes used as reed diffuser bases and can be useful for incorporating into DIY aromatherapy projects if you're wanting to try your hand at something homemade.
Which oils should I use as carrier oils?
There are dozens of different carrier oil options to choose from, and each one contains its own set of impactful benefits that can elevate your wellness routine.
Whether you're seeking something nourishing and lightweight, or hypoallergenic but rich in antioxidants, here are some of the most commonly used carrier oils.
1) Argan oil
Extracted from the kernels in the fruit of the argan tree, argan oil is highly beneficial for dry or inflamed skin.
It's a naturally rich source of vitamin E, which is a revered antioxidant, as well as Vitamin A, fatty acids and saponins that can soften and brighten the skin.
A popular haircare remedy, argan oil has been known to help reduce split ends, moisturise the scalp and leave hair looking shiny and rejuvenated.
2) Avocado oil
Avocado is a naturally thick oil, extracted from the popular super fruit that is known for its wealth of healthy benefits.
It is a powerhouse for fatty acids like omega-3 and omega-6, as well as vitamins A and E, all of which can contribute to skin membrane health as well as thick, healthy hair.
Avocado is a great choice for very dry skin but may also encourage sebum production, so is best not to apply it to the face if you struggle with breakouts.
3) Coconut oil
This popular oil is extracted from the meat of the coconut fruit and is great for use in skincare, haircare and massage.
Fractionated coconut oil differs slightly from the refined version in that it does not harden in colder conditions, meaning it will maintain its liquid consistency for use throughout the year.
It is also filled with healthy fats and medium-chain triglycerides (MTCs), which can help effectively moisturise the body as well as boost its daily function.
4) Grapeseed oil
A by-product of the wine industry, grapeseed oil is - as the name would suggest - extracted from the seeds of grapes.
High in vitamin E, linoleic acid and omega-6 fatty acids, grapeseed oil is renowned for its absorbability as well as its high antioxidant level, which can help prevent signs of ageing, dryness, and discolouration in the skin.
Grapeseed oil is also hypoallergenic and anti-inflammatory, making it a popular choice for massages as well as for treating dry scalps.
5) Jojoba oil
Extracted from the seeds of the jojoba plant, jojoba oil is thought to closely resemble the skin's natural oils and therefore absorbs easily into the skin.
While it is technically more of a wax than an oil, jojoba is by far one of the richest in natural antioxidants and can have endless wellness applications when used correctly.
Most commonly used as a massage base, jojoba is deeply nourishing and has been known to help treat acne scarring and sunburn as well as reduce the appearance of wrinkles in the skin.
6) Neem oil
Neem oil is extracted from the fruits and seeds of the neem tree. It is a natural insecticide and offers many benefits for skin, particularly acne-prone skin types.
Rich in fatty acids and glycerides, neem oil has excellent healing properties and is ideal for aiding skin conditions like eczema, psoriasis and ringworm over time.
It is said that this is due to the wealth of anti-inflammatory and antibacterial properties present within the oil.
7) Sea buckthorn oil
Occasionally referred to as "the holy fruit of the Himalayas", sea buckthorn oil is cold pressed from the pulp of the sea buckthorn fruit and is unique from other carrier oils for its rich, red appearance.
It is said to positively contribute to the strength of skin cells, which in turn benefits wound and burn healing as well as the general shine and smoothness of the skin.
Sea buckthorn oil is also known to help restore elasticity in the hair.
Please be aware before using it on the skin that Sea Buckthorn oil is bright orange in colour and may stain the skin.
8) Rosehip oil
Pressed from rosehips, rosehip oil is a great choice for dry skin and as a base for massage oils.
Its light consistency makes it suitable for all skin types, while its high levels of Vitamin A can help promote collagen and elastin to the point where the appearance of hyperpigmentation can be visibly reduced.
It is important to always perform a patch test before using rosehip oil on the skin, however, as it is known to occasionally cause allergic reactions.
9) Castor oil
Extracted from the beans of the castor plant, castor oil has a naturally thick, honey-like consistency that is rich in ricinoleic acid.
The presence of this acid is said to give castor oil powerful anti-inflammatory properties, which can help reduce swelling as well as reduce the appearance of scars and dryness.
Castor oil is also a good choice for a restorative massage if you find yourself struggling with digestive issues.
10 ) Sweet almond oil
Sweet almond oil is extracted from almond kernels and has a lightly sweet, recognisably nutty scent.
It is great for use in massage oils and soaps and contains a high percentage of omega-3 fatty acids which can prevent signs of ageing as well as reduce the appearance of sun damage and stretch marks.
Sweet almond is also full of vitamin E and works as an incredibly lightweight remedy.
11) Vitamin E oil
Known for protecting your immune system and preventing the effects of UV rays and phototoxic damage, vitamin E oil is a powerhouse for the skin.
It can help reduce signs of ageing, soothe various dermatological issues, and improve your skin's elasticity among a number of other impactful factors.
While vitamin E itself is present as a component in a lot of other carrier oils, using this oil on its own can heighten these effects and further improve the appearance of the skin.
How do I decide which carrier oil to use?
It is important to research the benefits of each oil and think about which ones best suit your needs.
You should also consider the scent of the oil – do you want a scent that compliments the oils you are using, or would you rather the carrier oil had no distinct scent at all?
Once you have selected a carrier oil, you should always perform a patch test to ensure that it agrees with your skin.
Sometimes finding the perfect carrier oil takes some trial and error, but there are loads of great options out there.
Do I need a carrier oil for fragrance oils?
Fragrance oils should not be applied directly to the skin, since they are synthetic products that don't have the natural benefits of essential oils. Even mixed with a carrier oil, the likelihood is that this won't be a heavy enough dilution for general skin application.
However, if you really like the smell of a particular fragrance oil, you can still use them in soap recipes, as they will be heavily diluted making them safe for use.
Check out our best fragrance oils for soap making.
In summary:
Carrier oils are natural products that are less potent than essential oils.
Diluting essential oils with carrier oils can help to make them safe to apply to the skin.
There are many different carrier oils and it may take some experimenting to find the right one for you.
Shop our essential oils here.
{ if (visible && product == e.detail.data) return; ready = false; const articleTop = document.querySelector('[data-article]').getBoundingClientRect().top + window.scrollY; $nextTick(() => { product = e.detail.data; selected = product.variants[0].id; ready = true; setTimeout(() => { top = e.detail.target.getBoundingClientRect().top + window.scrollY - articleTop; show(); }, 10) }) }" @scroll.window="close()" >