7 min read / 30 October 2023 / yasmin sharp
What is a CLP Label?
Explore the world of CLP Labels: What they are and why they matter.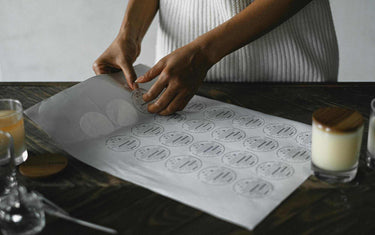 Part of setting up a scented candle, wax melt or reed diffuser business involves learning about your legal responsibilities.
It is important to ensure your business is compliant with the latest regulations, especially if your products contain essential oils or fragrance oils.
Adding CLP labels to your products will not only allow you to build trust with your customer base, but also help to safeguard their health and protect the environment.
We explain what a CLP label is, whether you need it for your product and everything else you need to know.
What is a CLP label?
A CLP label is a label that must be attached to the packaging of all non-cosmetic items sold to the public that use hazardous substances and mixtures in their ingredients. This includes essential oils and fragrance oils.
Since June 1st, 2015, it has been a statutory requirement, with strict guidelines in place that must be followed.
This encompasses everything from allergen information and precautionary statements to supplier information and the size and shape of the label.
What does 'CLP label' stand for?
CLP stands for Classification, Labelling and Packaging. The label only needs to be added to publicly sold non-cosmetic products that contain hazardous substances or mixtures.
A different CLP label must be used on all various types of wax melts, candles or reed diffusers, if they are made using a different combination of essential oils or fragrance oils.
Do I need a CLP label?
You will need a CLP label if you are selling non-cosmetic products in the UK or EU that contain hazardous mixtures or substances.
This includes all types of essential oils and fragrance oils.
If your product does not contain essential oils or fragrance oils, or if you are not selling your products to the public, you do not have to include a CLP label.
It is the product maker's responsibility to ensure that CLP labels contain the correct information for the essential oil or fragrance oil contained in the ingredients.
What is a CLP label for candles?
A CLP label for candles is when a CLP label is attached to the packaging of scented candles that contain a hazardous mixture or substance.
If a scented candle containing essential oils or fragrance oils is being made available for purchase, then a CLP label must be attached and made visible to customers.
What is a CLP label for wax melts?
A CLP label for wax melts is a label that displays the legally required information for non-cosmetic products sold to the public that contain essential oils or fragrance oils.
Even if the product contains only a very small amount of these oils, you must still add a CLP label to the packaging of your wax melts.
What is a CLP label for reed diffusers?
CLP labels for reed diffusers work in exactly the same way as CLP labels for scented candles and wax melts.
If you are selling reed diffusers that are intended to be used with essential oils or fragrance oils, you must follow the same information detailed in the CLP regulations.
What do I need to include on a CLP label?
Before your product can be made available to the public, you must ensure your CLP label includes the following information:
Product identifier
This must be placed at the very top of the label, as it tells the customer what the product is and states its name.
Other references such as batch number or SKU number can also be included.
Allergen information
Because essential oils and fragrance oils are highly concentrated substances, they can also cause skin sensitivity issues or an allergic reaction.
The allergen information informs the customer about any ingredients that could cause these.
Signal word
Signal words are split into two categories: 'warning' and 'hazard'. These are used to show how the hazardous mixture or substance has been classified.
Less severe hazards must display the signal word 'warning', whilst severe hazards must use the word 'danger'.
UFI number
This is a recent addition to CLP label requirements.
A Unique Formula Identifier (UFI) is an individual 16-character alpha-numeric code that must be added to any products that contain hazardous substances or mixtures.
UFI number requirements were introduced in 2021, and by 2025, all products that are classified for physical or health hazards must display this information.
If you are selling different products with different mixture or substance combinations, you must create a UFI for each type.
Hazard and precautionary statements
In addition to listing the allergen information and signal word category, the CLP label must also include hazard and precautionary statements.
These help to provide more clarity about the nature and severity of the potential hazards that could be encountered when using the product.
The statements also provide guidance on how to prevent or reduce any harmful side-effects that could impact the user or the environment.
Hazard pictograms
If your non-cosmetic product contains essential oils or fragrance oils, hazard pictograms will also have to be included on the CLP label.
The type of hazard pictogram you need to use will depend on what kind of substance or mixture is used in the product.
Products that are 125ml or less, and classified in certain hazard categories, can omit some information.
For example, hazardous substances or mixtures that are corrosive to metals do not need to include a hazard pictogram, signal word or hazard and precautionary statements.
There are also strict rules about the shape and size of the hazard pictogram.
It must be designed in the shape of a pointed diamond square that contains a white background, a red border and a black symbol.
The minimum size of a hazard pictogram is 2cm x 2cm to ensure it can be read by the customer.
Each hazard pictogram must also cover at least one-fifteenth of the label's surface area and it cannot be less than 1cm x 1cm in size.
Supplier contact details
The full name, address and phone number of your business will be included in this section, as it provides a way for customers to get in contact if they experience an issue with the product.
Customers have a legal right to be made aware of who it is they are purchasing from and adding these details is also part of insurance and liability requirements.
Where do you attach a CLP label?
A CLP label must be firmly attached to at least one of the surfaces of the final packaging. This refers to the container that stores the product.
In instances where the product is placed directly inside a box, the CLP label must be placed onto the product inside.
The guidelines state that the label must be clearly legible and readable horizontally when the package has been placed down.
If attaching the CLP label to the product or product container is not possible, you do have some alternatives.
For example, you can use a swing tag, ties or a fold out label, whilst ensuring that all other relevant rules are followed.
Does the size of the CLP label matter?
Because the information added to a CLP label must be legible, there are sizing rules that you will have to adhere to. This also relates to hazard pictograms, as you can see below:
| Package capacity | Label dimensions (mm) | Pictogram dimensions (mm) |
| --- | --- | --- |
| ≤ 3 litres | At least 52 x 74 | Not smaller than 10 x 10 – if possible, at least 16 x 16 |
| > 3 litres but ≤ 50 litres | At least 74 x 105 | At least 74 x 105 |
| > 50 litres ≤ 500 litres | At least 105 x 148 | At least 32 x 32 |
| > 500 litres | At least 148 x 210 | At least 46 x 46 |
You can decide which font size to use on a CLP, although the regulations do advise that it should ideally be no smaller than 1.2mm ('x-height').
How do I print a CLP label?
There are a few options available for printing a CLP label. If you have Word on your laptop, Microsoft provides templates you can use to print the labels at home.
Alternatively, you can search online for CLP label templates.
And if you do not have the facilities to print CLP labels at home, you can add the information to a template and send the labels to a professional printing company who can complete the task for you.
Hopefully this gives you more clarity about CLP labels and the important role they play in protecting customers and the environment.
Although it seems like a lot of information to digest, once you run through the process a few times it should become second nature, and it will give you some peace of mind that your business is legally compliant.
Take your time to carefully go through every section of the label and double or even triple check that the information is 100% correct.
Adding CLP labels to your products will give users more confidence and add credibility to your brand by demonstrating that you take the health and safety of your customers seriously.