20 May 2023 / Laura Garvin Gomez
How to Sell Candles Wholesale
If you're curious about how to sell your candles to retailers, this comprehensive guide will detail all you need to know before getting started.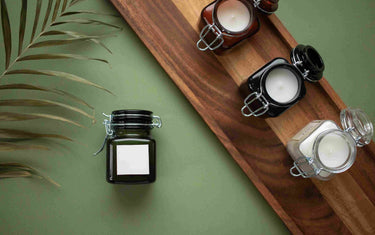 Would you love to ship your homemade candles all over the country, but aren't quite sure how to get started?
Whether you're a small, budding business or a big national retailer, wholesale is a fantastic choice for getting your brand name out in the open.
Wholesale candle making offers a consistent outlet for creativity as well as a steady, lucrative revenue, which can be very appealing if you're just starting out in the business world.
In this comprehensive guide, we'll be answering some common questions on how to sell candles wholesale, and what this shift can mean for you as a creative candle maker.
What is wholesale and why is it good for candles?
Wholesale involves the bulk selling of goods to a retailer. Retailers will buy large quantities of a product and then resell it to consumers.
Candles are an ideal choice for wholesale because they're a consumable product. That means the stock will be frequently used up and then repurchased, which creates a solid perpetual buying cycle for your goods.
Scented products like candles are also always popular with consumers, so there's very little risk of your product not selling.
What are the benefits of selling candles wholesale?
There are many benefits to selling candles wholesale, including:
Consistent orders. Shops will likely come back to you continually over a set period (e.g., once a month) which will allow you to establish a predictable income.
Low customer acquisition costs. Setting aside the time and money to target your customers through marketing can be incredibly debilitating to your small business. Wholesale eliminates these upfront costs and connects you directly with the consumer.
Greater creative opportunities. Most candle makers do it for the love of creativity, so switching to wholesale offers more time for candle crafting and less time worrying about brand logistics.
Increased brand awareness. Selling your candles in lots of different shops increases the chances of them being seen and tried straight away, which means more sales for you.
Lower focus on time-intensive logistics. Business basics like packing orders, attending craft fairs, and e-commerce selling can all be rather time-consuming when trying to run a business. Wholesale minimises these chores while still providing you with a steady income.
How to price candles for wholesale
When thinking about how to price wholesale candles, there are three key details to keep in mind:
Supplies - This includes raw material, packaging, and shipping costs.
Labour - The cost of the time it takes for either you or your employees to make the goods.
Commissions - Working commission fees into your pricing will prevent you from having to increase them later on.
Once you've got an average figure in mind, double it. This will be your wholesale price. Some business owners even like to mark up their costs by 2.5x or 3x to leave room for potential discounts and promotions.
If you're already selling candles at a retail level and want to switch to wholesale, slash your retail price by 50% to create your wholesale cost.
Retail costs will be higher because they filter in other factors like rent, wages, and marketing. At wholesale level, only the cost of making the goods matters.
What will I need before selling?
Before selling to potential retailers, you'll need to prepare a document detailing your product range and your terms of sale. This can be handed out to any interested party and should cover all the information you'd like them to know.
You should include:
Minimum order value (if you have one).
Minimum order quantity per product (if you have one).
Shipping costs and delivery times.
Your free shipping cut-off (e.g., free delivery on orders over £100 ex. VAT).
Your pricing terms. Can your retailer give discounts on your products if they want to?
A list of all your candle types, scents, and prices.
How to sell my candles to stores
Introducing yourself and your product to shops is key for opening up doors to wholesale.
There are a few cost-effective ways to connect with these shops when you're first starting out. These can then expand to connections with sales representatives and other figures who can help you.
We've made a list of some effective methods below.
Pitching
Pitching is a fundamental process in any business and will involve you selling your brand directly to retailers. A pitch can be as straightforward as emailing your chosen retailer with an introduction of who you are.
To create an effective pitch, you must:
Be well-researched on the business you're selling to and what they stand for.
Understand the business' target market.
Accurately and effectively express why you think your product is suitable for their customers.
Popular retailers for candle makers to reach out to include boutiques, home decor shops, cafes, spas, salons, and independent shops.
Online wholesale platforms
Online wholesale platforms are very useful tools for those trying to sell at a bulk level. They're great for connecting with retail shops and can even be used to receive orders from other businesses looking to stock your product.
These platforms do often take commission, however, so make sure you're filtering this cost into your wholesale prices. Commission costs range from 15% to 25%.
Sales representatives
Once you become more established as a wholesaler, you'll likely be contacted by a sales representative. Sales representatives introduce your products to shops on your behalf, saving you the effort of trying to convince them.
Sales reps tend to work in particular regions and will have established relationships with local buyers. They, like wholesale platforms, will also work on commission.
Wholesale trade shows
Wholesale trade shows are a great way to reach out to potential retailers on a human level. Trade shows will usually run over the course of several days and will feature individual booths for makers and businesses to display their products.
Shoppers at these shows will be looking on behalf of their own businesses, scanning to see which new products can be added to their range.
Wholesale trade shows require a lot of investment and therefore tend to be better suited to more established wholesalers.
Once you've figured out what you're selling, your terms, and your prices, you're ready to venture into the world of wholesale candle making!
Whether you're selling online, through email, or directly to shops, your creativity and your bank balance will thank you for the efforts you've put in.
If you're still in the process of making your candles, feel free to sign up for our wholesale to help keep your quality high and your costs low, with no MOQs or hidden fees.