5 min read / 19 March 2023 / Laura Garvin Gomez
How to Scent your Wedding
Discover the art of scenting your wedding and create a memorable olfactory experience with these expert tips and ideas.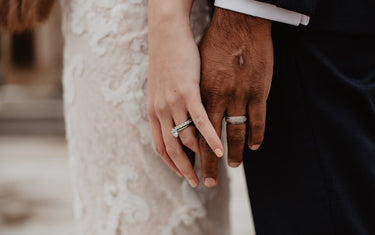 Your wedding day will be one of the biggest and most important days of your life.
So, within reason, it makes sense to push the boat out as much as possible to ensure you have memories you can cherish forever.
And it's the little details that can make a big difference on the day, turning a beautiful occasion into one that many will never forget. Incorporating essential oils to scent your wedding gives you a simple but unique way of elevating the day to a whole new level, and here we look at wedding scents in more detail to give you some inspiration.
What is a wedding scent?
Scenting your wedding with essential oils means filling wedding spaces with beautiful and inspiring fragrances that can evoke special feelings and emotions on your big day. The inclusion of the right scents can instantly transform the mood and elevate the experience for everyone present, adding a whole new layer to make it a day you'll never forget. After all, smell is closely linked to our memory, so with the right fragrance included as part of your wedding, there will also be a positive trigger you can use to take you back to a truly special moment in time.
What scents typically represent love or marriage?
Warm, sweet scents tend to evoke feelings of love and bonding, with orange always proving to be a popular choice for brides and grooms. It's an uplifting, effervescent scent that is as strong as it is subtle and can complement a wide range of other scents. Honey is another warm scent that most people will enjoy, and its nectar origins also represent long life (the Romans and Greeks were big believers in the power of nectar).
Is a wedding scent just for your wedding day?
The great thing about using essential oils for wedding scents is that they have a lifespan far beyond your big day. Most couples will have a song or piece of music that evokes a special moment or is symbolic of their relationship, and the same is true of a scent. For example, people often associate a certain brand of aftershave or perfume with a particular person, especially at certain stages of their life.
So, when it comes to celebrating your anniversary, you can always go back to your favourite essential oil or fragrance oil to remember the special day. Most essential oils will last for at least one year, provided the container or bottle is stored in a dark, dry space without exposure to direct sunlight.
How to scent your wedding
Here are some ideas you can use on your wedding to add a whole new dimension to the experience:
Add fragrances to your stationery:

When you have found your perfect wedding essential oil scent, why not spray it on all your wedding stationery, such as wedding invitations or save-the-date cards. This sets the tone before the day even arrives, with invitees getting an early idea of your luxurious fragrance before they even arrive.

Scent the venue:

There are lots of places you can incorporate your scent of choice at the wedding venue. Place some diffusers, candles or fragrance lamps around the space to bring it to life. Try to keep it away from the eating and drinking areas, however, as it may distract from the wonderful food on offer. Bathrooms and ceremony areas are ideal for fragrances, as well as entrances areas so guests can smell it as soon as you walk in.

Scent your wedding favours:

If you are planning on giving away wedding favours, you could also consider scenting them with an essential oil, so your fragrance lasts beyond the event itself. Useful wedding favours could include scented candles or soaps that are infused with the scent. Not only will it impress your guests but also serve as a wonderful reminder of their time at your wedding.

Try some fresh or dried flower petals:

Another idea could be to use fresh or dried flower petals as an alternative to an essential oil. For example, dried lavender is always a popular, evergreen choice due to its strong fragrance whilst not being overbearing. Use the petals for decoration around the venue or even for your flower toss, which will not only smell great but look fantastic too.
How do I plan wedding scents?
When it comes to scenting your wedding, planning is everything, so here are some tips on how to prepare ahead of your wedding day.
Find the scent in the early stage of planning: There is a lot to plan for a wedding and it will help if you can find your essential oil scent early on so it can be tied into the overall theme for the day. This will allow you to connect it with your decorations, wedding favours, colour scheme and perhaps even the reception activities.
Scenting is easier to do indoors:

The essential oil scent you choose will have a more potent effect when used indoors compared to an outdoor reception. But that doesn't mean you can't still enjoy the fragrances in an outdoor space. There are lots of natural outdoor aromas that can be used to inspire your choices, which can then be added to your stationery or bathroom spaces. Rose, orange or woody tones are scents that could work well.

Find the right balance:

Subtlety is key when it comes to using a fragrance at your wedding, as using too much can have the opposite effect. Do some tests before diffusing the scent, trying it out on small amounts of stationery or around the home to get a good idea of the right level to spray. The same applies to diffusers – test a small number at the venue to see how it fills the space before going all out.
There is a lot of work that goes into planning a wedding and you'll want to ensure that nothing has been missed in preparation. Essential oils are incredibly versatile and can help to lift your special day with the addition of a beautiful scent that makes it feel truly unforgettable. There's a wonderful range of essential oils to choose from, so whether you want something flowery, summery or subtle, finding the right scent match shouldn't prove too difficult.