1 December 2022 / Laura Garvin Gomez
Best Essential Oil Christmas Gifts
The ultimate Christmas gift guide for aromatherapy lovers is here.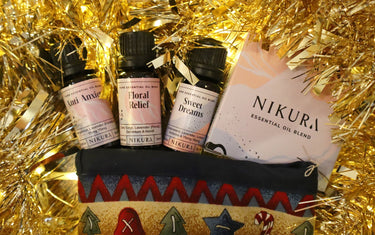 With the Christmas season fast approaching, some of us may be stuck on the best gifts to give our loved ones.
While we all have our own little things that inspire us in our day to day, it is safe to assume that - for the most part - everyone loves a pleasant scent.
Giving the gift of essential oils provides limitless opportunities for any receiver, and different scented oils can create entirely unique experiences that can be modified depending on your giftees personal preferences and passions.
As it is the Christmas season, we have narrowed down some of our best Christmas scents to gift to friends and family this holiday season - whether they are seasoned aromatherapists or complete newbies.
If your receiver is less likely to desire a simple bottle of aroma oil as a gift, we've also included some of our favourite Christmas DIY recipes for candles, soaps, aroma stones, and more.
What essential oils smell like Christmas?
Essential oils by themselves make for great Christmas stocking fillers, and can be appreciated time and again for their therapeutic simplicity - even after the festive period is over.
Finding the best essential oils for your loved ones can be difficult if you're not familiar with the scents that they like, but these Christmas staples are sure to make anyone's day with the appropriate application.
Some of the most popular Christmas essential oils include:
Adored for their warmth and familiarity, these scents are a great choice for those seeking essential oils for diffusers, as their natural aromas are able to uplift the mind as well as protect the body throughout the colder seasons.
These three Christmas aromas also make great oils for burners if your giftee is less keen on electrical diffusers.
What essential oil smells like a Christmas tree?
On the other side of the aromatherapy coin, freshly scented oils may be a better choice for receivers who are not a big fan of sweetness.
Their welcoming aromas can be used throughout the year as congestion relievers, and can also work as effective cooling agents in the summer months.
Oils like these can also be used to scent artificial Christmas trees and give them a more natural feel.
If you're wondering which essential oils are the best for achieving that pine-like freshness, here are some of our favourites:
Christmas Essential Oil Blends
Essential oil blends are an alternative to classic aromatherapy with a unique twist.
They can utilise all the natural benefits of essential oils while also creating a new and more distinctive type of scent - which may make it easier to identify what will work best for your giftee.
Christingle Essential Oil Blend
Combining three of our Christmas staples - cinnamon, orange, and clove bud - our Christingle blend joins together all the classic simplicities of Christmas.
Christmas Fizz Essential Oil Blend
Christmas fizz is a cheerful blend of lavender, lemon verbena, and juniper berry that will undoubtedly leave your giftees waiting to crack open the festive bubbly.
Gingerbread Essential Oil Blend
If your receiver is known for having an avid sweet tooth, our rich Gingerbread blend made up of cinnamon, clove leaf, ginger, and nutmeg will surely satisfy their craving.
Mulled Cider Essential Oil Blend
Warm and uplifting, our Mulled Cider blend features bergamot, cinnamon, grapefruit, bitter orange, and star anise for a well-rounded explosion of Christmas cheer.
We Three Kings Essential Oil Blend
Our We Three Kings blend creates a gift with an edge of spiritual magic, combining frankincense, myrrh, and cinnamon for a mysterious yet peaceful scent.
How to make a Christmas scent with essential oils
If none of these blends particularly catch your fancy, or you think your receiver would appreciate something with a slightly more personal touch, learning how to make Christmas essential oils on your own may be just the trick.
Essential oil blends are incredibly easy to master with the right amount of knowledge, and can be customised endlessly to accommodate the tastes of your friends and family members.
Our Christmas essential oil blend recipes offer up great building blocks for getting started - whether you're looking for tips on how to make Christmas tree essential oil blends, or are simply in need of some better ideas.
If you're new to the world of blending essential oils, there's no need to fear. Our Essential Oil Blending Guide can help point you in the right direction with insights on how to blend with different notes, as well as by scent and by purpose.
Where can I find an essential oil gift pack?
Even though scented oils make great gifts on their own, grouping them together can give your receiver a wider variety of options for improving their wellness and brightening up their spaces.
Each essential oil gift set is curated especially for giving away to loved ones, and can be selected based on scent, purpose, and function - depending on what's best for your giftee.
Christmas Collection Essential Oil Gift Sets
Available in groups of five, seven, or ten, our Christmas collection gift sets bring together all the many scents of the season - from sweet cinnamon to punchy pine needle.
This is a great choice if your receiver is known to be particularly indecisive, as each set features at least one oil from a completely separate scent profile to enjoy.
Woodland Essential Oil Gift Sets
Veering slightly away from the classic festivities, these gift sets instead capture the magic of the outside world at Christmas - featuring all the scents of a brisk winter walk in the woods.
Available in groups of five and seven, our woodland gift sets will easily satisfy a receiver who loves to explore, as well as those who may not be so keen on the festive period as a whole.
DIY Gift Ideas
Aromatherapy is an incredibly versatile asset that can be applied to almost any scented product - from a simple wax melt to complex lotions and potions.
If you're wanting to do something a little different for your giftee this year, or if you're a seasoned crafter looking for new ideas, these DIY aromatherapy gifts can help.
Can you use essential oils in candles?
Candle making with essential oils is a tale as old as time, and is a practice that is relatively simple to achieve with the right guide to assist you.
From spiced apple candles to clove, orange, and cinnamon creations, there are countless recipes to try out and explore.
Candle making also offers up the opportunity to get creative with decorative options - like ribbons and bows - to really elevate your gift from the standard cinnamon or apple scented candles you could find in a shop.
Check out our complete Christmas candle making guide for more tips on how to make the perfect homemade gift.
Are essential oils good for making Christmas soap?
Much like candle making, soap making is an equally versatile crafting option with a reliable, practical edge.
No matter how your receiver may feel about essential oils in general, presenting them with a handmade Christmas soap will undoubtedly come in handy and may even encourage them to appreciate aromatherapy further.
Our candy cane soap recipe is fun and festive starting point, with our soap making guide providing all the steps along the way for a successful DIY gift.
How to use essential oils without a diffuser
If you think aromatherapy would be a great option for your giftee, but you know they don't have a diffuser or oil burner to hand, these homemade diffusers for essential oils will work just as well - and will allow them to stand out from the crowd.
Aroma stones are natural diffusers that can be made with household ingredients and placed at will around your home. You can use any kind of essential oil you like to make them, and they function as a safe option for households with children or pets.
Do you have a bunch of extra Christmas decorations that could do with a new use? Festive-themed potpourri may be just the right option for you and your giftee. Simple, effective, and on-theme, potpourri can be enjoyed in any household space and can function as an influential accessory.

Reed diffusers are one of the best diffusers for essential oils if you're seeking a passive, fuss-free option. They can be made using any essential oil and carrier oil combo, and will be well appreciated by your receiver for a decent period of time.
There is truly no limit to the amount of great gifts you can make using essential oils.
Whether it's a pre-made gift set with curated ideas, or a homemade creation with personalised touches, aromatherapy will surely dominate all of your choices this Christmas.
Wondering where to get essential oils online? Shop our complete collection here.
{ if (visible && product == e.detail.data) return; ready = false; const articleTop = document.querySelector('[data-article]').getBoundingClientRect().top + window.scrollY; $nextTick(() => { product = e.detail.data; selected = product.variants[0].id; ready = true; setTimeout(() => { top = e.detail.target.getBoundingClientRect().top + window.scrollY - articleTop; show(); }, 10) }) }" @scroll.window="close()" >