20 December 2021 / Laura Garvin Gomez
Your ultimate Christmas gift guide from Nikura
Essential oils, fragrance oils and bespoke blends for all the important people in your life.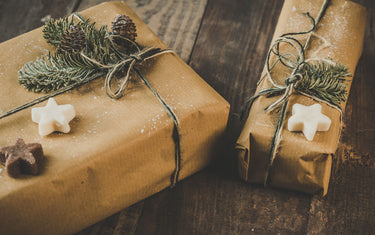 Treat the ones you love to the special gift of wellness this Christmas.
Stuck for gifts that show the people in your life how much they truly mean to you? Know someone that loves scents and self-care, but you have no clue what type of oil will suit them best? Have no fear!
Whether you've been a lover of oils for years, or you're just trying to wrap your head around the difference between lemon and lemon verbena, our gift guide is here to provide you with only the best essential oil gift ideas, and top fragrance picks for your list this year.
For your added peace of mind, we've broken our selection down into different friends, and family members we know will love our gift sets, so you don't have to worry about any pre-unwrap stress.
If stocking fillers are more your thing, we've added a few of our essential oil blends to the list too for an extra boost of wellness this festive period.
If you'd prefer to browse our whole collection of Christmas gifts, check out our Christmas Scents and Christmas Fragrance Oils collections.
The Crafter
For the one who makes their own candles, soap, and everything in between, why not try:
A crafter's dream, this set comes with 32 of our best essential oils for creating, exploring, and discovering. The possibilities are endless.
This fragrant set of ten premium fragrance oils is perfect for creating delicately scented products at home.
If the crafter in your life prefers a more vibrant scent, try this set of ten fruity premium fragrance oils.
The Novice
Shopping for that friend who knows nothing about the world of aromatherapy? Start off their collection by trying:
For something a little more festive, this set is packed full of winter-warming benefits and is simply brimming with Christmas cheer.
A great way to introduce the novice to two of the most popular scent categories. This set of fourteen essential oils combines our seven favourite floral oils with seven of our best citrus oils.
The Insomniac
Know someone who finds it difficult to switch off? Essential oils are the perfect gift. Try:
A blend of sleep-inducing essential oils that acts as a natural way to promote rest.
Another great way to press the reset button is this restful blend that's great for the body and mind.
If your giftee prefers to create their own blends, this set of relaxing florals is a great place to start.
The Creative
For the one who's always on the hunt for inspiration, try:
A mix of essential oils designed to promote creativity and get the mind working.
This blend is specifically designed to align and balance the sacral chakra, which is associated with creativity. Aligning the sacral chakra can help to prevent writer's block.
Citrus scents have long been said to lift spirits and spark creativity. This set of five essential oils is perfect for the creative in your life.
The High-Flyer
For the one who's always on the go, try:
If your high-powered friend has minimal time for wellness, then this set of bespoke blends are perfect for a quick fix.
The perfect pick-me-up to start the day, this invigorating blend brings together some of our most energising oils.
The Student
Shopping for someone who needs a study buddy? Try:
A mix of oils said to aid memory and retention, this blend is the perfect revision companion.
Associated with intelligence and imagination, aligning the crown chakra can help the student in your life achieve academic excellence.
For the one who works hard to make a house a home, try:
Reinvigorate your senses and clear your mind with this punchy blend of uplifting oils.
Historically used to stave off the plague, this protective blend is ideal for guarding the health of a household.
The Couple
Shopping for a perfect pair? Try:
A mix of essential oils designed to set a mood and spark intimacy.
For a perfect date night blend, try this mix of comforting essential oils.
This collection of sixteen oils combines scents for him and her so that they can discover their favourites together.
Still feeling stuck? These frequently asked questions can help
What are the best diffuser blends at Christmas time?
If your loved ones prefer creating their own unique scents with their oils, making a bespoke diffuser blend is a great opportunity to get inspired.
There's nothing that makes the festive period quite like a sweet and spicy essential oil, so be sure to include the likes of cinnamon, clove and nutmeg in their stocking to help spark their creative spirit.
Alternatively, fresh scents like rosemary and peppermint make great backdrops for a winter wonderland.
What are the 10 most popular essential oils?
Making your own personal gift sets from scratch is also a great choice for lovers of aromatherapy, or for those with a particular wellness purpose in mind.
If you're not sure how to begin, we've listed some of the most popular essential oils in terms of scent and purpose:
Lavender
Lemon
Peppermint
Rosemary
Tea Tree
Eucalyptus
Clary Sage
Geranium
Cinnamon
Ylang Ylang
You can also find all of these oils ready to go in our Top Ten Essential Oils Gift Set
{ if (visible && product == e.detail.data) return; ready = false; const articleTop = document.querySelector('[data-article]').getBoundingClientRect().top + window.scrollY; $nextTick(() => { product = e.detail.data; selected = product.variants[0].id; ready = true; setTimeout(() => { top = e.detail.target.getBoundingClientRect().top + window.scrollY - articleTop; show(); }, 10) }) }" @scroll.window="close()" >