30 May 2023 / Laura Garvin Gomez
Bespoke Wedding Scents are Growing Popular for UK Couples – Expert Advice on How to Create Yours
Embark on a fragrant journey tailored for your special day as we delve into the rising trend of personalized wedding scents in the UK, offering valuable insights and expert tips on curating your own bespoke aromatic experience.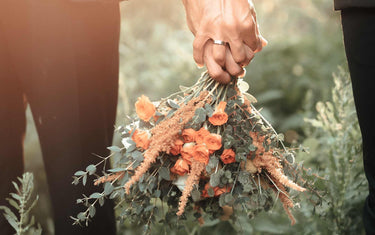 With more than 10 million* hashtag views on TikTok, wedding scents (#weddingscent) are becoming more and more popular for UK couples who are looking to add a unique element to their big day.
Growing trend of scenting your wedding
To discover more, we discussed this trend with Zoe Burke, leading wedding expert and editor of Hitched.co.uk, asking how she has been seeing bespoke wedding scents being used in weddings in the UK, and why she thinks the concept is becoming more popular:
"Couples are getting more creative with scenting their weddings - and it makes sense! Our sense of smell unlocks so many memories. If you scent your wedding, you'll be transported there every time you smell that scent in the future.
"I think the idea was really put on the map for couples when Kate Middleton famously scented Westminster Abbey with her favourite scent, Orange Blossom - it is such an easy to recreate, accessible trend and it will have a lasting impact.
"Couples are designing their own wedding fragrances, either sharing a unisex one or going for two scents that complement each other. They are also lighting candles or scenting rooms so guests can also experience their wedding fragrance. It's a really easy way to uplift your wedding - and whilst many other couples might have the same background in their pictures, it's unlikely that they'll have the same scent. It's a way to set your wedding apart, make it really experiential and it will also trigger those happy memories for the rest of your life".
Link between memory and scent
Following Zoe's comments about triggering memories, we asked Katie Hart FCIM, Neuromarketing Specialist and Director of Katie Hart Ltd, to share more information about the link between memory and scent:
"As a sense, smell is unique and powerful. Firstly, it is the only sense which is fully developed and working properly while a foetus is still within the womb. Secondly, all other sensory information which is received into the brain, comes from the relevant sense receptor (eyes, skin etc) and goes into the thalamus. In this small structure of the brain, the sensory signals are processed and then relayed out to the relevant regions of the brain. However, smell bypasses the thalamus, and goes straight to another part of the limbic system for encoding. This makes it far more powerful for two reasons:
It is processed faster because it misses out the thalamus stage
The limbic system (where the smell is encoded) is also where the amygdala and hippocampus are located. These are the key brain areas involved in the processing of emotions and memories
"Therefore, our experiences of smells, feelings and memories are highly connected. This also begins to explain why we often know that we recognise a smell but are sometimes unable to identify it fully. It is because the connections to the rational and linguistic parts of the cortex are much slower and weaker than these areas of emotion and memory.
"When a smell is first received within the brain, it appears to be categorised as either positive or negative. Overtime, due to the intense proximity and connections which exist between the areas that process smells, emotions, and memories, we build up a complex range of associations with the smells we encounter. Many of the positive associations we have with smells are not produced directly by the scent itself, but by the experiences we have had and connect with it. So, scents have tremendous opportunity to affect our emotions and trigger (consciously or otherwise) memories from many years ago".
Wedding ideas and scent recommendations
There are many ways to craft a scent for your wedding. Some ideas include:
Candles
Soaps
Wax melts
Potpourri
Scented paper (invitations and stationery e.g. signage, menus, place cards)
You can simply diffuse your chosen scent in an electric diffuser, reed diffuser or humidifier. Or if you're feeling creative, why not try your hand at candle or wax melt making. Pop a handcrafted soap in a wedding favour, so your guests can enjoy a personalised scent beyond your wedding day.
See our beginner's guide to making candles using essential oils, and our beginner's guide for making soaps using essential oils for more information on tools and ingredients you'll need, process and method advice, and other tips and tricks to be aware of.
According to Zoe, "people tend to go for quite clean, floral scents. This is because weddings are usually bedecked with florals anyway, so you can enhance your surroundings with a complementary fragrance. Everyone enjoys the scent of flowers, and with so many weddings taking place in the spring and summer, it makes sense".
According to Katie, "lavender and quite 'flowery' scents are commonly found to reduce anxiety and increase relaxation and serenity. Citrus scents are often associated with making us feel energised, boosted, and refreshed. Whilst 'woody' scents can help us to feel balanced, calm, and grounded".
For spring weddings, we recommend the following scents:
For summer weddings, we recommend the following scents:
For autumn weddings, we recommend the following scents:
For winter weddings, we recommend the following scents:
Zoe added that "I've also heard of winter weddings being scented with pine and berry scents, but typically florals seem to be most popular - lots of fragrance brands will now create wedding specific scents with floral notes, but I'd say to look outside of those for a scent that's more unique to your day".
{ let idx = null; product.variants.forEach((v, i) => { if (v.featured_image && v.featured_image.id == $event.detail) { idx = i; } }); if (idx !== null) swiper.slideTo(idx, 0); }" x-init="() => { if (variants.length > 1) { const images = product.variants.map(v => { if (v.featured_image) { return `
`; } }) appendSlides(images); } else { if (product.featured_image) { appendSlides(`
`); } } }" >