2 min read / 15 August 2022 / Laura Garvin Gomez
How to Make a Spider Spray
Keep menacing creepy crawlies away for good with this powerful homemade remedy.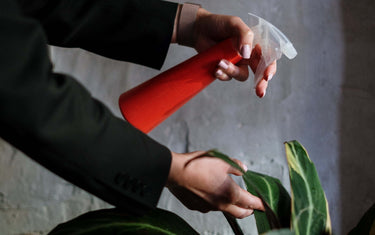 Absolutely no one likes having to share their space with unwanted guests.
Least of all frightening pests like spiders, who, as the summer season draws to a close, love sneaking in from the outside to haunt lonely corners and hidden spaces.
Though there's lots of chemical agents and pesticides available on the market to deter pests like these, they aren't always a great option if you want to eliminate the use of harmful ingredients around your home.
Thankfully, there's an effective way to shoo away these spooky visitors naturally with this spider repellent DIY, made using pure essential oils.
Ingredients:
Method:
Fill your spray bottle with 500ml of water and add 7-10 drops of spider repellent essential oil blend.
Add your dish soap, fasten the spray bottle with its lid and shake well.
Spray your homemade repellent for spiders on door frames, window frames, small corners and crevices, and anywhere else where you feel pests could hide.
Reapply once a week to keep them away for good.
How does the Spider Repellent Essential Oil Blend work?
A punchy combination of citrus and peppermint, this powerful, expertly created remedy is the perfect base for a homemade spider spray.
Spiders simply cannot stand the smell of both peppermint and citrus alike, so adding this to your spray is an ideal deterrent even if the creepy crawlies have not yet arrived.
These oils are also a great way to leave your home smelling fresh and summery, even as the season ends.
Why should I use dish soap?
While its not an essential step for this DIY spray to work, adding dish soap to your homemade spider repellent can help emulsify the essential oils and allow them to mix easier with the water.
This prevents you from spraying pure oil onto surfaces and can also stop the head of your spray bottle from clogging up.
Why is a glass spray bottle preferred?
We generally advise using glass for your spray to get rid of spiders, as plastic can react with the essential oils and potentially degrade it.
If you don't have access to a glass bottle, don't worry! Simply ensure you rinse out your bottle and remake your spray often to avoid any potential damage.

Precautions:
This spider repellent is for use around the home only and should not be applied to the skin or body.

Take caution around pets as peppermint oil can be toxic if ingested.

Be wary of staining if you're applying the spray to furniture or carpets.
Regular application of this solution is a great option for combatting these natural pests for good, leaving your home a safe and spider-free zone with a refreshingly pleasant aroma.
{ let idx = null; product.variants.forEach((v, i) => { if (v.featured_image && v.featured_image.id == $event.detail) { idx = i; } }); if (idx !== null) swiper.slideTo(idx, 0); }" x-init="() => { if (variants.length > 1) { const images = product.variants.map(v => { if (v.featured_image) { return `
`; } }) appendSlides(images); } else { if (product.featured_image) { appendSlides(`
`); } } }" >